'F1 will be a poorer place without Jenson Button if he quits'
Watch the F1 Midweek Report at 8.30pm on Wednesday evening
Last Updated: 29/09/15 10:37am
F1 will be a poorer place professionally and personally without Jenson Button, F1 Midweek Report guests John Watson and Maurice Hamilton have warned.
Button is expected to announce at this week's Japanese GP that he will retire at the end of the season, bringing down the curtain on a 16-year F1 career which has featured a world championship, 15 victories, over 1,000 points and a record-breaking number of F1 starts.
But beyond the considerable blow of losing a driver of Button's standing, it's the loss of the veteran's affable and amiable personality which Watson, himself a former McLaren driver, fears will be just as keenly felt.
"He is a human face to a paddock which is a bit anodyne nowadays. The paddock will be poorer without him," Watson told The F1 Midweek Report - broadcast at 8.30pm on Wednesday night on Sky Sports F1.
Asked how Button would be remembered if he leaves the sport, Hamilton agreed that the 35-year-old would be missed as much for his personality off the track as his undoubted calibre on it.
"He'll be remembered for being a nice bloke and for genuinely being quick - the two don't normally go together," said the author and journalist. "He has been a pleasure to work with from the media's point of view. He has always been a smiley face during the good times and bad, he's been a great advocate of the sport and he will be missed by a lot of people - the fans still like him, the people at McLaren still like him. He has brought the sport a lot."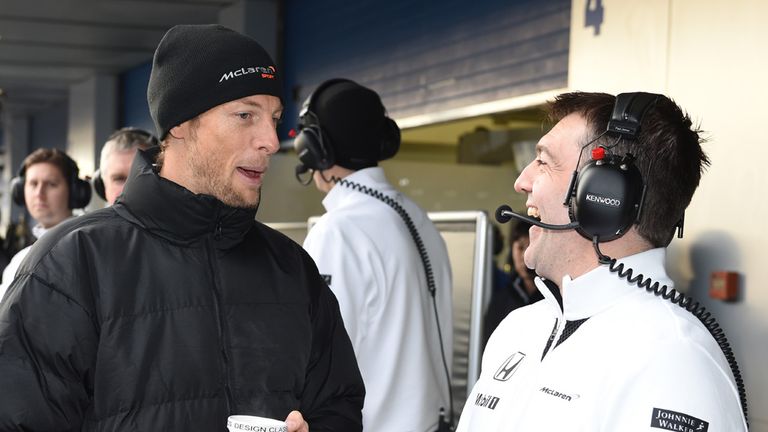 Despite the presence of protégés Kevin Magnussen and Stoffel Vandoorne on their books, McLaren are believed to be keen on retaining Button for 2016. But in the wake of a dispiriting campaign, in which the McLaren-Honda package has proved wretchedly uncooperative, Button is believed to prefer exiting the sport at a time of his choosing with his head held high.
"This season has been so bad that he is probably thinking, 'l don't need this anymore and l don't need the hassle of the wait, wait, wait which McLaren will make me do' before deciding on next year," suggested Hamilton.
And Watson is concerned that his old team will find it even harder to return to the front of the grid if they are deprived of Button's considerable know-how.
"He is a great driver and his experience is a great asset - and he knows how to win a race. Stoffel Vandoorne is being touted as his replacement but the young kid has got to learn and he will make mistakes. If you are in the process of getting your engineering and your engine partner up to a competitive position, you would prefer to do that with two experienced drivers."