Jenson Button to remain at McLaren for 2016 season
But team's announcement makes no mention of Fernando Alonso
Last Updated: 01/10/15 2:08pm
McLaren have announced Jenson Button will remain at the team in 2016.
The future of the 2009 world champion had been in doubt amid mounting frustration over the lack of performance from Honda's power unit, which has left McLaren ninth out of 10 teams in the Constructors' Championship.
There was fierce speculation following the Singapore Grand Prix that Button would announce his retirement from the sport at the next race in Japan after implying that he wasn't currently enjoying F1.
But McLaren have now formally confirmed that the 35-year-old will stay on for a seventh season at Woking.
"Over the past month or so I have done quite a lot of thinking, and it is no secret that I was at one point in two minds about my future," Button said in a statement. 
"But I have been a McLaren driver for six seasons now [2010-2015], and in that time I have got to know Ron very well. He and I have had some very good chats these past few weeks, and during those chats it has become clear to me that Ron is both utterly determined and uniquely equipped to lead our team through its current difficulties to great successes in the future.
"That gives me great confidence, and it is for that reason that, together, he and I have decided to continue our partnership; and, as soon as I had made that decision, straight away I realised it was the correct one."
However, conspicuous by its absence in McLaren's announcement was any mention of Fernando Alonso following a torrent of speculation at last week's Japanese GP that the Spaniard will quit the team.
The two-time champion quelled the furore by tweeting on Sunday night that "no one should have any doubt that I have 3 years with McLaren and my career in F1 will end with this team" but whether that message amounted to a firm commitment he will stay with the team or was merely confirming the length of his current deal is open to interpretation.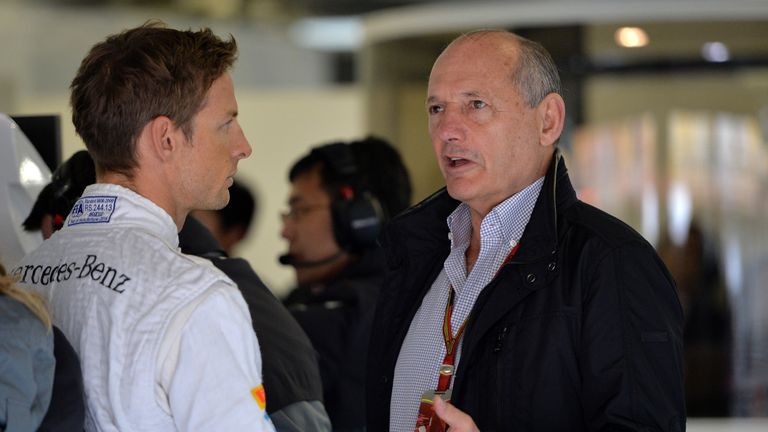 McLaren have repeatedly insisted that Alonso will stay on but their decision to only officially confirm Button's retention will once again whirl the rumour mill into life.
Speaking in McLaren's press release, chairman Dennis said he is convinced that Button remains as "committed and as focused as ever" and that the terms of the original two-year deal thrashed out last December - which is believed to include a pay rise in 2016 - stand.
"Jenson and I have been discussing his plans in private for the past few weeks, and the fact that our talks have led to today's announcement is very pleasing to both of us and will delight and motivate all at McLaren-Honda," he said.
"As I have made clear whenever I have been asked about the subject, Jenson's current contract is of two years' duration [2015 and 2016]. There is a 'terminate after year one' option that McLaren could have triggered if we had wished to do so, but, once it became clear from my many conversations with Jenson that he remained as enthusiastic and as committed and as focused as ever, that option immediately became an irrelevance.
"That being the case, Jenson will race for McLaren-Honda next year, under the terms and conditions as set out in the two-year contract that both parties entered into a year ago."
It is understood McLaren's option to retain Button for 2016 expired on September 30.
'Button last year negotiated a two-year McLaren deal, believed to be worth £18m (£6m for 2015, £12m for 2016),' Sky Sports F1 analyst Mark Hughes wrote in his post-Suzuka column.
'As is quite common, the payment was 'backloaded' - i.e. the lion's share comes in the second year - with a contract break on McLaren's side that would allow it to nullify the contract at the end of the first year. In this way, the team is protected if it feels the driver has under-delivered because the team isn't actually committed to anything in year two.'
Already the most experienced driver on the current grid, Button will begin his 17th F1 season in 2016 and during the course of next year will become just the third driver after Rubens Barrichello and Michael Schumacher to reach 300 grands prix starts.