Daniel Ricciardo will only settle for victory at Race of Champions
Australian to make event debut at London's Olympic Stadium
By William Esler
Last Updated: 14/10/15 3:56pm
Daniel Ricciardo says his competitive streak means he'll only settle for victory at November's Race of Champions in London.
At London's Olympic Stadium on November 20 and 21, the Red Bull driver will represent Australia in the Nations Cup on the opening day alongside five-time 500cc MotoGP world champion Mick Doohan, before competing for individual honours on day two.
Ricciardo got his first taste of what to expect when he took on the Skills Challenge, that will form one part of the weekend's racing, at a media day in the shadow of the Olympic Stadium.
"Yeah, but I'm a bit nervous now actually," Ricciardo told Sky Sports when asked if he was excited about contesting the Race of Champions.
"They are different beasts, there is a different way of driving them that is for sure! I'm glad I've got a bit of practice in and know what I'm in for now.
"I'm looking forward to it, for sure it is a fun event, but I'm not going to lie, I can't help being competitive."
Of perhaps equal excitement for Ricciardo is the opportunity to team up with childhood hero Doohan.
"It is cool and to be alongside Mick is pretty surreal," he added.
"I watched him as a kid and am a big fan of two-wheels and I never thought I'd call myself a team-mate of Mick Doohan. It is fun and we will try and do what we can. There are a few Aussies around the area, so I am sure we will get a bit of support."
And to top it off, bragging rights are up for grabs within the Red Bull family after David Coulthard was crowned champion of champions in 2014 - a title Ricciardo is keen to take for himself.
"He's put the marker down even today," said Ricciardo. "I thought I'd done a good time and he went a few tenths quicker than me. He is a crafty old Scotsman."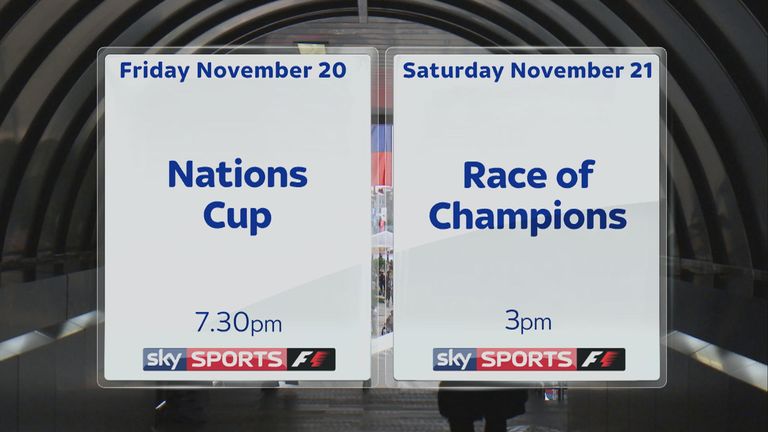 You can buy tickets for the Race of Champions via Sky Tickets - Click here
Or you can watch all the action live on Sky Sports F1 with coverage of the 'Nations Cup' starting at 7.30pm on Friday November 20 and the 'Race of Champions' show underway from 3pm on Saturday November 21.