Lewis Hamilton says Mercedes are trying to keep Nico Rosberg 'happy'
World champion tells reporters to ask Mercedes hierarchy about "what they have to do behind the scenes to keep him happy"
By Pete Gill
Last Updated: 05/11/15 11:42am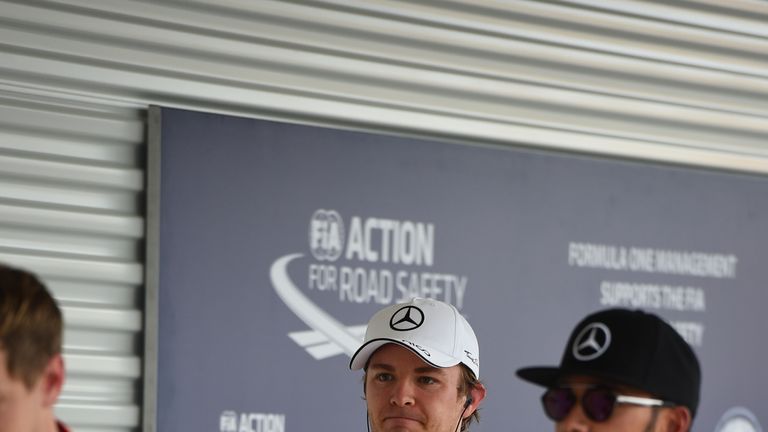 Lewis Hamilton has intimated he was denied the opportunity to win Sunday's Mexican GP because Mercedes wanted to keep Nico Rosberg 'happy'.
Hamilton was ordered to follow Rosberg into the pits late in the race for a precautionary change of tyres. The Mercedes driver repeatedly questioned the instruction over team radio before belatedly acquiescing.
The newly-crowned champion believed he could have finished the race without requiring another stop and told Sky Sports afterwards that he wanted to continue.
"There was no risk, there was nothing for me to lose," Hamilton said. "We have won the Constructors' Championship, so let me take a risk, let's go for it. But we did what we did."
After pitting for fresh rubber, Hamilton was unable to overcome the dirty air emanating from Rosberg's sister W06 car to launch an attack for victory in the closing stages.
"I know the team has felt the need to be extra warm [towards Rosberg]," Hamilton told reporters at his post-race press briefing. "I do know what I mean but I'm not going to say what I mean.
"You should ask Toto [Wolff] and Niki [Lauda]. Put those questions to them about how they feel about it. What they have to do behind the scenes to keep him happy."
Mercedes would argue that by instructing Hamilton to mirror Rosberg's strategy they were simply being fair to both drivers.
"From Mercedes' perspective, it was a no-brainer to pit both of their drivers given they had built up such a large advantage on a relatively-unknown circuit with very high temperatures, and it was only two months ago that Sebastian Vettel's over-used rear tyre blew on the final lap at Spa," wrote Sky F1 pundit Martin Brundle in his latest column.
"Why take the risk of pushing their tyres to the limit when they didn't have to? But Lewis's response was a reminder of just what a competitive animal he is and it sounded to me that he was effectively asking, while now leading, whether Nico had damaged his tyres in a way that he hadn't. Clearly at the time his tyres felt great but this was about prevention not cure, and had to be administered to both cars."
The backdrop to Hamilton's mild disgruntlement is the simmering animosity between the two Mercedes team-mates. Once boyhood friends, Rosberg and Hamilton are barely on speaking terms and the briefest of cursory handshakes was the extent of their post-race interaction.
A week ago, Rosberg's frustration at being beaten both to victory and the world championship boiled over in Austin when he threw his podium cap back at Hamilton. This weekend, it was Hamilton who couldn't resist a subtle dig at his team-mate's expense even as he congratulated Rosberg on his win with a barbed reference to the "gust of wind" explanation the German offered for his race-losing mistake in the United States.
The saga continues.