McLaren not ruling out a 2016 sabbatical for Fernando Alonso
Spaniard's response falls short of being an outright denial; "My aim is to race next year", says Alonso, who adds "I've discussed many ideas, crazy ideas, but not at this point of the year" after Dennis revelation
By Pete Gill and James Galloway
Last Updated: 28/11/15 5:05pm
McLaren have admitted Fernando Alonso may take a sabbatical in 2016 - with the Spaniard failing to convincingly rule out the suggestion.
According to Ron Dennis, the two-time world champion could sit out next season if the new McLaren-Honda fails to deliver an appreciable improvement in winter testing.
"I have an open mind to anything - and some of the ideas have involved those sorts of considerations, sabbatical years," Dennis told reporters in Abu Dhabi. "When we have to take the decision we will take it together. At this moment of time our drivers for next year are Fernando Alonso and Jenson Button."
Alonso signed a three-year deal when he rejoined McLaren 12 months ago but has endured a miserable campaign in which the Honda engine has proved both chronically unreliable and desperately under-powered.
Asked if he would consider taking a year off, Alonso's reply fell short of a definitive denial with the Spaniard telling Sky Sports F1: "No, not really."
Speaking to reporters later on Saturday night, the Spaniard gave a more detailed, if not emphatic, answer to the same question.
"That's not the plan [to take a year off]. The plan is to work very hard," he said. "I have a seat fit on Wednesday, for example, so there are not really any holidays until Christmas time because there are important things to be done now in the next couple of weeks. In the simulator and in the programme.
"So definitely my intention and my aim is to race next year and to win next year - or at least to be competitive. So that's the plan."
Although saying that "you can never say 100 per cent anything", Alonso suggested if he was going to take a year out he would have done it in the first year of McLaren-Honda's ultimately troubled reunion.
"But I keep racing and fighting and pushing the car uphill to the pit lane [in Hungary]," he added.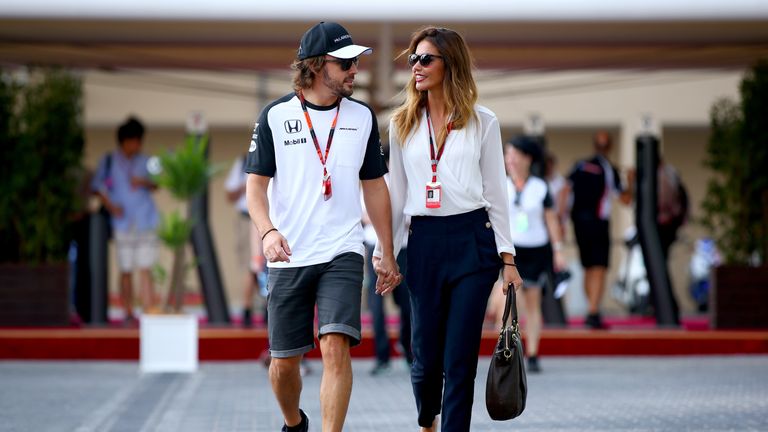 However, Alonso did not deny that he had discussed with Dennis the possibility of taking a sabbatical, implying that any such conversations would have happened earlier in the season.
"I've discussed many ideas, crazy ideas, but not at this point of the year. We are progressing well," he said. "Unfortunately, we don't see all the progress we are making because we have been a little bit unlucky recently.
"The combination of the last five or six races is a little bit unfair in terms of how we've progressed recently with the car performance. All our attention and minds are into next year and we feel much more positive than three or four months ago with the recent pace of the car."
Alonso has previously insisted that he is "100 per cent" confident that McLaren will be among the frontrunners next year but will have to wait until late February, when the first of two pre-season tests takes place at Barcelona, before finding out if Honda have closed in on the likes of Mercedes and Ferrari.
"I'm pretty sure that if Alonso sits in that car at the first tests of next year and it isn't any faster then he won't be too interested in doing another season," commented Sky Sports F1 pundit Martin Brundle.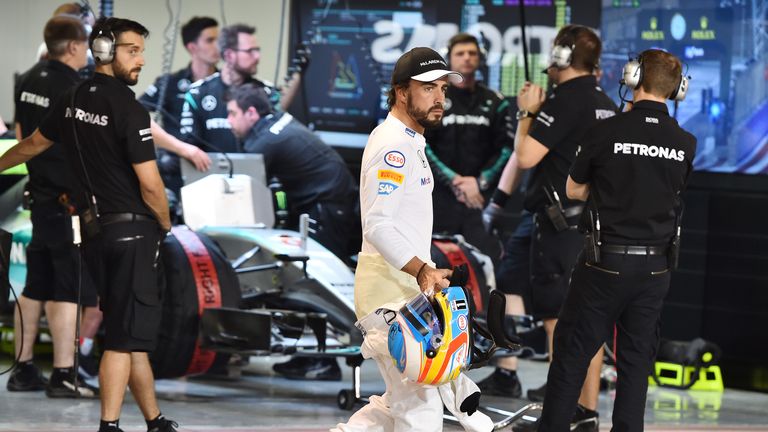 McLaren youngster Stoffel Vandoorne is waiting in the wings if Alonso does decide to take a year off, with the team only announcing Jenson Button as one of their 2016 drivers when they confirmed the Englishman had been retained two months ago.
Dennis, however, is adamant McLaren will be competitive next year.
"One thing with Honda is that we absolutely agree where we are, there is no dispute about where we are," he added. "The key performance indicators of the car and engine are very, very clearly defined. We know where we are and we know where we are going to be - I know where the motorhome will be but I don't think the cars will be matching that level."
Watch the Abu Dhabi GP live on Sky Sports F1. Race-show coverage begins at 11:30am on Sunday with lights out at 1pm. Watch all the Abu Dhabi GP for £6.99 on NOW TV. No contract.