Renault set three-year target to return to F1 podium
Team bosses and Jolyon Palmer downplay 2016 prospects
By James Galloway
Last Updated: 03/02/16 6:59pm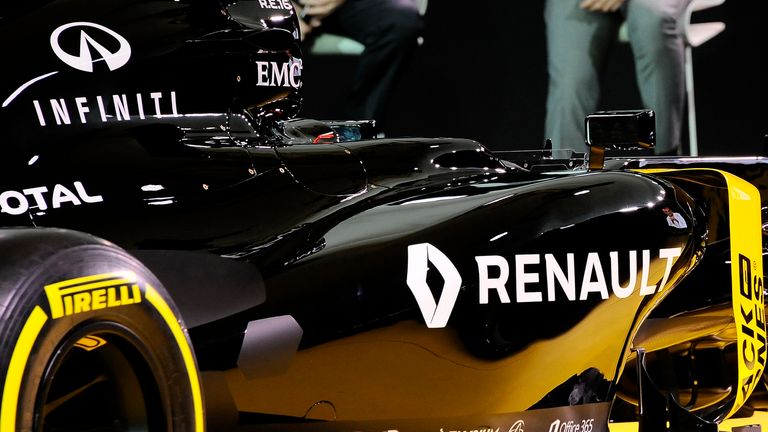 Renault have set the target of claiming podium finishes within three years with the returning former champions braced for a "rebuilding" season in 2016.
The French car giants formally launched their return as an F1 constructor at a ceremony in Paris and announced a new structure for the team formerly known as Lotus as well as the company's wider motorsport activities.
But although Renault become just the third 'works' team on the grid after Mercedes and Ferrari, they only completed their takeover in December and were keen to manage short-term expectations at Wednesday's car launch.
"The team has been given the goal to be on podium within three years," said Renault chairman Carlos Ghosn.
Cyril Abiteboul, Renault Sport's managing director, added: "We have to be realistic about 2016. In some areas we are playing catch-up - it's no secret that we missed the start of the new power unit regulations and Enstone needs a bit of TLC.
"This is a year to re-build relations… that's not to say that we will write off the year, but we are aiming to put everything in place for improved success in 2017."
Although the three-year podium target might seem relatively modest given cash-strapped Lotus finished third at last August's Belgian GP, the Enstone team have not been regular front-runners since 2013 and Renault's V6 engine is down on power compared to Mercedes and Ferrari's units.
New race driver Jolyon Palmer believes Renault are right not to make any bold 2016 proclamations.
"It's difficult to say at the moment [what the targets are] because we're taking over from the Lotus team which were in a big mess at the end of last year," the British driver told Sky Sports News HQ.
"Everything's very positive about Renault now and the team, but first of all we've got to see where we are when we start testing in a couple of weeks.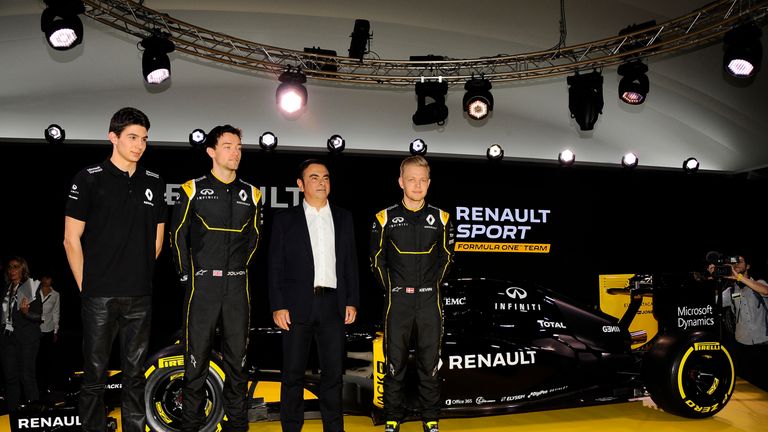 "This is a rebuilding year. Everything's a little bit late and not planned as ideal. The long-term goal is very optimistic but we'll just hold fire on expectations for the moment and see where we're going to be in a couple of weeks."
Palmer was joined at the Renault launch by Kevin Magnussen, the 11th-hour replacement for Pastor Maldonado in the team's 2016 line-up after the Venezuelan's deal fell through.
The 2014 GP2 champion says he never had any worries that he might suffer the same fate as Maldonado and is excited to be a part of Renault's new era.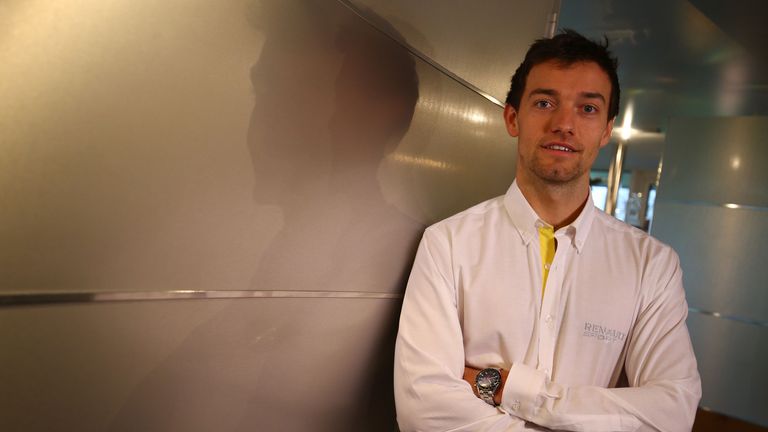 "I knew the terms when my deal was signed to be racing this year - it was either with Lotus or with Renault," Palmer said. "The biggest anxiety I had is when we weren't sure because Lotus were in a lot of difficulties at the end of last year.
"So when Renault signed their deal it was basically a lot of relief and a lot of excitement because there is so much they can do in Formula 1. They've got a great history and a lot of ambition to get back to the front, which is fantastic news for a driver like myself."
'Team Enstone': Two eras compared
| | Renault era (2002-2009) | Genii/Lotus era (2010-2015) |
| --- | --- | --- |
| Races | 140 | 115 |
| Wins | 20 | 2 |
| Win ratio | 14.3% | 1.7% |
| Pole positions | 20 | 0 |
| Podiums | 54 | 30 |
| Average championship finish | 4th | 5th |
| World titles | 2 Drivers' & 2 Constructors' | 0 |
The first Barcelona test starts on Monday February 22 and the Sky Sports F1 Digital team will be providing live commentary from dawn until dusk on all four days of both Barcelona tests while Sky Sports News HQ will also deliver live updates from trackside.