Mercedes' 'innovative' new design delights Nico Rosberg
Silver Arrows test teeth-like barge boards on day two in Barcelona
By William Esler in Barcelona
Last Updated: 23/02/16 6:42pm
Nico Rosberg was delighted to see Mercedes bring "real innovation" to the floor of the W07 on the second day of pre-season testing in Barcelona.
The German's car was the subject of attention up and down the pitlane as the team debuted teeth-like barge boards.
"We have a real innovation on the floor, it looks quite futuristic and we are excited about that," Rosberg told Sky Sports News HQ.
"It is important for us to be innovative and be one step ahead of the others because it is easy to copy afterwards, so when they see things on our car they will copy them and automatically go faster. So we have to stay one step ahead."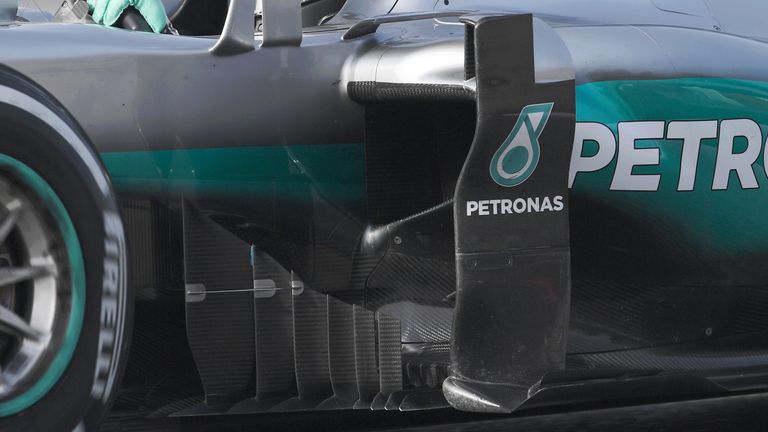 In all Rosberg completed a mammoth 172 laps of the Circuit de Catalunya, equating to nearly 500 miles as Mercedes showed incredible reliability once again. Team-mate Lewis Hamilton had completed 156 laps on Day One. The Spanish GP consists of only 66 laps.
"It was a great day, I was excited to get back in the car again. It was good, it was a real Formula 1 marathon today, lots and lots of laps and kilometres," he added.
"That is what we need to do, we need to push the car to the limit to find little problems on the car because at some point something will break. For now nothing has broken, so we need to keep on going, do lots of laps and see where the weak points are. So that is quite successful at the moment."
Ferrari have taken the headlines by topping the opening two days of testing, but there is no panic at Mercedes.
"Lap time-wise it is not realistic where we are, we haven't shown are cards yet and are still holding back," Rosberg said.
"For sure the car is quick, the opposition also seem to be quick so how quick we are nobody knows for now, but of course we are confident."
Hamilton returns to action on Day Three with Rosberg back behind the wheel of the W07 on the fourth and final day of the test.
Keep up to speed with all the latest news, pictures and video from all eight days of F1 testing via the daily live blog on the Sky Sports website and mobile apps. Sky Sports News HQ will also broadcast regular updates from trackside in Barcelona.