Nico Rosberg and Christian Horner split on F1's new 'halo' device
System given its on-track debut by Ferrari during winter testing
Last Updated: 03/03/16 6:42pm
Nico Rosberg says the halo device would have saved lives had it been introduced to motorsport sooner.
The halo unit, which is designed to provide drivers with extra head protection, was given a two-lap trial by Ferrari's Kimi Raikkonen on the penultimate day of F1 testing in Barcelona.
"Obviously it is a slightly different view and it is a little bit limited in the front," reported Raikkonen. "But there was surprisingly little difference."
However, Red Bull boss Christian Horner believes the device may limit visibility with the former world champions planning to trial their own 'batmobile-style' concept.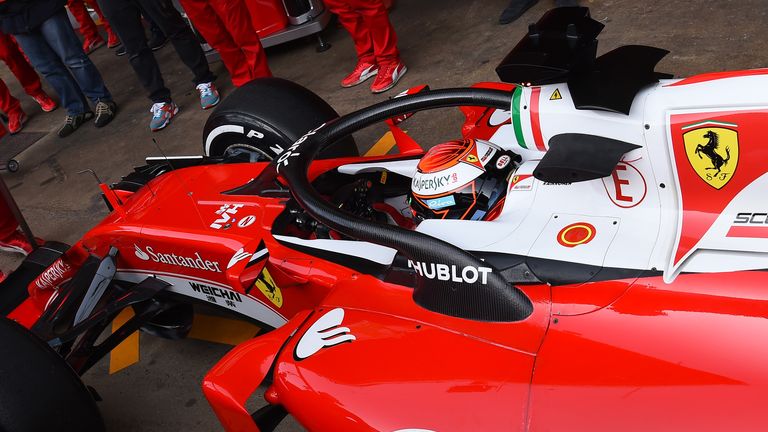 "We have tried it [the halo] in our simulator and we are concerned with some visibility issues on it. Safety and head protection is of crucial importance but l am not a fan of this system. I think F1 can do better than that. I think we can up something with more elegant," Horner told Sky Sports.
Force India driver Nico Hulkenberg also voiced his opposition, saying: "It sends the wrong message. It looks horrible. I wouldn't like to see it."
The halo is the 'preferred option' of the FIA after the sport's governing body announced they intend to introduce 'some form of cockpit protection'.
"It's definitely needed," Rosberg told Sky Sports News HQ. "It's a massive step in safety because most of the fatalities we've had in motor racing in the last few year this would have saved the vast majority. 
"You can say that visually it doesn't look quite as good as it does now but with some changes it can. I'm all for it."
The Mercedes driver later tweeted: "Massive safety improvement. It will look ok too eventually."
On Twitter, former Marussia driver Max Chilton, the team-mate of Jules Bianchi when the Frenchman suffered the head injuries which were to take his life last July, responded: "Couldn't agree more Nico, I am sure full helmets looked strange after wearing goggles."
McLaren driver Jenson Button also added: "It's doesn't look good but it's for a great reason."