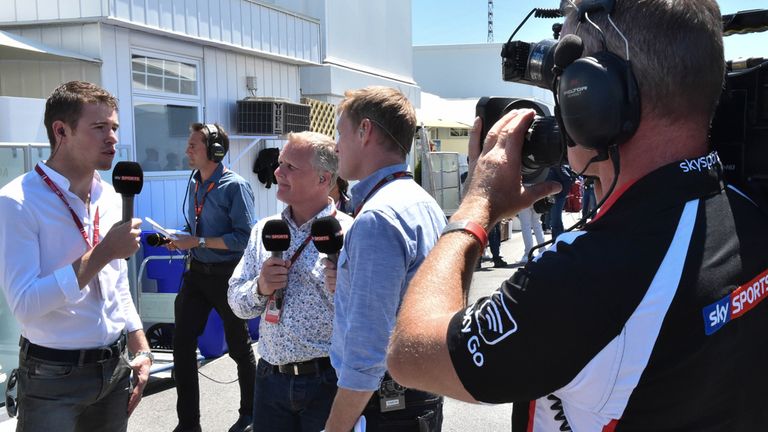 Paul di Resta has joined Williams as reserve driver - and signed up to be a pundit on Sky Sports F1 for 2016.
The Scot will provide cover for Valtteri Bottas and Felipe Massa for the Grove-based outfit, which finished third in last year's World Championship.
"I am delighted to be joining Williams as reserve driver and look forward to the 2016 season. It will be a busy year combining both driving in DTM with Mercedes AMG, and attending the Formula One Grands Prix in my new reserve driver role," said Di Resta.
He will also appear as part of Sky F1's on-screen team, providing his expert analysis on Sky Sports F1 for a substantial number of races this season, further strengthening the award-winning line-up ahead of a season that will see more races than ever before, with Sky Sports the only place to watch all 21 races live.
Di Resta competed in 58 races across three seasons for Force India between 2011 and 2013, scoring 121 points in the process.
Di Resta joins a Sky Sports F1 line-up that already boasts three former F1 drivers, including 1996 world champion Damon Hill together with Martin Brundle and Johnny Herbert. He also joins Simon Lazenby, David Croft, Natalie Pinkham, Ted Kravitz and Rachel Brookes in the fifth season of Sky Sports F1.
Di Resta said: "I'm very excited to be joining the Sky Sports F1 team, the coverage is excellent and I hope I can play my part to help excite and educate everyone watching at home.
"It's a huge season, more races than ever and working with both Williams and Sky Sports I'm going to give it everything and enjoy being part of an amazing sport that provides drama and excitement at every turn."
Sky Sports Head of F1 Martin Turner said: "Paul brings huge experience to Sky Sports F1 and having someone embedded within a current F1 team is going to add a new level to our coverage this season.
"He has raced against most of the drivers on the grid this season, and that competitive knowledge will help take viewers closer to the action and provide a deeper level of insight."
Sky Sports F1 will show the first race of the season from Melbourne exclusively live on Sunday.