New qualifying format slammed as 'unacceptable' and 'embarrassing'
Host of cars eliminated in Australia while sitting in garages; Ferrari cars only run once during Q3; Hamilton on pole with five minutes of Q3 remaining; Red Bull boss Horner apologises to fans
By Matthew Morlidge
Last Updated: 19/03/16 11:11am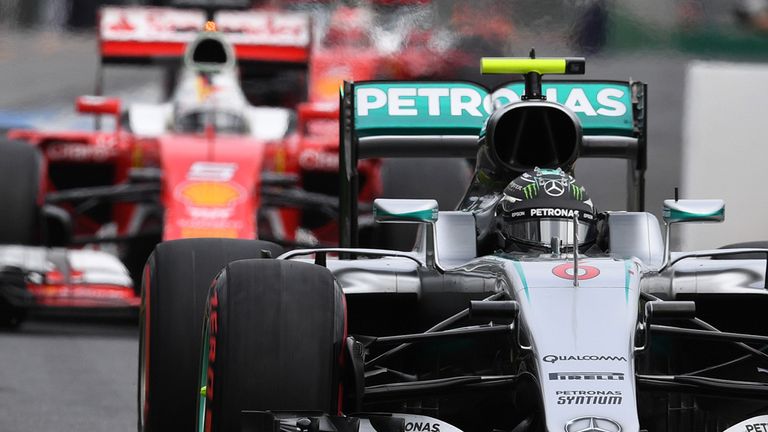 Drivers, team bosses and pundits have called for F1's new qualifying format to be scrapped immediately after its disastrous introduction at the Australian GP on Saturday.
The FIA announced the radical shake-up in a bid to introduce more unpredictability into the race weekends just three weeks ago, but Sky Sports News understands that the new format could be scrapped as early as Monday.
Drivers were eliminated every 90 seconds in Q1, Q2 and Q3 but while it provided excitement early on, the final few minutes of qualifying saw drivers sitting in the pits and standing on weighing scales as Lewis Hamilton secured pole position.
Sky F1 pundit Martin Brundle said: "I don't like it, it's not acceptable and it's got to change. It doesn't work and it has to go before Bahrain.
"We need to find some other ways to liven up Sunday. It needs putting in the skip."
Conclusions from qualifying for the Australian GP
Mercedes boss Toto Wolff described the new format as "rubbish" while Sky F1's Johnny Herbert said the anti-climax finish had been "embarrassing".
A scathing Christian Horner added: "First of all, we should apologise. The intentions were well meant but we have got it wrong. We need to address it immediately. What we saw today wasn't good for Formula 1. We gave it a go, but it didn't work and let's sort it out for Bahrain."
Sky F1 commentator David Croft argued the revamp had the potential to be a "thoroughly exciting" format but would need tinkering to prove a success.
"In a sporting context you could argue that was pretty much a disaster," he said.
The first few minutes of each session saw all the cars remaining fighting for a quick time to avoid being in the drop-out zone, with Daniil Kvyat the first high-profile casualty in Q1.
But as the afternoon progressed at Albert Park the sight of drivers sitting in the pits rather than trying to better their time became an all-too familiar occurrence as the teams struggled to find the time to change tyres and then get them out on a flying lap.
"I don't understand why all the people are so surprised now. It was clear what was going to happen, there were plenty of engineers and other brains that, basically, had sort of predicted what would happen," said Ferrari's Sebastian Vettel. "It's definitely the wrong way to go."
It always looked like Hamilton, Nico Rosberg, Vettel and Kimi Raikkonen would be the final four but with minutes remaining in Q3 the Ferrari team made the call not send their drivers out again. As a result, Hamilton effectively secured pole position with five minutes of Q3 still on the clock.
"The crescendo was the guy getting out of the car," complained Damon Hill. "Hamilton could have waved his own chequered flag for pole with four minutes still to go."
The fact that many cars were eliminated while they were midway through an, often quick, lap was also criticised.
"The hour of qualifying is not long enough," Brundle added. "If they don't go back to old system, they at least have to delay the time when you're getting thrown out and shorten it from 90 seconds so people can get out there and get their laps done.
"How did the fans know what was going on?"
Sky Sports News HQ's Craig Slater said that there was a unanimous desire among both the team bosses and the drivers themselves and other power brokers within the sport to get qualifying changed before the Bahrain GP.
"There will be some kind of meeting on Monday of the strategy group, perhaps via fax or email. The Formula 1 commission can vote on it via those means.
"It does need to be unanimous at this stage for the rules to be changed during the season itself but I understand that will happen, and we'll get back to something like last season's format in time for the second race of the championship."
The first race of the 2016 F1 season, the Australian GP, is exclusively live on Sky Sports F1. The race in Melbourne starts at 5am on Sunday March 20.