2016 Bahrain Grand Prix: Conclusions from qualifying
Surely enough is enough for new format, Hamilton the king of qualifying, Wehrlein and Vandoorne prove future is bright, and...
By Matthew Morlidge
Last Updated: 04/04/16 2:31pm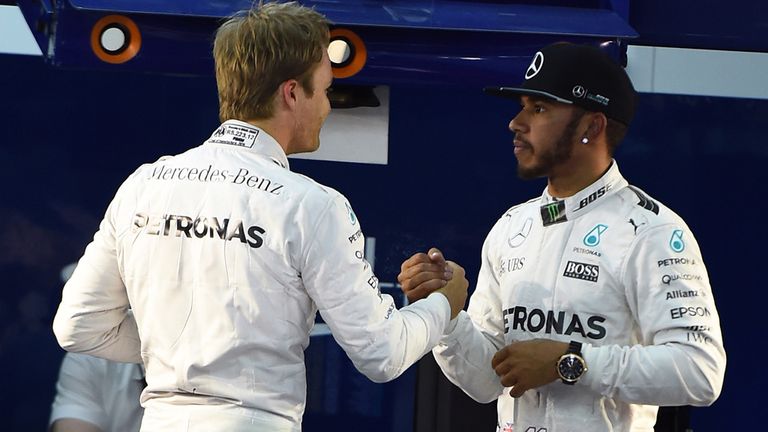 It's time F1 got the message
Two Mercedes, two Ferraris. Four great drivers on the track, four great cars on the supersofts, putting everything on the line to try and secure pole. The fastest ever F1 lap in Bahrain is set by Lewis Hamilton, nicking it from team-mate and rival Nico Rosberg. For a minute or two, you could forget what qualifying format was being used, what decision-making process there was to get there.
But, as Hamilton was celebrating via team radio, reality struck. There were still three minutes left in the session.
When is the Bahrain GP on Sky?
Both Bernie Ecclestone and Jean Todt, although recognising certain shortcomings in the elimination format, were adamant it deserved another chance in Bahrain. The latter even claimed that there was nothing wrong with Q1 and Q2, that the proposed hybrid should have been accepted by teams in the vote before this race.
But while the first two sessions in Australia were different and new, perhaps even exciting, this new system somehow plummeted even further under the lights in the desert.
We should be talking about Pascal Wehrlein, who put in a scintillating lap to reach 16th in the Manor. But no - the track was empty in the last few minutes of Q1; the young German celebrating his achievements on a slow ride back to the pits while the clock was counting him out.
We should be talking about the world champion, who tried his best to salvage a failed format with one of his greatest laps ever. But no - the last couple of minutes of a session fans flock for, again, had drivers back in the pits. The chequered flag, yet again, was waved at an empty track.
Hamilton keeps pole position after stewards' investigation
The teams will meet again to surely come to the same unanimous decision to scrap the new-for-2016 format on Sunday, though this time both Todt and Ecclestone will be present. Will they get the message?
"I think they [decision-makers] need their heads banging together," Red Bull chief Christian Horner said before Saturday's session. "A hybrid is not the way to go. We should vote to go back to system that has worked for so many years."
How it was introduced in the first place, how it got another chance, why the promoters decided this was the change the sport needed; we may never truly know the complete ins and outs. But as the votes will tell you, this elimination format is the least popular among the fans.
And as Sky F1's Martin Brundle put it: "I'd like to meet anyone in authority who doesn't want to get rid of that."
Surely enough is enough?
The king of qualifying
Two weeks ago in Australia, Hamilton secured a hat-trick of fastest times in practice before praising his "sexy laps" as he secured pole. When the 31-year-old is in the groove in this Mercedes at a race weekend, nobody is going to stop him when it comes to one-lap speed.
He was praising another "sexy lap" again on Saturday but the difference here in Bahrain was Hamilton has not quite been at it. By his own admission, this was the only lap all weekend where he really got everything right. That's why his record-breaker under the lights was just all the more remarkable.
After running wide at the final corner on his first attempt in Q3, the Brit was down in fourth and facing elimination without an improvement. Hamilton always seems to step up when the pressure is on, especially in qualifying, and he seemed to nail every corner on his way to a stunning time.
"An incredible lap, he didn't leave anything on the table at any point," said Brundle. "That was a world-class lap. He made an error on his first flying lap but he then just pinned that car to the track."
Hamilton's next mission will be to secure his lead after the first lap and he will be thinking all night about producing a sexy start to stop Rosberg and the Ferraris.
And while we're on Bahrain's fastest ever lap time - Bernie may want rid of them, but it seems these 1.6 litre hybrid V6's are faster than a 3 litre V10 F1 car, not to mention much more efficient. Less fuel, perhaps, but food for thought...
Wehrlein and Vandoorne prove future is bright
The Grand Prix Drivers' Association stressed that they were worried about the future of Formula 1 in their strongly-worded letter last week. While fan-enjoyment and ill-effects from disappointing qualifying sessions is a concern, one thing is for sure: the next generation of drivers give us nothing to worry about.
First there was Wehrlein out-qualifying both Renaults and even a Force India, who were so confident in their superiority over Manor that they weren't thinking about sending Perez out any quicker for another flying lap.
Mercedes have big plans for the 2015 DTM winner and after a frustrating debut two weeks ago, it was refreshing to see him beaming while speaking to Sky F1 after qualifying.
"Exceptional," Johnny Herbert said. "He just seems like a very good driver placing the car in the perfect position." A couple of tenths away from making Q2, Hamilton may have a one-lap rival in the future.
And then there's a certain Stoffel Vandoorne, who only arrived in Bahrain from Japan on Friday morning after his late call-up to replace Fernando Alonso. Jet lag? Not a chance. Kevin Magnussen, formerly of McLaren and an old GP2 rival of Vandoorne, backed the Belgian to match Jenson Button and he wasn't far off. The fact Vandoorne finished ahead of his team-mate up in 12th is an incredible achievement
"To out-qualify Jenson is a little bit of a surprise," the young Dane said. Not to Brundle, who noted during commentary: "He's a bit special."
Red Bull back on the march
You only need to look at the two Renault-powered cars on the grid to appreciate Red Bull and Daniel Ricciardo's success in qualifying. Renault: 19th and 20th. Ricciardo: Fifth.
Christian Horner wasn't optimistic about their early-season chances before the campaign kicked off, and before Saturday's session he would only concede that he was optimistic about the four-time constructors' champions race pace after a fourth-placed finish in Australia.
What he didn't expect was to be the third fastest car on the grid in qualifying, much to the credit of Ricciardo, who was also pleasantly surprised after struggling in practice.
The Australian said: "Q3 wasn't looking that realistic, fifth now feels like a pole!"
After expecting to be stuck in a battle with Toro Rosso, Williams and Force India before receiving engine upgrades at the Canadian GP in June, Horner will certainly be one of the happier team principals in the paddock. He admits Renault are more "committed" in the sport now that they have a works team again.
Perhaps Red Bull will take it to Ferrari this season after all.