Bahrain GP Qualifying: Lewis Hamilton aces final lap for pole
Hamilton produces "world class" final lap to deny Rosberg; But elimination qualifying under fire again after quiet ends to Q1 and Q2
By James Galloway
Last Updated: 04/04/16 2:34pm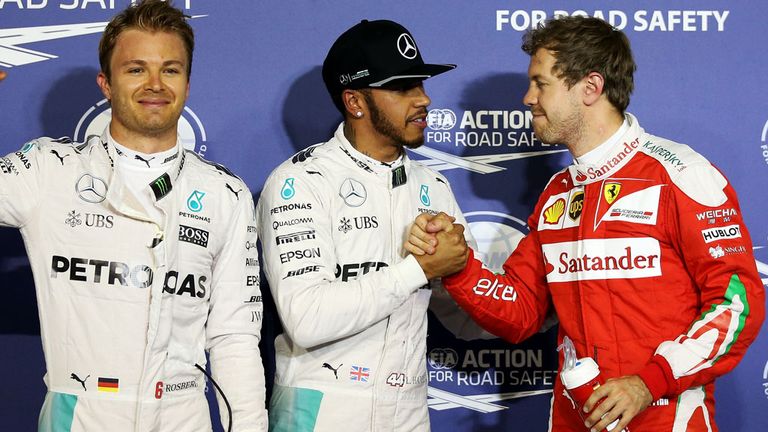 Lewis Hamilton rebounded from a mistake to deliver a scintillating final lap and pip Mercedes team-mate Nico Rosberg to pole position for the Bahrain Grand Prix.
But Hamilton had to survive a stewards' investigation, which resulted in the world champion being hit with a reprimand three hours after the chequered flag had fallen, before his pole position was confirmed, while the results of qualifying were again overshadowed by the failure of the castigated elimination system to deliver the unpredictability it was devised to create.
Instead, as in Melbourne, drivers were routinely knocked while they were sitting in their garages, with empty tracks again a feature of the closing minutes of the first two sessions. Only one car clocked a time in the closing six minutes of Q2.
The pole-deciding Q3 did at least deliver a more familiar 2015-style 'shootout' as Mercedes and Ferrari went head to head on second runs, but the four other cars in the top-eight completed just one fast lap apiece.
FIA president Jean Todt had already called a second meeting to discuss the way forward for qualifying for Sunday, with calls to scrap the elimination rules only set to intensify overnight after more complaints from fans on social media.
What time is the Bahrain GP on Sky?
But after going seven races without a pole position at the end of last season, Hamilton may now advocate a continuation of the rules after he denied Rosberg for the second straight race in an exciting finale.
The world champion was in fourth place when the final runs started after running wide at the final corner on his opening Q3 lap.
However, armed with a fresh set of supersoft tyres, Hamilton regained his composure and secured his 51st pole with a brilliant time of 1:29.493. Rosberg also improved, but wound up 0.077s short in second place.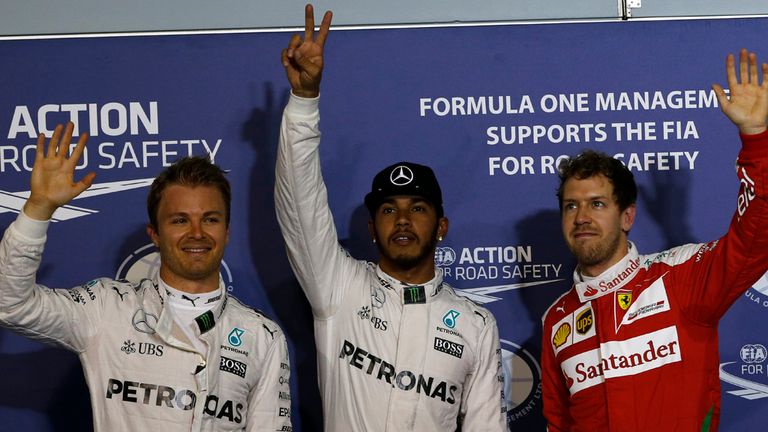 "That was a world-class lap," said Sky F1's Martin Brundle. "Hamilton made an error on his first flying lap but he then just pinned that car to the track."
Hamilton's pole time was the fastest-ever seen at the Sakhir circuit and he said: "I was struggling to put laps together. It's actually the only lap I've put together all weekend, and it was the last one. I hope that's the first of many. 
"It's incredible to think we're quicker now than in the V10 days."
Hamilton keeps pole position after stewards' investigation
Having threatened to split the Mercedes pair, Ferrari couldn't live with their rivals on the second runs and were unable to deny the Brackley team an eighth successive front-row lockout. Sebastian Vettel was third again, half a second adrift of pole, with team-mate Kimi Raikkonen fourth.
However, with their race pace usually better than their single-lap form and tyre strategy set to play a deciding role under the lights on Sunday, Vettel remained optimistic about their chances two weeks after from running Hamilton and Rosberg close in Australia.
"I am very happy with how the car feels on one lap and also in the race so I am full of confidence. If that is enough we will see," the German said.
As expected, Mercedes and Ferrari dominated proceedings - but behind the top two a shift in the order appears to be occurring with Red Bull outqualifying Williams. Daniel Ricciardo outpaced Valtteri Bottas and Felipe Massa by a healthy 0.3s margin to take fifth place for Sunday's race start.
Nico Hulkenberg claimed eighth, the German having secured Force India's first Q3 berth of the season when he was the only driver to complete a second run in Q2. However, team-mate Sergio Perez was the surprise casualty of Q1 after being timed out.
With newcomers Haas again impressing after their point-scoring debut - Romain Grosjean and Esteban Gutierrez will start ninth and 13th respectively - serial winners McLaren failed to deliver on the promise which saw Jenson Button finish a surprise third quickest on Friday.
In fact, the former world champion will start 14th - two places behind his debutant team-mate Stoffel Vandoorne, who outqualified Button by two places and 0.064s.
The stand-in for Fernando Alonso told Sky F1: "I didn't really know what to expect. But I felt really confident in the car. I think we maximised our chances. To out-qualify Jenson is a little bit of a surprise."
One of 2016's full-time rookies, Pascal Wehrlein, also impressed as the Mercedes protege took his Manor car to 16th place in Q1. The German outqualified both Saubers and Renaults, in addition to the disappointed Perez.
Bahrain GP Qualifying results
Q3
1. Lewis Hamilton, Mercedes, 1:29.493
2. Nico Rosberg, Mercedes, 1:29.570
3. Sebastian Vettel, Ferrari, 1:30.012
4. Kimi Raikkonen, Ferrari, 1:30.244
5. Daniel Ricciardo, Red Bull, 1:30.854
6. Valtteri Bottas, Williams, 1:31.153
7. Felipe Massa, Williams, 1:31.155
8. Nico Hulkenberg, Force India, 1:31.620
Q2
9. Romain Grosjean, Haas, 1:31.756
10. Max Verstappen, 1:31.772
11. Carlos Sainz, Toro Rosso, 1:31.816
12. Stoffel Vandoorne, McLaren, 1:31.934
13. Esteban Gutierrez, Haas, 1:31.945
14. Jenson Button, McLaren, 1:31.998
15. Daniil Kvyat, Red Bull, 1:32.241
Q1
16. Pascal Wehrlein, Manor, 1:32.806
17. Marcus Ericsson, Sauber, 1:32.840
18. Sergio Perez, Force India, 1:32.911
19. Kevin Magnussen, Renault, 1:33.181*
20. Jolyon Palmer, Renault, 1:33.438
21. Rio Haryanto, Manor, 1:34.190
22. Felipe Nasr, Sauber, 1:34.388
*Magnussen to start race from pit lane