Sebastian Vettel's Kvyat spat sign of pressure, say F1 Report guests
Vettel accused of "sour grapes" on this week's F1 Report
By James Galloway
Last Updated: 21/04/16 9:32am
Sebastian Vettel's rebuke of Daniil Kvyat at the Chinese GP was "sour grapes" and a sign of pressure getting to him, according to the guests on this week's F1 Report.
The four-time champion remonstrated with Red Bull's Russian driver ahead of the podium ceremony after last Sunday's race with Vettel blaming Kvyat for causing his opening-lap collision with Ferrari team-mate Kimi Raikkonen.
Vettel claimed that by overtaking like a "torpedo", Kvyat left him with no choice but to take evasive action and sent him into the path of the sister Ferrari.
The tangle between Vettel and Raikkonen came on the same weekend Ferrari chairman Sergio Marchionne attended his first race of the season - and just hours after he warned the team "the clock is on" to start beating Mercedes.
Although Vettel recovered from the prang to finish second in Shanghai, the German is already 42 points adrift of championship pacesetter Nico Rosberg, with Ferrari more than two race wins behind Mercedes in the constructors' standings.
Speaking on this week's F1 Report, former McLaren mechanic and Sky F1 pundit Marc Priestley said of the spat with Kvyat: "I think it was a little bit of sour grapes and that pressure from Marchionne will have just got to Seb a little bit.
"He's got Kimi nipping at his heels a bit more this year, so he's feeling it."
Fellow guest Alex Lynn, Williams' development driver and a former member of the same Red Bull junior programme Vettel and Kvyat graduated from, felt the German should have had no complaints.
"It was a bit unfair to blame Kvyat for that one," the Briton said. "[Vettel] left the door slightly open and Danii walked through it quite aggressively, which is fair enough, and then I think Sebastian put himself in a very dangerous position in the middle of a three-car sandwich.
"There's only going to be one loser in that, the guy in the middle. So I think he's been a bit hard done by, but it was a great move by Daniil in the end."
F1 Gossip: Kvyat wins Driver of the Day
GP2 driver Lynn believes Vettel was trying to exert his seniority over the 21-year-old Kvyat by giving him a dressing down after the race - but the fact the Russian stood his ground will serve him well going forward.
"They both came up through the Red Bull junior team ranks and when Daniil wasn't in Formula 1, coming through, Sebastian was the lead driver at Red Bull," Lynn said.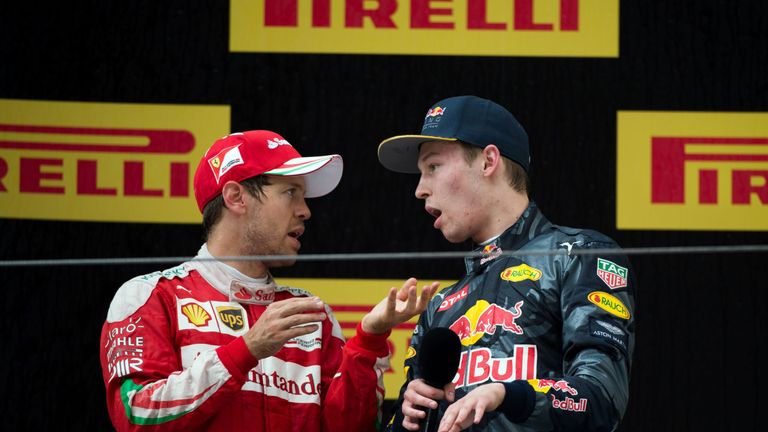 "So I think there's a bit of hierarchy at play, Sebastian is taking the big brother role and saying 'thanks for that'. But Daniil stood his ground and he's the up-and-coming guy at Red Bull now. It was a bit of sour grapes, really.
"When you are coming through, you have to assert yourself as 'I'm the number one' and, even if you're not the number one lead driver in a team, there's a changing of the guard and you have to prove yourself and earn the respect. A move like that will certainly not let Sebastian keep the door open for him anymore."
Watch the F1 Report in full for free below (UK and Ireland viewers only)