Martin Brundle: Nico Rosberg on a roll but Hamilton, Ferrari still threats
Sky F1's Martin Brundle on Rosberg's pressure management amid Hamilton's misfortune, Vettel v Kvyat, and F1's 2017 balancing act
Last Updated: 18/04/16 10:17pm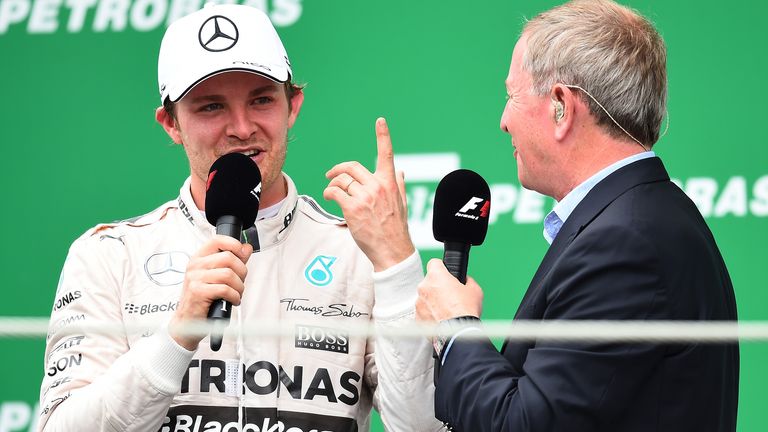 Nico Rosberg serenely marches on.
All the historical stats point to him becoming world champion this year although, as he says, those stats don't include having Lewis Hamilton around.
Twice on Sky F1 at the weekend he described Lewis as the "benchmark". Interesting psychology - praise your rival while you're winning to further enhance your position, like the boxer who threatens to "knock him out in the third", does so, and then hugs his bloody face and praises him as a most worthy rival?
Or does he still mentally feel he's second best?
Nico is a smart boy and he knows through painful experience that it could easily have been his car which failed in qualifying, and the championship could be now neck and neck. He also knows Lewis will not give up and has peerless speed when required. I believe it's just his way of managing down the pressure and expectation in a tidal wave of questions so early in the season.
He will also want to beat Lewis to the title, if it happens, in a straight fight with wheel-to-wheel combat and making key overtakes stick.
Thankfully for us, now they can't just focus on each other in this fight. When Ferrari stop treading on their own tails with reliability issues and contact, they will be in the race fight too and fully capable of taking points off a Mercedes driver or drivers having a bad day.
A difficult afternoon no longer means a guaranteed 18 points for Rosberg or Hamilton for second place.
And coming up on the rails fast is Red Bull; they could be serious race contenders in the second half of the season on certain tracks.
The first lap in Shanghai was very wild, with multiple contacts. With both Ferraris sliding a little wide, I thought Daniil Kvyat was fully within his rights to seize the opportunity in the space up the inside of Sebastian Vettel.
He didn't hit the Ferrari - indeed, Vettel spun his team-mate Kimi Raikkonen around such that he actually made contact with Kvyat. From on-board Vettel's car, it looked as if there was not much he could have done in the space and timeframe, and contact was made.
Vettel's brain was thereafter engaged fully. In front of fearsome team boss Sergio Marchionne, he had just damaged both cars, scarlet against scarlet. He set about rationalising and minimising that on the radio by deflecting everything at Kvyat.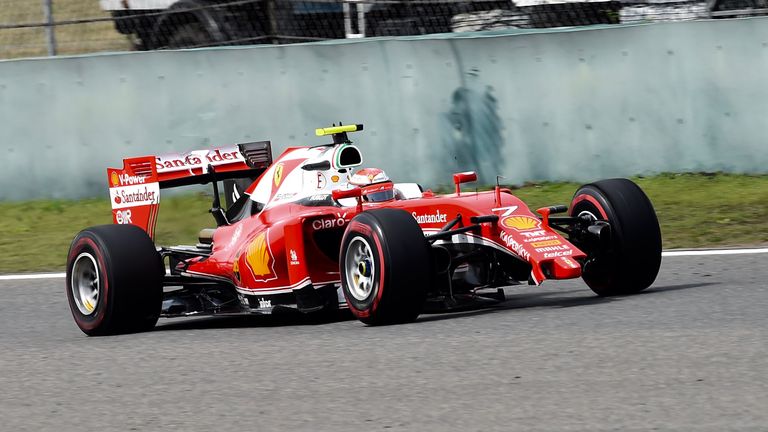 This whining would go into the post-race press conference, where he raised his voice as if on a West End stage but with a global audience to further shift the blame. A German verbally scrapping with a Russian in English.
I thought Kvyat batted it all back perfectly and had every intention of enjoying a guilt-free, important-for-him, and well-deserved podium.
Seb calmed down a little after the race when describing it all as a racing incident, but he also had his brain engaged in the pits under the safety car as Nico Hulkenberg backed up Carlos Sainz, so as not to queue at his pits while they serviced his team-mate Sergio Perez. In a flash, Vettel passed the pair of them in the narrow lane before the speed limit. 
I loved it, but I saw a couple of tweets asking why I was impressed - surely this was illegal and dangerous? The regulations specifically allow for overtaking between the two safety car lines on track either end of the pit straight zone, rather necessarily as cars stop at their pits.
It was a little risky, rather like getting in an F1 car in the first place. It's a race, not a polite high-speed demonstration, as Kvyat reminded Vettel on the opening lap.
Through all of that, Vettel drove a brilliant race for second place, surpassing Ayrton Senna's and matching Raikkonen's record with 81 podiums. In fact, second and fifth for the Ferrari team was a major save.
I felt for Daniel Ricciardo. He's in such fine form and deserved better than a puncture while leading. There was so much debris around I'm surprised we didn't have an earlier Safety Car and more punctures.
The Aussie drove a stormer, which he described as one of the best of his career, fourth was some kind of reward except for his team-mate drinking the champagne.
Once again, the third race tyre compound livened up proceedings and 13 of the 22 starters (and finishers) used all three at some point in the race. Having lost Saturday through rain, and with a much warmer race day, the teams and their strategists were working blind and living on their instincts and experience.
It makes for a better and less predictable race.
With 62 pit stops and so much talk about tyres, it was maybe a little too much, and we are told that the wider 2017 tyres will be targeting much less degradation. The supersofts in Shanghai degraded at four tenths of a second per lap, which is very high, but spices up the action.
I can see why the drivers are frustrated, because the major race-long focus is on tyre preservation and not going as fast as humanly possible. The problem with the zero-deg tyres of the past is that we had very little action of any kind. Let's hope the 2017-spec can find a nice balance between the two.
Lewis elected to start from the grid and not the pit lane because that should always deliver a better track position at the end of lap one, but sadly he was penalised for that.
After a great start and a careful approach around the carnage of turns one and two, a Sauber suddenly entered stage left and heavy suspension and front-wing contact was made. A trip through the gravel with the wing trapped underneath did nothing helpful for his numerous aerodynamic addenda.
As much as I admire the skill and artistry of all these myriad of strakes and aerofoils, I wish we could simplify them because races are so often ruined by cars which lose a mysterious '30 points' of downforce which we just can't see or feel as spectators.
Nothing seemed to work thereafter for Lewis, and by just after half distance he had pitted five times for tyres and a wing and then had a long run to the finished. The team were unaware that one of his sets of tyres had been cut in the contact.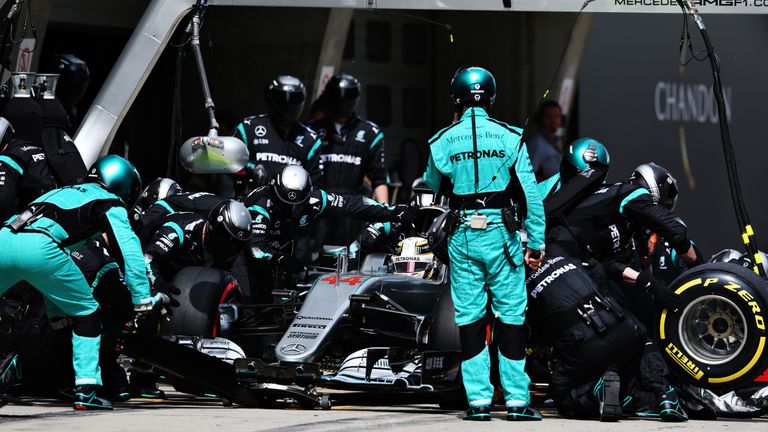 At one point, Lewis made a great and unorthodox move on Valtteri Bottas in turn nine, along with other passes and carrying solid pace, but a similar move on the other Williams of Felipe Massa failed and left him exposed to being passed by Ricciardo.
Despite such occasional strong pace, it was clear that Lewis's Merc was munching through its tyres too fast, although one driver on the plane on the way home unprompted said to me: "I've no idea why Lewis thought his tyres would survive attacking the fast corners like he was when I was behind him."
Rosberg feels that the next few races really suit him, and Lewis must feel that his unlucky run will be coming to an end. Either way, Rosberg is guaranteed to be leading the championship until at least Spain and he's on a super-impressive roll.
MB
Don't miss the F1 Report on Wednesday at 8:30pm on Sky Sports F1 for full analysis of an action-packed Chinese Grand Prix at the Shanghai International Circuit. Natalie Pinkham is joined in the studio by Marc Priestley and Alex Lynn.