2016 Chinese GP driver ratings
Rosberg, Kvyat and Ricciardo star as Hamilton struggles in Shanghai
By William Esler, Matthew Morlidge and James Galloway
Last Updated: 18/04/16 10:19am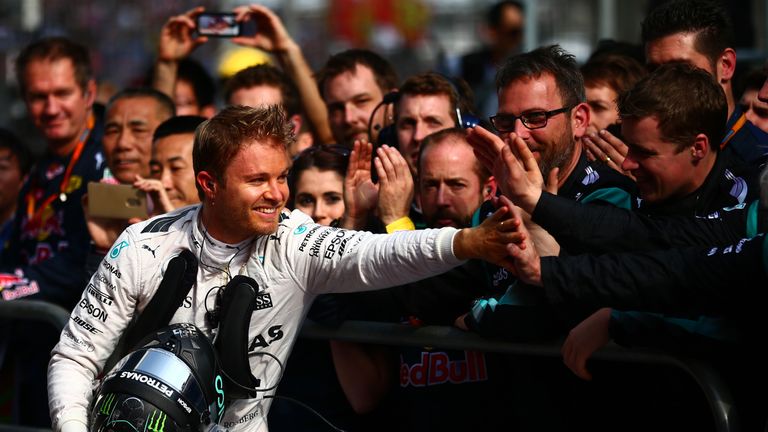 Nico Rosberg barely put a foot wrong with a dominant display in China. His incredible pace meant he was able to progress to Q3 using the slower soft tyres in Q2 and that put him on the optimum strategy for the race.
He was always likely to lose out at the start to the supersoft runners, but was quickly past Daniel Ricciardo to retake the lead and from that point on was in a class of one.
The only blemish on his record was running slightly wide at Turn Nine late in the race, perhaps a blip in concentration given how easy a race it was for him.
Rating out of ten: 9.5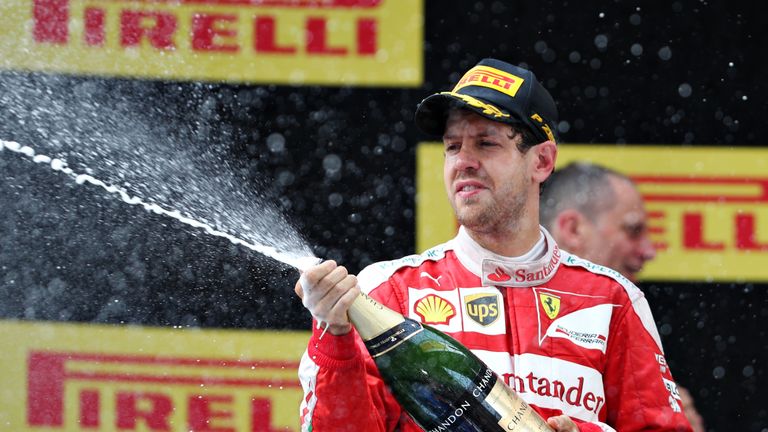 "Suicidal". "A madman". "Like a torpedo". Just some of the words and phrases Sebastian Vettel used to describe Daniil Kvyat's early move in an attempt to explain to Ferrari why he had just knocked his team-mate off the road.
But as a four-time world champion and a more experienced driver on the grid, Vettel should know better. Kvyat's move down the inside after a stunning start was risky but he still didn't make contact with the German, who claimed he had no choice but to shunt Kimi Raikkonen, effectively ending both their chances of claiming a first victory of the season.
Vettel did well to recover like a man of his capabilities can. Valtteri Bottas, Sergio Perez and Fernando Alonso were all in his way and easily passed after a new front wing was fitted before his battle with Kvyat continued. With Ferrari power, Vettel was always going to get the better of that late encounter and will have been pleased to escape with 18 points after his retirement in Bahrain. Still, his confrontation with Kvyat after the race was unnecessary.
"I hear what Vettel says, but I'm with Kvyat," said Sky F1's Martin Brundle.
Rating out of ten: 7
His predecessor at Red Bull may not have liked his methods much, but Daniil Kvyat really needed to make his first mark on 2016 in Shanghai - and, by surging down the inside of the Ferraris at the first corner, the Russian did just that.
Given there appeared a legitimate RB12-size gap to thrust his car into, there was little sympathy for Vettel's angry stance after the race. Although it could be said the German had the last laugh by eventually beating Kvyat to second place, the Red Bull man was rather chuffed with the second podium of his career - as was his team boss.
"A very measured drive from him and a real confidence booster," said Christian Horner.
The story of last year at Red Bull was that Kvyat often profited from team-mate Ricciardo's misfortune and there's little doubt that the Aussie, who probably would have finished second without his puncture, is again in the stronger form of the two. But, with his home grand prix next up, the Russian has laid a foundation for better things to come.
Rating out of ten: 8.5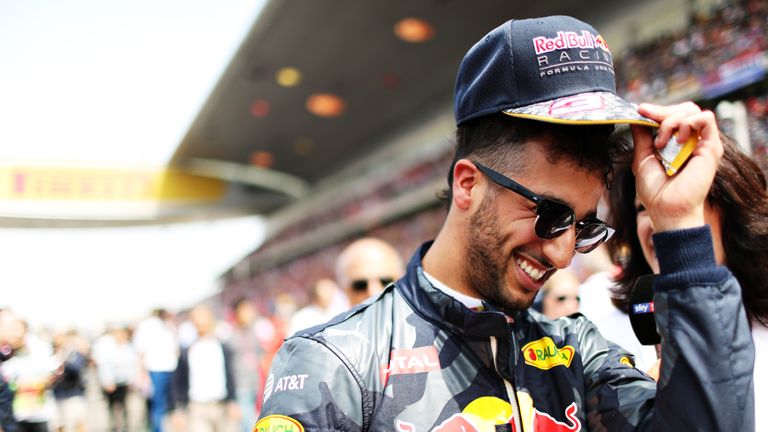 Oh, what could have been for Daniel Ricciardo. Starting from the front row, he made a great start to take the lead, but never would have had the pace to challenge Rosberg for victory. However, he certainly could have challenged for second place.
A puncture on the back straight just three laps into the race severely compromised the Australian. Not only did he drop to 18th, but the way the tyre unravelled surely caused some bodywork damage to the Red Bull which no doubt will have affected the car's performance.
From there, it was a fine drive to recover to fourth at the chequered flag, which featured some great overtaking moves.
Rating out of ten: 9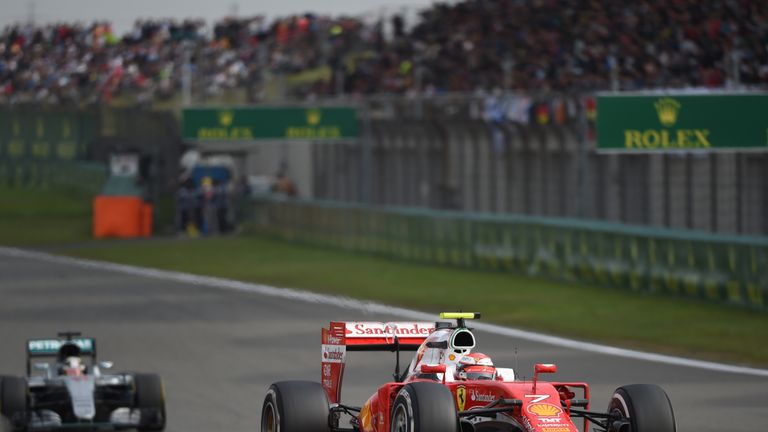 Judging by his pace over the weekend, Kimi Raikkonen may make a strong argument that he could have at least given Rosberg something to think about in Shanghai. Second place was certainly on offer.
The Finn was fastest in Practice Two and then out-qualified Vettel a day later. However, Sunday quickly went downhill after that collision with his team-mate. Like Vettel, the race became a recovery mission for Raikkonen and he superbly moved through the field. A manoeuvre on Bottas into Turn Six was one of the highlights and proved the medium tyre at least had some potential.
For his final stint, Raikkonen went into overtaking mode again after a pep talk from his race engineers and, on the soft compound, was able to make the most of his rubber by finding a way past a Williams and a Mercedes.
P5 was an impressive end result after the early damage, but it's still a case of ifs and buts for Ferrari this season.
Rating out of ten: 8.5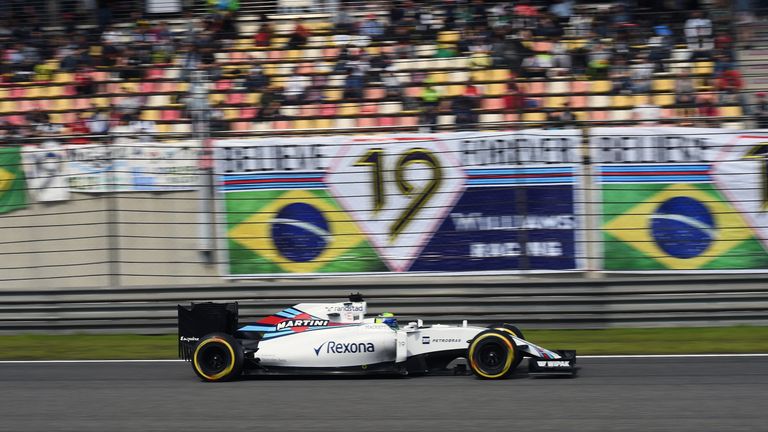 Keeping a marauding Lewis Hamilton, even with a damaged car, behind you is never the easiest task, but it was mission accomplished for Felipe Massa as the Brazilian again came home as the lead Williams car in sixth place.
Having clearly been leapfrogged by Red Bull, Williams' drivers are really having to work for their results at the moment, so it's kudos to Massa that he has beaten Bottas in all three races so far.
Scuppered by the red flag in Q2 on Saturday, Hulkenberg's subsequent penalty and the fact Massa was free to start on fresh soft tyres from 10th meant he gained plenty of ground when the Safety Car came out and cars peeled into the pits, even running in the podium places at one point.
With a further shorter stint on softs and then 25 laps on the mediums taking him to the flag, Massa was eventually overhauled by recovering faster cars - but not by the world champion. No wonder he was delighted afterwards.
Rating out of ten: 7.5
As if starting from the back wasn't a big enough challenge, Lewis Hamilton's race was compromised further by contact with Felipe Nasr at Turn One. There was nothing the world champion could do about it as the Sauber moved across to avoid Raikkonen returning to the track.
Not only was his front wing damaged, but the floor then suffered damage when the wing became lodged beneath the car which impacted on the remainder of his race.
Hamilton: Mercedes car drove like a bed
Hamilton was unable to make the tyres last with his hobbled car and was left a sitting duck late in the race for Ricciardo and Raikkonen. Seventh was a good result given his dramas.
Rating out of ten: 8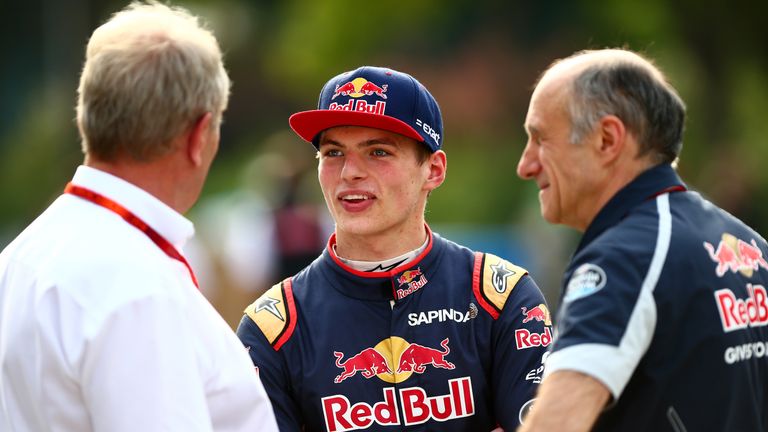 After being out-qualified by his team-mate and struggling off the start, Max Verstappen can be mighty pleased with his performance in what was another indication of his fine potential.
Starting in ninth, the Dutchman had his Toro Rosso in the wrong power mode and lost positions, causing him to fall behind Carlos Sainz when it came to pitstop preference.
Running with a string of cars in the midfield, the cameras rarely panned to the teenager until the last half-hour in Shanghai, when a stint on the soft tyre helped him into the points - and then some.
Verstappen made mince meat of Bottas to move into eighth and was on the tail of Hamilton in the closing stages. One more lap, and he would have had another scalp. With all drivers finishing the race, eighth was the best he could have truly hoped for after the tricky start.
Rating out of ten: 8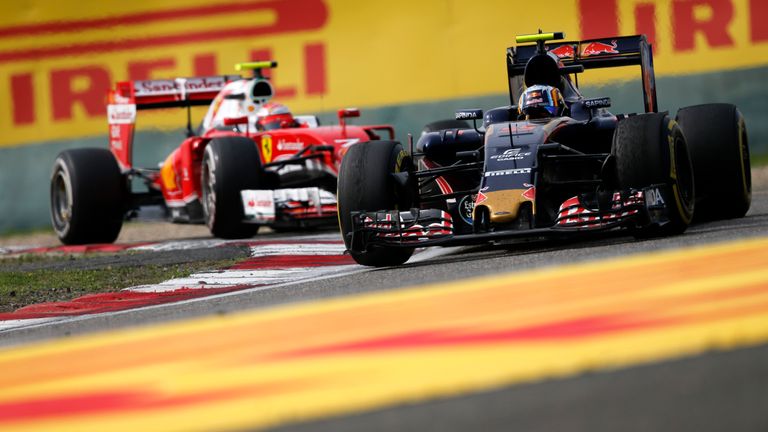 When reliability is on Carlos Sainz's side, the 21-year-old is already a reliable points scorer. Ninth place in a crazy, topsy-turvy race such as Sunday's further underlined that fact.
In qualifying, the Spaniard got the better of team-mate Verstappen for the first time this year - and by three tenths of a second - but lost ground at the first stops in the race, as Nico Hulkenberg trundled his way down the service road.
Verstappen ended up beating him by five seconds, but it was a more than solid weekend for Toro Rosso's lesser-feted youngster.
Rating out of ten: 7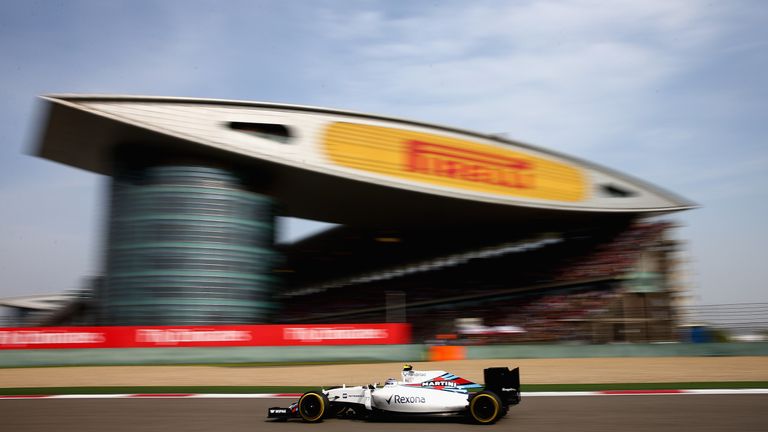 Starting fifth on the grid a strong result could have been on the cards for Valtteri Bottas, but choosing the outside line for Turn One proved a costly decision.
Staying wide rather than tucking in meant he had to take action to avoid the spinning Raikkonen and this left the Finn unable to take advantage of the chaos at the start.
Rosberg: Hamilton the benchmark 
A short middle stint left him on old tyres at the end of the race and with three laps to go he dropped behind the flying Verstappen before also losing out to Sainz on the final lap.
Rating out of ten: 6
And the rest...
Sergio Perez was up in third before the Safety Car came out and, in truth, this ruined the Mexican's race.
He may have been involved in some entertaining battles but it's another race without points for Perez and Force India, who were expected to head the midfield pack this season. On the mediums at the end of the race, Perez was a sitting duck for the Toro Rosso youngsters and has to settle for 11th.
Rating out of ten: 6
Back in the car, but not back in the points, Fernando Alonso's wait for a first top-10 finish in nine months continues.
Although he felt some lingering pain from his rib injury on Friday, the former champion was the quickest McLaren driver all weekend and was convinced both he and Button would have been in Q3 had Q2 not been cut short.
A top-10 finish then definitely looked on the cards when he ran as high as fourth early on but, once the quicker cars were back in position, the MP4-31's shortcomings were exposed with Alonso admitting "we didn't have the pace today to be in the points". McLaren are getting closer, but are not yet close enough.
Rating out of ten: 7
Strategy just didn't work out for Jenson Button in Shanghai, leaving the Briton frustrated after the race. The medium tyres didn't work on his McLaren and attempting to two stop and then aborting that strategy severely impacted on his pace.
Rating out of ten: 6.5
After a dream start to life in Formula 1, Haas came crashing back down to earth in China. Still, at least Esteban Gutierrez finally finished a race, and even got the better of his team-mate.
Able to last 19 laps on his first soft tyre stint, Gutierrez was quickly overtaken by the quicker pack following their stops, but was able to set the fastest lap of the race at one stage.
Rating out of ten: 6.5
Nico Hulkenberg's Chinese GP turned into the tale of two penalties. The first, in qualifying, saw him drop three places on the grid to 13th for the incorrectly fitted wheel which worked its way loose (although, quite why the driver is penalised in these incidents remains confusing - particularly when the incident had already cost Hulkenberg his participation in the top-10 shootout).
Then, in the race, the Hulk was handed a five-second time penalty for driving 'unnecessarily slowly' in a bid to avoid queuing behind team-mate Perez as cars dived into the pits on lap four. Four pit stops, but no points, capped an ultimately forgettable weekend. At least he took away the fastest lap.
Rating out of ten: 5.5
Making it to the finish and beating his team-mate is all that can really be asked of Marcus Ericsson at the moment given Sauber's current plight.
The Swede out-qualified Felipe Nasr and beat both Manors, Romain Grosjean and both Renaults home in addition to his team-mate.
Rating out of ten: 7
Kevin Magnussen was convinced that he could land Renault's first points of the season this weekend but with this package, it just wasn't to be.
Renault were battling with Manor and Sauber for most of the grand prix, but Magnussen can at least take solace that he won the scrap with his team-mate again.
Rating out of ten: 6
Pascal Wehrlein made the first error of note in his F1 career in qualifying when the combination of a wet patch and bump half-way down the Shanghai pit straight caught him out and sent him spinning towards the barriers.
From the back row, the German briefly ran well up in the points during a 15-lap opening stint, but was eventually shuffled back to a lapped 18th, although that was still ahead of a Haas, a Renault, a Sauber and his Manor team-mate Rio Haryanto. An aggressive final stint on supersofts nearly got him ahead of Magnussen's Renault too.
Rating out of ten: 6
The honeymoon had to end at some point and after an incredible start to the season, Romain Grosjean endured a difficult weekend in China. The Haas driver was unhappy with Pirelli's mandatory tyre pressures and struggled to find a balance all weekend. That was compounded by damage sustained on the first lap.
Rating out of ten: 6
If Felipe Nasr had the option of trading in the C35 right now, he'd take it in a flash. Uncomfortable with the car's handling, and unconvinced by its braking, the Brazilian's hopes for any semblance of a good race in Shanghai went south at Turn One.
Turning sharp right in a desperate bid to avoid Raikkonen's Ferrari, he thudded straight into the side of Hamilton's Mercedes. Ouch.
Rating out of ten: 5
Another race finish under Rio Haryanto's belt, though the Indonesian admitted he was struggling with tyre degradation in the Manor all weekend.
Rating out of ten: 5.5
A thoroughly disappointing day for Jolyon Palmer, finishing last overall.
He even managed to annoy one of the frontrunners as they tried to overtake, with Kvyat yelling that the Brit "should get out of my f****** way" when the blue flags were waved.
Rating out of ten: 4
Don't miss the F1 Report on Wednesday at 8:30pm on Sky Sports F1 for full analysis of an action-packed Chinese Grand Prix at the Shanghai International Circuit. Natalie Pinkham is joined in the studio by Marc Priestley and Alex Lynn.