Lewis Hamilton: Mercedes drove like a 'four-poster bed' at Chinese GP
Hamilton collided with Felipe Nasr at Turn One; World champion 36 points behind Nico Rosberg after team-mate seals easy victory
By Matthew Morlidge
Last Updated: 17/04/16 12:37pm
Lewis Hamilton felt his Mercedes drove like a "four-poster bed" after sustaining front-wing damage at the first corner of the Chinese GP - with the world champion eventually battling back to seventh.
The Briton started from the back of the grid after power unit issues on Saturday but got a good getaway, only to collide with Felipe Nasr as the Sauber tried to avoid both Ferraris, who made contact.
Hamilton had to come in for one of five pitstops for a new front wing after the melee, with part of his old wing stuck under the W07's floor for the remainder of the grand prix.
Lacking power, he was eventually passed by both Daniel Ricciardo and Kimi Raikkonen in the closing stages, while Felipe Massa produced a defensive masterlcass to keep Hamilton in P7.
Despite another afternoon of damage limitation, the world champion now finds himself 36 points behind Nico Rosberg in the standings after his Mercedes team-mate eased to a third straight victory in 2016.
"It was definitely a difficult one," Hamilton told Sky Sports F1. "I got a good start, which is always difficult from the back. I tried to avoid what was ahead of me but got tangled in it.
"After that I battled through, but I just felt like every time I stopped I had to come through again, I wasn't gaining ground and at the end there wasn't enough tyres. That's racing but it's not a great finish. Hopefully onwards and upwards.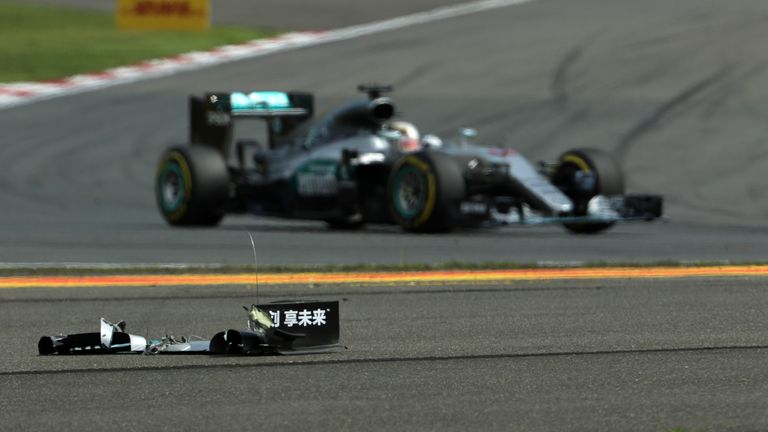 "I have no hindsight at the moment. This track is quite good because you can overtake and get close but the car was pretty damaged. I'm sure some aero parts were damaged but I think the suspension was too. The car was flexing like crazy today, like a four-poster bed."
Toto Wolff could only reflect on a bittersweet afternoon, as Rosberg extended his total winning streak to six races. The Mercedes team boss confirmed that the front wing was damaging the bargeboard and floor of Hamilton's car, severely affecting the aerodynamics.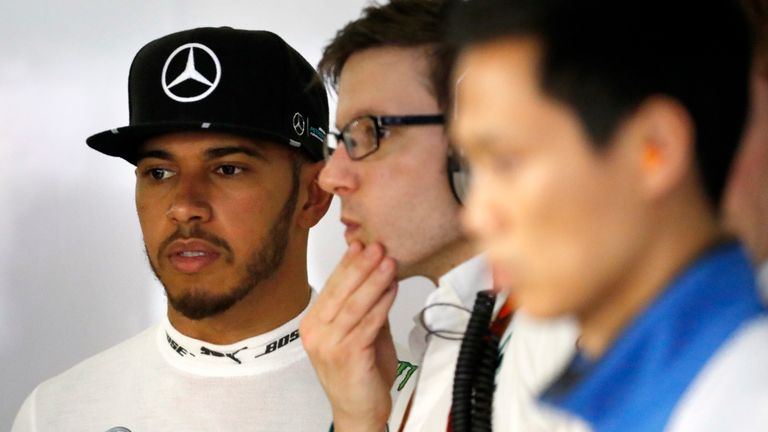 Hamilton had at one stage looked on for a fourth-placed finish in Shanghai, but came unstuck in the battle with Ricciardo and Massa on laps 43 and 44.
While trying to pass the Williams he failed to defend himself, with Ricciardo eventually overtaking both drivers.
"That is quite possibly the worst lap I have seen Lewis Hamilton drive in a Formula 1 car," said Sky Sports F1's Martin Brundle.
Don't miss the F1 Report on Wednesday at 8:30pm on Sky Sports F1 for full analysis of an action-packed Chinese Grand Prix at the Shanghai International Circuit.