F1 opinion split over Red Bull 'aeroscreen' cockpit concept
Hamilton among current and ex-drivers who believe F1 should retain an element of 'danger'; But Alonso and Button adamant cockpit protection must arrive soon - with Briton saying car looks better
By James Galloway in Sochi
Last Updated: 30/04/16 10:33am
Red Bull's canopy-style concept has split the opinion of the F1 paddock, with some leading figures arguing a balance must be struck between safety and the traditional 'risk' of racing.
Red Bull gave a public debut to their cockpit protection 'aeroscreen' on Daniel Ricciardo's car for one exploratory lap in Russian GP practice.
The Red Bull idea is the second potential solution tried in recent months after Ferrari briefly ran with a 'halo' on their car in winter testing.
With the FIA determined to introduce some form of driver head protection to lessen the chance of head injuries, it seems likely that one of the two ideas will be adopted for 2017.
However, the test of the 'aeroscreen' in Sochi has provoked a more fundamental debate among drivers old and new about whether F1 should compromise its traditional open-cockpit formula.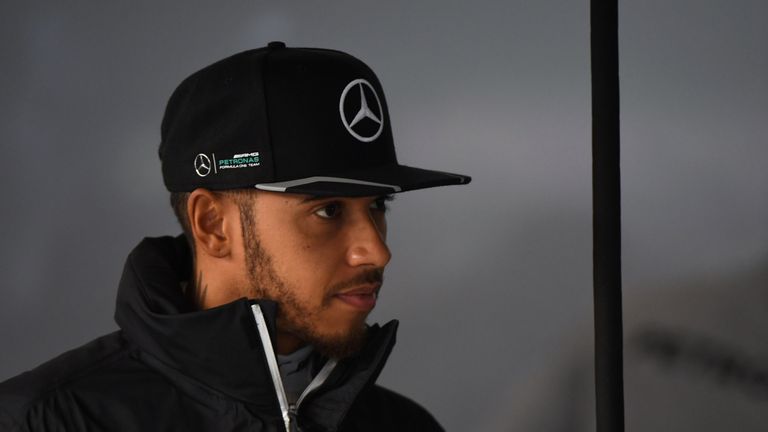 "We've got a cool, elegant futuristic Formula 1 car and you're going to have a riot shield sitting on top of it."
Lewis Hamilton
World champion Lewis Hamilton, who made his opposition to the halo clear earlier this year, is not a fan of the Red Bull idea either and believes an element of jeopardy should be retained in the sport.
"When I get in my car I know that there is a danger - that's been the same since I started when I was eight years old," he told reporters at the Russian GP.
"That's the risk that I'm willing to take and that is the risk that every single driver that's ever got in a car is willing to take. It [safety] has come along so far over the years, which is amazing and we have rarely seen deaths.
"If you're going to do it, close the cockpit like a fighter jet, don't half a** it. Do it one way or another. It looks like a riot shield. We've got a cool, elegant futuristic Formula 1 car and you're going to have a riot shield sitting on top of it."
Hamilton made clear he was not against safety advances, but believes they should not detract from the sport's appeal.
"It is a good thing to see that the FIA do take safety seriously," he added. "It is a constant thing that always needs to be worked on, but as long as it doesn't affect the aesthetics, the style and the coolness of Formula 1."
When is the Russian GP on Sky?
Former drivers turned Sky Sports F1 pundits Martin Brundle and Johnny Herbert were also unconvinced by the canopy.
"That's something I'd have expected the great Douglas Bader to have climbed out from, to be honest," said Brundle, referring to the famous RAF wartime pilot. "What next? The logical conclusion to all this for me is a driver-less racing car. If you're not prepared to take a risk then don't get inside a racing car."
Herbert said that while he did not think drivers would have issues with visibility in normal conditions, he admitted: "I'm still not sure about the concept. Aesthetically I don't think it looked that bad, it's better looking than the halo, for sure.
"It's all going to be about angles and how lucky you are. Where does that wheel go if it hits? It's going to go high up in the air.
"There's a purpose and a reason why everyone is concerned about objects coming towards the driver's head. I think it's what F1 and single seater racing is about, it's about that bit of risk."
And although the idea has been devised by his own Red Bull team, Daniil Kvyat cautioned: "We have to see what the fans think. If it takes too much away of the old fashioned look then we shouldn't do it. But if they can accept it..."
However, other drivers remain wholly behind the impending arrival of cockpit protection - with Jenson Button, the grid's most experienced driver, even suggesting the Red Bull looked better with the partial canopy in place.
"I prefer the look of it, I think it looks better than a normal Formula 1 car," Button told Sky F1.
"But I think we have to look at the safety and what one is better for safety. I think in a couple of years time if we did go for the design that was on the Red Bull today we will look back and think the cars look weird without it.
"I used to watch the F1 powerboats in Bristol with the family with open cockpit for many years and then they had the closed cockpit and it looked so much cooler. That is not a reason to have that option, it is for safety and we have to have the right option for safety."
Team-mate Fernando Alonso concurred: "I think it is a must for safety. We don't need heroes in the sport right now.
"We saw many incidents and many occasions in the last couple of years and probably all the deaths we had in Formula 1 and junior categories came from head injuries so I think we don't want anyone getting hurt in the future. If there is a solution in place, and it seems it can be a solution, let's introduce it."
Watch the whole Russian GP weekend - LIVE ONLY on Sky Sports F1. The race begins at 1pm on Sunday, with build-up from 11.30am. Or watch the race without a contract for £6.99 on NOW TV.