F1 2016: What's different on the cars for the Spanish GP
The upgrades and new parts to be tested this weekend in Barcelona
By Pete Gill and James Galloway in Barcelona
Last Updated: 13/05/16 3:27pm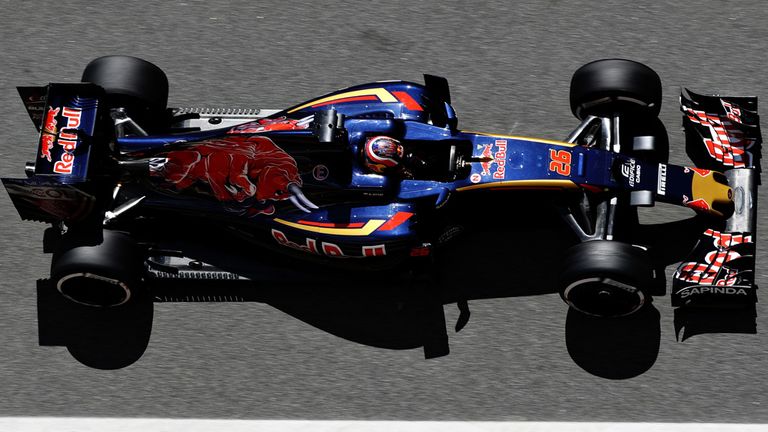 As the gateway for the European leg of the season after the opening 'flyaway' rounds, the Spanish GP typically sees more upgrades and car changes than any other event on the calendar.
So here's what to look out for Barcelona this weekend…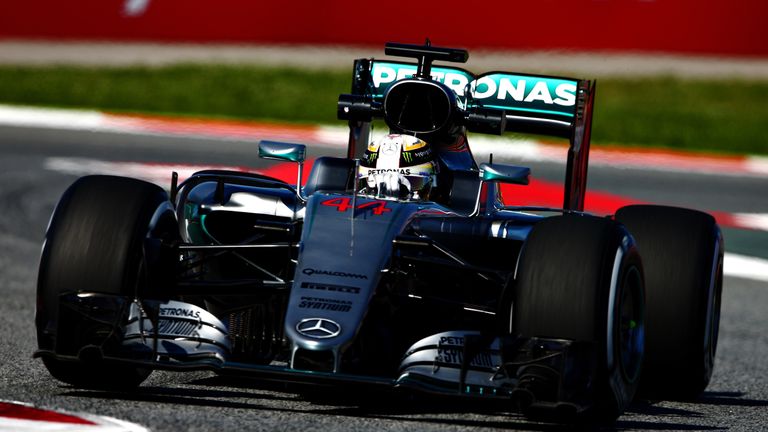 Having retained their F1 superiority at the start of this season, Mercedes unsurprisingly have not strayed from their tried-and-tested development policy. "It's modest improvements, but that's always been Mercedes' modus operandi," says Sky F1's Ted Kravitz.
The most noticeable change on the W07 at Barcelona is a more 'pointy' nose, while there are also tweaks to the car's engine cover, rear wing and mini 'monkey seat' wing at the rear of the car. 
"We have two new front wings and we tested them across the cars during P1," confirmed team technical chief Paddy Lowe.
Meanwhile, Lewis Hamilton is running a new MGU-H unit in his Mercedes - his fourth such component of the season - after his breakdowns in China and Russia. 
'This is an improved design following the failures experienced in China and Russia,' the team stated. 'We have just one example available owing to the limited time since Russia ad it has been a superhuman effort to ready it.'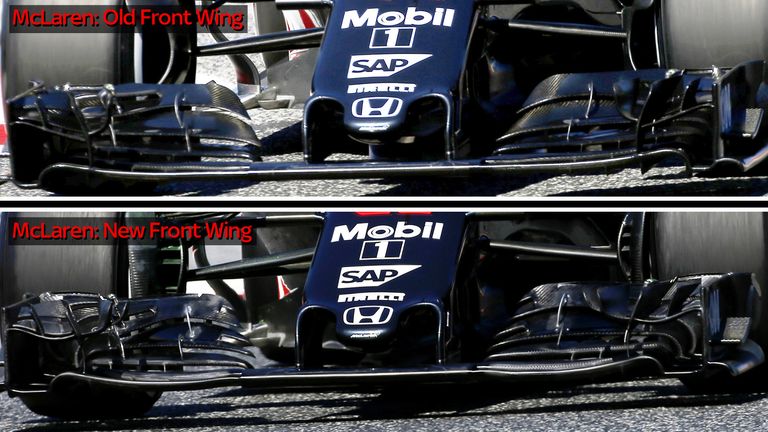 McLaren billed their upgrade for Barcelona as "significant" with a new aerodynamic configuration - including "our second front wing iteration of the year" - to be tested in practice on Friday.
The wing arrived mid-way through practice and Ted Kravitz described the multi-element layout as the "most intricate front wing I've ever seen". "It has grown an extra set of cascade wings, like an extra set of fingers sprouting out. It is brilliant," he said. "The other new bits for McLaren are new brake ducts, a new floor, new diffuser and a new rear wing as well."
Yet, despite its introduction and their double-points finish in Russia, the team have also cautioned against any expectation that the changes will dovetail with an equally-significant move up the field.
"The next race in Barcelona will be reasonably difficult for us," Jenson Button has warned. "It certainly won't be easy. While we'll be evaluating upgrades to the car in Barcelona, so will many other teams," added team boss Eric Boullier.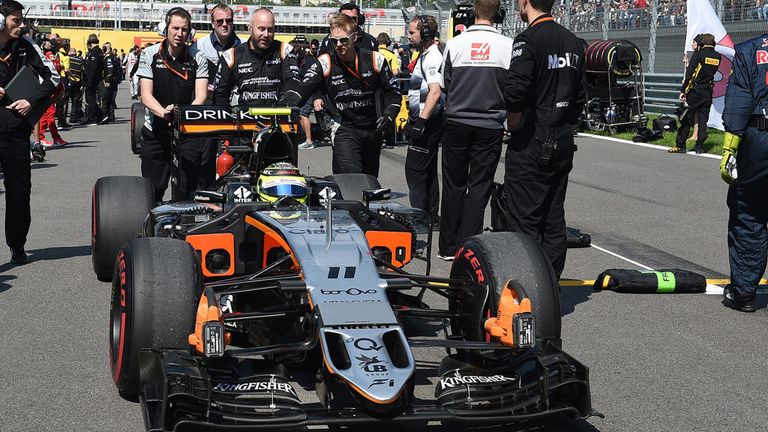 In their own words, Force India are looking for a 'luck upgrade' as well as a car upgrade this weekend.
A new front wing headlines the changes to the VJM09, which Ted Kravitz describes as "more of a cutting edge design now, absolutely 2016 standard". There are also changes to the diffuser and rear wing too.
Sergio Perez said that the front, rear, and floor of the car have been changed, as well as "everything to improve flow quality". He added that rather than lap times, the team were looking for more "drive-ability" in the VJM09.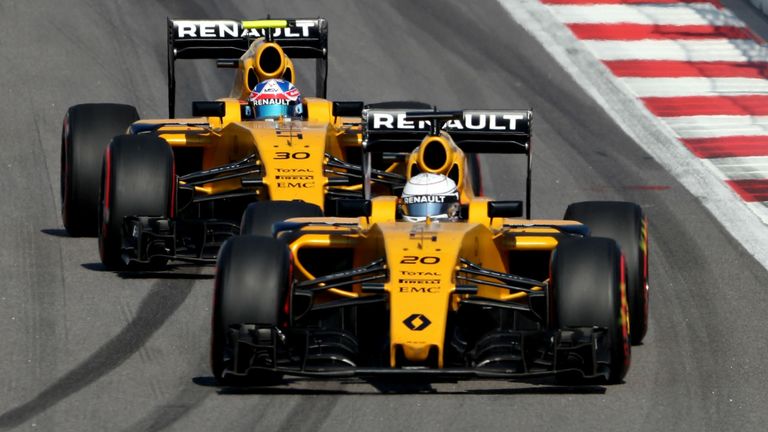 Renault will be working overtime to right the wrongs of their dismal start to 2016. For the race weekend, their new car will be fitted with new front and rear wings while Jolyon Palmer will drive the new chassis, which debuted at last week's filming day at Silverstone.
But it's their work at next week's test which is likely to prove even more significant given it will impact both the works outfit and Renault's sole existing customer, Red Bull.
Having spent only one development token so far this season, Renault will use the two-day meet to test out a new 'B-spec' engine, which is forecast to reap a 30bhp improvement.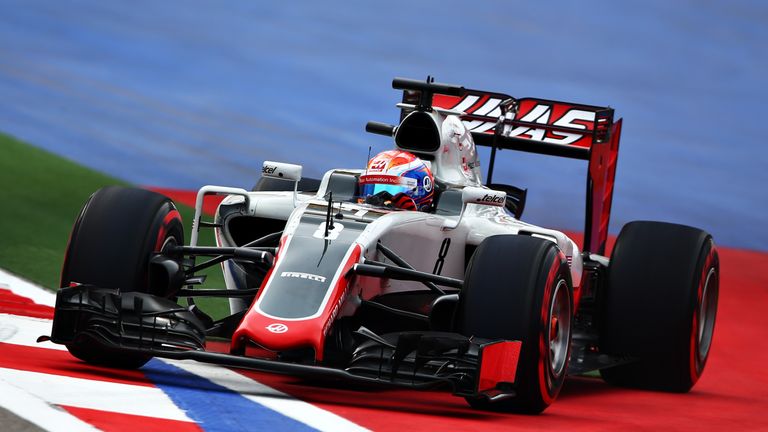 Three points finishes from their opening four races have given Haas an unexpectedly strong basis from which to bolt developments on to the VF16.
After racing their new front wing for the first time in Russia, the American team are adding a new-look rear wing for their package in Spain.
Like fellow premium Ferrari engine customers Sauber, Haas will also use the Scuderia's updated engine for the first time. However, team boss Guenther Steiner has stressed the team are adopting a piecemeal approach to 2016 development:
"We won't have big changes on a set schedule," Steiner said. "We'll introduce new parts when we feel we've made enough gains. New parts from our development will trickle in every few races, just like every other team does."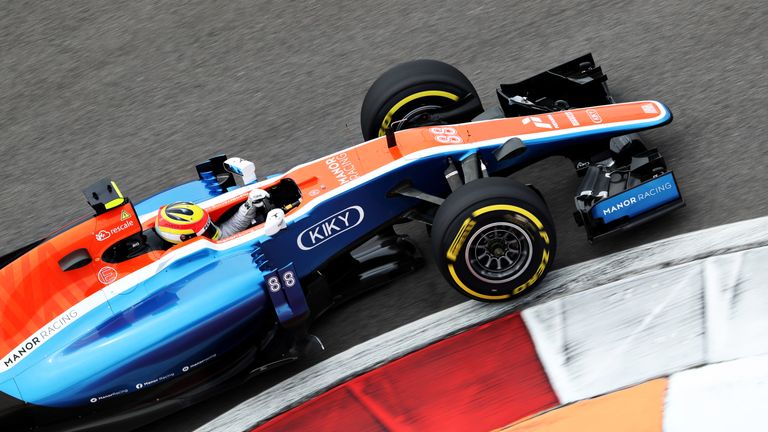 A new car, let alone upgrades of significant note, were unattainable for Manor in 2015, but the situation is rather different this year and the MRT05 will feature a number of revisions for Barcelona.
The package is extensive and includes new bodywork, floor and front and rear wings, in addition to other tweaks here and there as they aim to join the back of the midfield.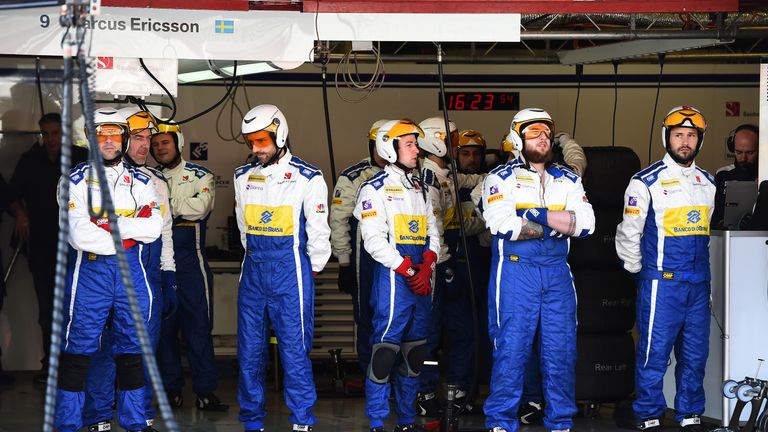 Harshly illustrating the depths of the team's current struggles on and off the track, Sauber will not be introducing any new car upgrades this weekend - and with none in the pipeline either, the team will also sit out next week's test.
The only change for the C35 will be to the engine with suppliers Ferrari providing a power unit upgrade. 
More teams to follow...
Watch the Spanish GP live on Sky Sports F1. The race starts at 1pm on Sunday, with build-up underway at 11.30am. Or watch the race without a contract for £6.99 on NOW TV.