Can Ferrari finally catch Mercedes at the Spanish GP?
Sky Sports F1's Mark Hughes on why Ferrari struggled in Russia and why their true pace should be uncovered at the Circuit de Catalunya
Last Updated: 01/06/16 12:55pm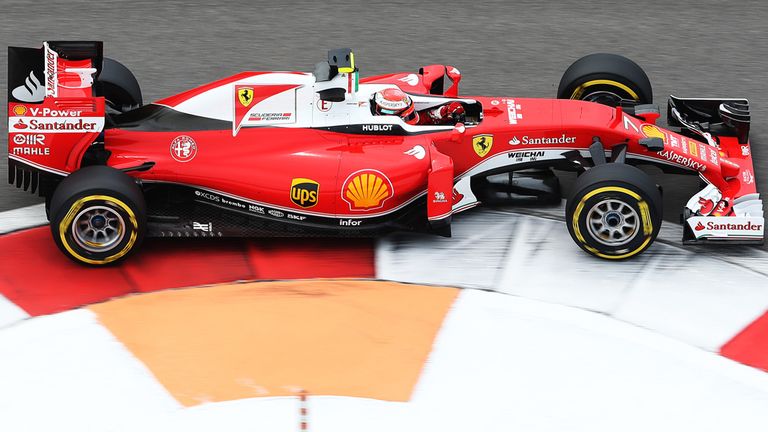 After a series of missed opportunities for Ferrari early in the season, team principal Maurizio Arrivabene declared in China that their car's underlying race pace was within 0.1 seconds of that of Mercedes.
It was probably an optimistic reading - but nonetheless the Scuderia had definitely under-achieved.
But for the Safety Car Sebastian Vettel might have won in Melbourne, but for an engine failure on the Bahrain GP formation lap he might have been able to take on the Mercs there, while in China and last weekend in Russia, Daniil Kvyat's first-corner moves on Ferrari made Nico Rosberg's respective tasks much simpler.
There have been a few Friday practice sessions where the Ferrari race simulation pace looks every bit as good as Merc's - but that may be a misleading picture, possibly skewed by different fuel loads. In the initial stages of Q3 in Bahrain, Vettel and Raikkonen were within 0.1s of Rosberg. But on the second Q3 runs both Mercs suddenly pulled themselves half a second out of Ferrari's reach.
'Engine modes' assumed many in the paddock and the Mercedes power unit known to be able to run a leaner, more aggressive mixture than the Ferrari for short periods of time. But it was a theory Lewis Hamilton, for one, rubbished. The engine settings were the same in each run, he insisted. The improvement came, he felt, from the falling track temperatures in the dusk and how the Mercedes found more from the increased track grip.
F1 Gossip: Could Allison replace Arrivabene as Ferrari team boss?
For Sochi, Ferrari adopted a very aggressive approach, rushing through a three-token combustion upgrade originally scheduled for Spain. It gave some indication of the pressure the Scuderia is piling upon itself trying to combat another season of Mercedes domination.
Yet despite the upgrade, Ferrari was a chunky 0.5s off Nico Rosberg's qualifying pace. On race day, 14 laps after being overtaken by Hamilton, Raikkonen was 16s behind him. The upgrade appeared not to have had much effect - but that too may be a misleading picture. And the clues as to why may go back to that Q3 session in Bahrain.
Mercedes also arrived in Sochi with an engine upgrade, a two-token revision to the fuel system. So it may be that this neutralised any gains made by Ferrari. But Arrivabene, for one, thinks not. He believes that the true extent of the Ferrari motor's gains will be seen in Barcelona. "On this track, it was expected," he said post-race Sochi about the deficit to Mercedes, "but I don't want that to happen again. First of all, we don't have to make any more mistakes on our side.
"Second, I really trust that from now on we can perform much better than we are performing now. Because the configuration of the tracks that are coming and because of the tokens that we spent - we are happy this is going to help us more in Spain than the track in Russia."
So what is it about Sochi - aside from the obvious, that Vettel, its number one driver, was taken out on lap one - that might suggest Ferrari's performance there was not representative? The Sochi track surface is incredibly smooth and lacking in grip.
"There's nothing particularly different about this track surface," said Pirelli's racing manager Mario Isola, "it's more that it doesn't get used in between grands prix so it still has that newness, so there is hardly any track evolution.
"As a track ages its micro texture decreases (the small stones are less sharp) but its macro texture increases (more gaps between the stones) and the bitumens dissipate etc."
Through this mechanism, as the surface ages, so its grip will usually increase. But Sochi has barely aged as it's only used for the grand prix. Whenever track grip is low, the Mercedes tends to be less affected than the Ferrari. Either through its aerodynamics or suspension kinematics, it can still get its front tyres loaded up quickly enough into the corner to give its drivers good response.
It happens at lower speeds than when the track is gripper, obviously, but it still comes quickly up to temperature as soon as the cornering load is applied.
By contrast, the Ferrari often loses that front end response in such circumstances, its drivers having to wait longer for the car to load up, delaying them being able to get on the power. Raikkonen, with his low energy steering input, is even more adversely affected than Vettel in this.
In reaction to this, the Ferrari drivers will then usually have to add more front wing flap angle. While this will quite often cure the problem over a single lap, it can also mean that as the track grip changes with its temperature, the Ferrari is more prone to coming in and out of its sweet spot, making its balance less robust than the Mercedes' over a range of track temperatures.
When the track suddenly gripped up late in Q3 in Bahrain, the Ferrari drivers found themselves now with too much front end bite, unbalancing the rear. Jenson Button has mentioned the same phenomenon on the McLaren, and he was indeed caught out by it in Bahrain qualifying.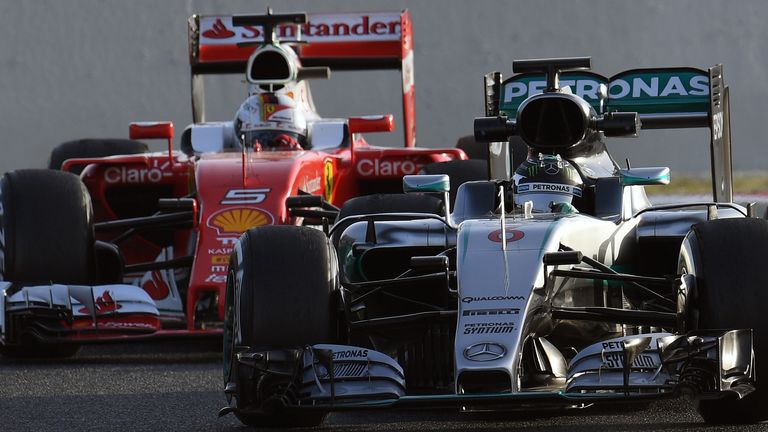 By contrast, the Mercedes - having not needed as much front wing angle in the less grippy conditions - was not afflicted. It seems to have a bigger operating range in terms of chassis balance over a range of track grip conditions. At Sochi, the track conditions remained low - to an extent that even adding more front wing was not giving the desired response.
Barcelona gives the tyres an altogether tougher work-out. Its layout and its surface are much more aggressive. Ferrari believes it will not encounter that awkward transition of set-up there - that the tyres are worked so hard that even if the track grip falls according to temperature, it will still be aggressive enough to get the Ferrari's front tyres working.
This, Arrivabene believes, is where we will see a more definitive reading on just where the upgraded-power Ferrari stacks up against the car that has won all four races so far this season. For the sake of the championship, let's hope he's right.