Red Bull speed in Monaco 'absolutely unbelievable'
Ricciardo outpaced Mercedes' Hamilton by 0.6s in practice; Sky F1's Brundle and Herbert wowed by RB12's pace and poise
By James Galloway
Last Updated: 27/05/16 11:42am
The speed of Red Bull's RB12 at the Monaco GP has been hailed as "absolutely unbelievable" by the Sky Sports F1 pundits after the former champions outpaced Mercedes in Thursday practice.
Living up to pre-race predictions the former world champions were poised to battle it out with Mercedes this weekend, Daniel Ricciardo dominated second practice to outpace Lewis Hamilton by a large six tenths of a second margin.
Fresh from their first victory in 21 months at the Spanish GP after profiting from the first-lap collision between the two Mercedes drivers, Red Bull are using Renault's new engine on Ricciardo's car, while the RB12 is well suited to the twisty street confines of Monaco.
Standing on the inside of Monaco's fearsome Swimming Pool section, which cars sweep through at around 230kph, Sky F1's Martin Brundle said: "Absolutely unbelievable speed and confidence those two Red Bull drivers have got through here.
"And they're braking later and taking more speed into the next right-hander, the exit of the Swimming Pool, as well for good measure.
"Absolutely unbelievable. It defies belief that they can carry that amount of speed into this Swimming Pool section."
Practice Two timesheet - Top four
| Driver | Team | Lap time |
| --- | --- | --- |
| 1. Daniel Ricciardo | Red Bull | 1:14.607 |
| 2. Lewis Hamilton | Mercedes | 1:15.213 |
| 3. Nico Rosberg | Mercedes | 1:15.506 |
| 4. Max Verstappen | Red Bull | 1:15.571 |
The performance of the RB12 slightly later round the lap also caught the eye.
"We were standing on the outside of Rascasse, and they look very cool round there," said Johnny Herbert. "The amount of speed they are able to carry into the corner and use the tyres almost as a brake and it seems to change direction so quickly.
"With a lot of cars, the back end flicks around the same time, but this is so stable. It looks very good."
Mercedes engineers were seen taking a closer look at Ricciardo's Red Bull as it was pushed into the garage at the end of Practice Two, with chief race engineer Andrew Shovlin remarking "they look pretty quick".
Nico Rosberg, third fastest in P2, concurred with that assessment.
"It's very simple: today they were faster than us," the championship leader admitted. "So we need to dig into it and see if we can find a big chunk of lap time. Of course, we can still turn up our engine, but we don't have six tenths [worth] of turning up the engine.
"So definitely surprising how quick they were. We expected them to be there or thereabouts, but not that quick."
Red Bull boss Christian Horner told Sky F1: "It was a massively impressive session for Daniel. On both sets of tyres he's been quicker than Mercedes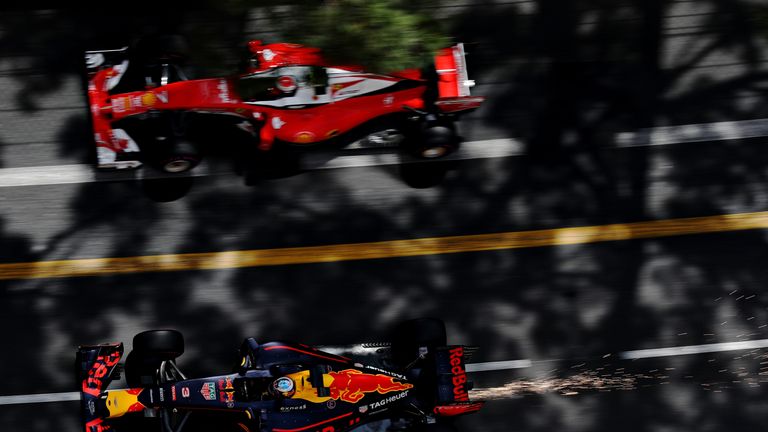 "Of course, nobody knows what fuel levels, engine modes people are running on a Thursday in Monaco, but certainly a very positive start. Short runs and long runs look competitive."
Armed with the one new engine Red Bull have access to this weekend, Ricciardo outpaced team-mate Max Verstappen, the winner at Barcelona, by nine tenths of a second - although suggested the new unit was worth just "a little bit" of additional lap time.
"Obviously we've got a good car around here as well," Ricciardo said. 
"So it's down to a little bit of both. Let's see how we go in qualifying, but certainly today I'm happy. This track is certainly one where you can find a little bit more when you can push it on the limit.
"I've always enjoyed it around here and felt more comfortable this afternoon in the balance. I think we're in a pretty good window now. It depends what the track does on Saturday, but if it doesn't change much I don't think we'll be touching too much.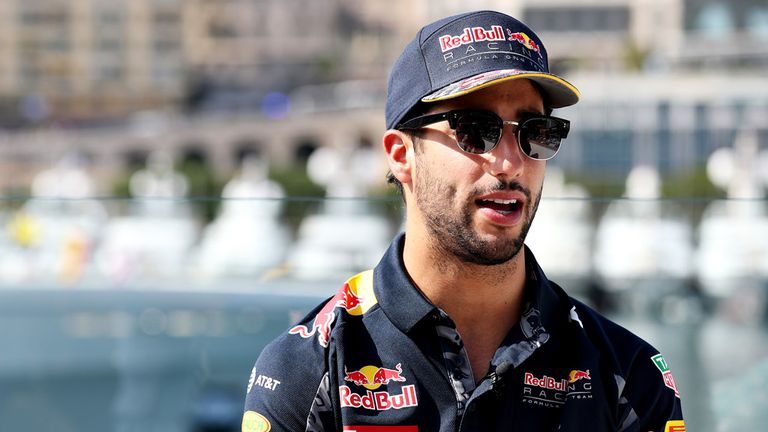 "I've got some good confidence, which is the most important thing around here."
Ricciardo led for the majority of the last race in Spain, but finished only fourth after Red Bull split their drivers' strategies and Verstappen ended up winning the race on his debut for the team.
"If there was a way to react, Daniel has done it following Barcelona," said Paul di Resta. "He's nearly a second quicker than Verstappen, all bar three hundredths [of a second]. He's going to try to take the spark out of Verstappen and make him think about his approach for Saturday."
Watch the Monaco GP live on Sky Sports F1. The race starts at 1pm on Sunday, with build-up underway at 11.30am. Or watch the race without a contract for £6.99 on NOW TV.