Italian GP 2016: Nico Rosberg wins to cut Lewis Hamilton's title lead
Hamilton's title lead down to two points after poor start costs shot at win; Rosberg untroubled en-route to victory; Vettel ends five-race podium drought for Ferrari; Red Bull fifth to limit damage
By James Galloway
Last Updated: 04/09/16 8:30pm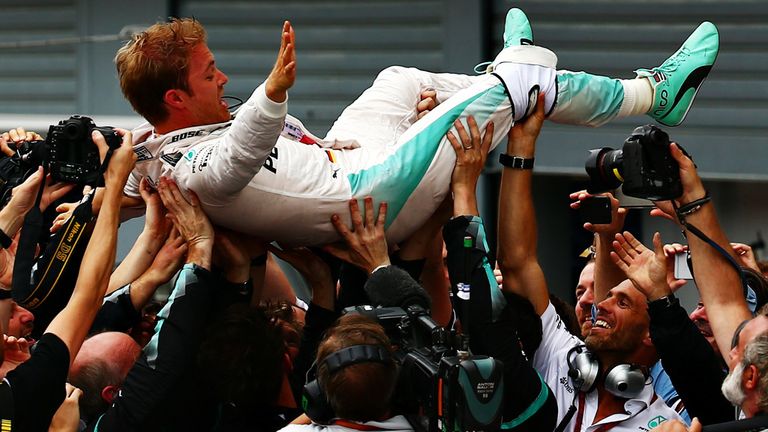 Nico Rosberg has cut Lewis Hamilton's title advantage to just two points after capitalising on the Briton's poor start to win the Italian Grand Prix.
Rosberg's seventh victory of the year, one more than his Mercedes team-mate, was effectively secured at the start when pole-sitter Hamilton slumped to sixth place by the first corner.
Opening up a 15-second advantage over the sister Mercedes as Hamilton made his way back up the order to second place, Rosberg was only briefly headed during the first pit-stop phase as his one-stop strategy worked to perfection.
"Hamilton lost the chance to win this race in the space of about 10 metres," said Sky F1's Martin Brundle.
Hamilton admitted: "I don't know what happened, l did everything as normal. I did the sequence exactly the same. I just got lots of wheelspin."
Ferrari ran a two-stop strategy and finished third and fourth with Sebastian Vettel and Kimi Raikkonen respectively. Vettel, who ran second for much of the race, returned to the podium for the first time since June's European GP.
The Scuderia, whose president told Sky F1 on Saturday they had "failed" in 2016, cut Red Bull's advantage over them in second place in the standings to 11 points.
However, Red Bull achieved what can be considered to be a result of damage limitation.
On a circuit where their Renault engines are dwarfed by power from the Mercedes and Ferrari packages, Daniel Ricciardo and Max Verstappen finished fifth and seventh respectively with both gaining a late pace apiece courtesy of overtaking moves.
Ricciardo's pass of Williams' Valtteri Bottas was especially eye-catching as the Australian made a bold late dive on the brakes into the first chicane.
"Overtake of the year for me, that was from a long way back. Top drawer," purred Brundle in the commentary box.
Bottas and Ricciardo had earlier had Hamilton for company after the world champion's terrible start dropped him out of race-winning contention.
Although Hamilton, on the run to Turn Two on the second lap, dispatched the Red Bull easily enough, passing the fellow Mercedes-engined Williams proved tougher with the dirty air from the FW38 damaging Hamilton's soft tyres.
"The rears are pretty wasted already," bemoaned Hamilton over the radio once he finally cleared Bottas.
From 19 points ahead in the standings heading into last month's summer break, Hamilton now firmly has Rosberg for company in the race for the world title once more.
"It's a reset: two points in it with seven races to go," remarked Brundle. "There are some really challenging races coming up, it's anybody's game between those two."
Behind the top five, and despite losing fifth to Ricciardo late on, Bottas's sixth place still represented Williams best result for three months and meant they regained fourth from Force India in the standings.
However, their advantage is a slender three points after Force India secured a double points finish with Sergio Perez and Nico Hulkenberg in eighth and 10th respectively.
Of the two drivers who will definitely not be on the grid in 2017, the retiring Felipe Massa scored points in ninth in the second Williams while McLaren's Jenson Button, who is taking at least a year's break, ended outside in 12th.
The tone for Button's race was set by a bad start, but he had the satisfaction later of passing team-mate Fernando Alonso into the first chicane. Alonso slipped to 14th after a late pitstop for fresh supersoft tyres, although that did allow him to secure the 22nd fastest lap of his career.
Italian GP result, 53 laps
1. Nico Rosberg, Mercedes, 1:17:28.089
2. Lewis Hamilton, Mercedes, +15.070
3. Sebastian Vettel, Ferrari, +20.990
4. Kimi Raikkonen, Ferrari, +27.561
5. Daniel Ricciardo, Red Bull, +45.295
6. Valtteri Bottas, Williams, +51.015
7. Max Verstappen, Red Bull, +54.236
8. Sergio Perez, Force India, +64.954
9. Felipe Massa, Williams, +65.617
10. Nico Hulkenberg, Force India, +78.656
11. Romain Grosjean, Haas, +1 lap
12. Jenson Button, McLaren, +1 lap
13. Esteban Gutierrez, Haas, +1 lap
14. Fernando Alonso, McLaren, +1 lap
15. Carlos Sainz, Toro Rosso, +1 lap
16. Marcus Ericsson, Sauber, +1 lap
17. Kevin Magnussen, Renault, +1 lap
18. Esteban Ocon, Manor, +2 laps
DNF Daniil Kvyat, Toro Rosso
DNF Pascal Wehrlein, Manor
DNF Jolyon Palmer, Renault
DNF Felipe Nasr, Sauber
Don't miss the F1 Report for the analysis of the Italian GP. The Telegraph's Daniel Johnson and former McLaren mechanic Marc Priestley join Natalie Pinkham in the studio at 8.30pm on Wednesday.
Watch Sky Sports' derby day extravaganza on Sep 10 - Man Utd v Man City and Celtic v Rangers - as part of our three months half price offer.