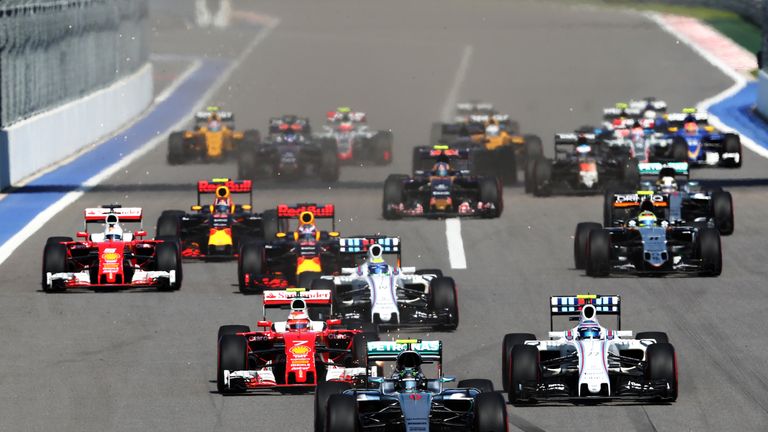 Lewis Hamilton's showing at the Italian Grand Prix served to highlight once again just how important a good start is in F1. 
Starting on pole at Monza, the Mercedes driver found himself all the way down in sixth by the end of Turn One, leaving him with too much to do to catch Nico Rosberg.
With the street circuit at Singapore notoriously difficult to overtake on, all the drivers on the grid will be hoping to get off to a good start on Sunday.
But which driver is the fastest starter in F1? In the latest Sky Sports data series in partnership with HPE, we take a look...
Grid places gained
Firstly, we assessed all 14 races so far this season to see who gained and lost the most places in the field between the start line and the end of lap one.
In order to be considered, the driver had to make it to the end of the first lap. For example, Hamilton and Rosberg's crash in Spain meant they failed to complete lap one, so data from that GP was discounted for the pair. Max Verstappen and the Ferraris, however, completed lap one in Belgium, so those results have been factored in despite their collision.
Unsurprisingly, the drivers who start higher up the grid generally lose more places in comparison than those who qualify lower down. So the more relevant comparisons are probably those between team-mates.
For the Mercedes pair, Hamilton has the advantage having lost a total of three places this season compared to Rosberg's nine (both from 13 races) - although this is partly due to the technical problems which have seen Hamilton start further down the grid on a number of occasions.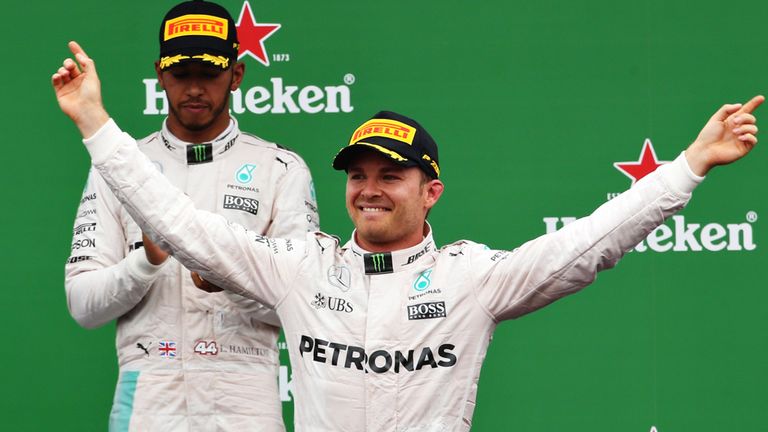 At Red Bull, Daniel Ricciardo deserves credit for losing two fewer places (-4) than Max Verstappen (-6) this season (both 14 races), considering the teenage Dutchman started the season at Toro Rosso and has an inferior average grid start (7.1 to 4) to that of his Australian team-mate.
No driver has lost more total places this season than Kimi Raikkonen (-30), although the Finn's deficit is largely due to the 35 combined places he lost in China and Belgium. Sebastian Vettel, meanwhile, has lost just eight places this season, although he has completed two fewer races (12 to 14) to lap one than his Ferrari team-mate this season.
Fernando Alonso, who leads the way on the grid with a total of 27 places gained (from 13 races), has a significant edge on McLaren team-mate Jenson Button (-1 from 14 races), who had a far better record before the summer break but has lost a total of 19 places in the last two races at Spa and Monza.
Alonso, meanwhile, has made the biggest single gain of the season so far, starting from the back of the grid in Belgium before making his way up 10 places in a chaotic first lap, and has only lost places by the end of lap one once this season (dropping two in China).
Fernando Alonso: Positions gained after one lap
| Circuit | Grid start | Position after one lap | +/- |
| --- | --- | --- | --- |
| AUS | 11 | 10 | 1 |
| BHR | - | - | - |
| CHN | 11 | 13 | -2 |
| RUS | 14 | 7 | 7 |
| ESP | 10 | 9 | 1 |
| MON | 9 | 8 | 1 |
| CAN | 10 | 8 | 2 |
| EUR | 13 | 12 | 1 |
| AUT | 14 | 14 | 0 |
| GBR | 9 | 9 | 0 |
| HUN | 7 | 6 | 1 |
| GER | 13 | 11 | 2 |
| BEL | 22 | 12 | 10 |
| ITA | 12 | 9 | 3 |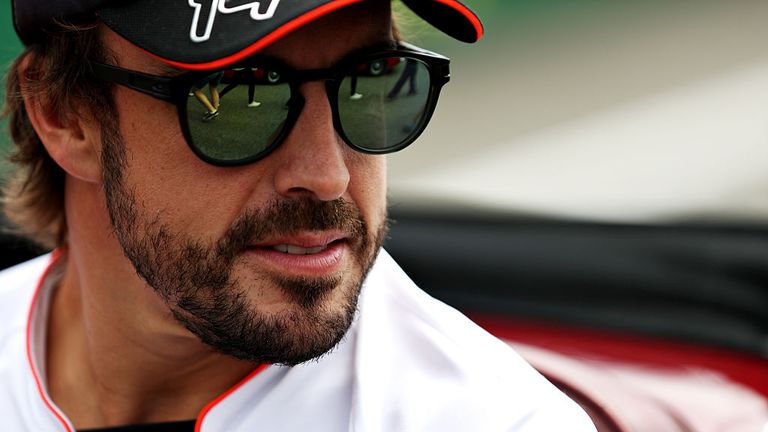 The biggest difference between team-mates is at Haas where Romain Grosjean has gained an impressive total of 19 places this season in lap one, while team-mate Esteban Gutierrez has lost 11 (both from 14 races).
Gutierrez, who has lost more places than anyone else aside from Raikkonen, was hovering around the break-even mark until Monza, where he took Haas into Q3 for the first time before dropping like a stone from 10th to 20th in lap one.
Credit to Pascal Wehrlein as well, who has gained 26 places this season (14 races) in his Manor compared to Rio Haryanto and Esteban Ocon's combined total of 4 (from 13).
Average starts and gains
Rosberg's consistency in qualifying sees him with by far the best average grid start in 2016 (1.7), while Hamilton's problems have seen him manage just a 5.8. Ricciardo (4), Raikkonen (5.3) and Vettel (5.1) all have lower averages than the Brit this season.
Valtteri Bottas has hugely out-performed his Williams team-mate Felipe Massa in qualifying this season, with an average grid start of 7.4 compared to the Brazilian's 10.2.
Bottas is well-renowned for his consistency, and that is reflected in the fact his average position at the end of lap one (7.4) is identical to his position when the lights go out.
Sergio Perez may be 16 points ahead of his Force India team-mate Nico Hulkenberg in the standings, but the Hulk has the superior stats off the start line.
The Finn has a lower average grid start this season (8.5 from 13 races) than Perez (9.7 from 14 races), and his average at the end of lap one is also the same (8.5), while the Mexican loses an average of 0.4 (to 10.1).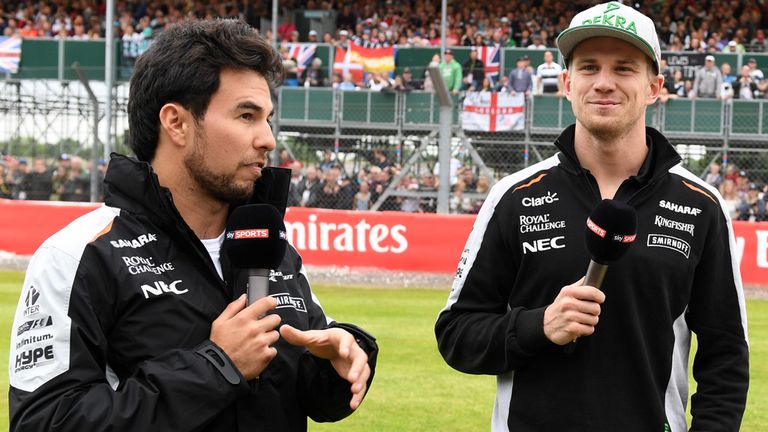 At Renault, Jolyon Palmer has the edge on team-mate Kevin Magnussen, with an average start of 17.2 (in 13 races) compared to 17.6 (in 14), while he also gains an average of 1.9 places by the end of lap one, compared to Magnussen's 1.7.
And at Sauber Felipe Nasr's average grid start of 18.6 is superior to Marcus Ericsson's 19.2 (both 14 races), although Ericsson gains 1.3 places by the end of lap one on average compared to the Brazilian's 0.9.
Carlos Sainz has also amassed some impressive stats at Toro Rosso, gaining 22 places by the end of lap one despite having an average grid start of 11.5, dominating Daniil Kvyat's five places gained and average start of 13.8. Kvyat did, however, start the season at Red Bull and has completed just 12 first laps this season compared to Sainz's 14.
Singapore stats
Since the Singapore Grand Prix was introduced in 2008, there have been an average of just 26.4 overtakes per race. For some context, the average so far in 2016 has been 51.4 per race.
An average starting position for a win of third on the grid may not suggest that securing pole position is vital, but it is worth noting that the last three GPs in Singapore have been won by the man who qualified fastest.
The streets of Singapore can also lead to incredibly narrow victories, such as Alonso's triumph over Vettel by less than three tenths of a second in 2010, and runaway winners, when the German got revenge on the Spaniard in 2012 by 32.6 seconds.
So with overtaking difficult and a history of a close finishes, a fast start in Singapore could be more crucial than usual.
Find out more about Hewlett Packard Enterprise data solutions.
Don't miss the Singapore GP on Sunday from 1pm, live only on Sky Sports F1. Or watch the race with a NOW TV day pass for £6.99 - no contract