F1 Report: 'Ferrari have let themselves down this season'
Vettel and Raikkonen both suffered in Singapore
By Simeon Gholam
Last Updated: 22/09/16 7:33am
Ferrari have let themselves and their fans down with their poor decision-making this season, according to the F1 Report guests.
The Scuderia suffered another difficult weekend in Singapore, as Sebastian Vettel had to start from the back of the grid after a problem in qualifying and a poor decision from the team meant Kimi Raikkonen was forced to settle for fourth.
With the Finn up in third in the closing stages of the Grand Prix, the team chose to call him in for a late pit stop after Lewis Hamilton had done the same, resulting in Raikkonen losing track position to the British driver and an eventual spot on the podium.
"They're letting the drivers and their fans down this year," said Marc Priestley on the F1 Report, which aired on Wednesday at 8.30pm on Sky Sports F1. "They promised a lot and they've under-delivered.
"They knew that the undercut was powerful in Singapore because it's that type of circuit and we'd seen it a number of times over the Grand Prix. So they probably knew that reacting to Lewis' stop was probably going to leave them behind. 
"It would have been very close, but if they'd gone the other way and stayed out he would have been about 25 seconds up the road. Lewis may then have caught him by the end, but at least Kimi would have had track position. But what they did by making that decision was almost commit him to fourth position.
"I think it was a poor decision, albeit made in the split-second, but when you're in that situation Ferrari are in you really start to question yourselves. Mercedes had a very similar decision to make [with Nico Rosberg] and got it absolutely spot on."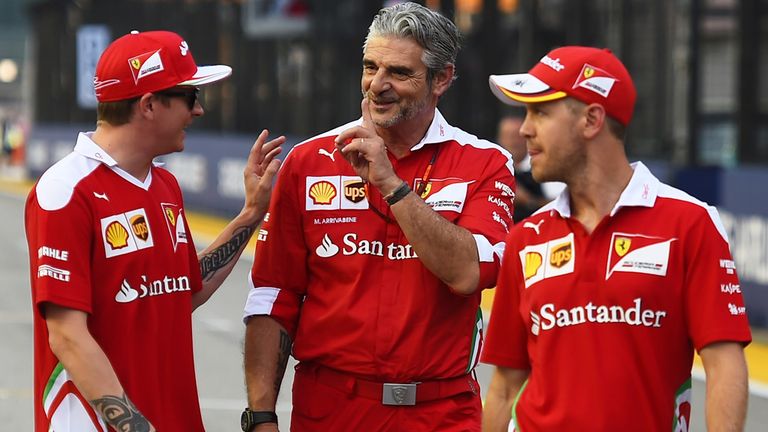 While F1 technical expert Craig Scarborough, who joined Natalie Pinkham and Priestley in the studio, believes it is the structure behind the scenes at Ferrari that's causing their problems.
"I think they've got to get some key people in there to give them the direction they need," said Scarborough. "It's been evident this year that Ferrari have made lots of wrong decisions and as a team they've not performed. 
"The car and the drivers are good enough to be challenging, but with an F1 team it's about having the right management structure in place, so people can make these snap decisions. 
"The way Ferrari are structured the moment will actually lead to them making more bad decisions because of the internal politics and the worries of being blamed and being seen as the problem.
"I don't see a route out for Ferrari from where they are at the moment, and I don't think they can mature into the race team they need to be."
And Priestley agreed that something had to change at Ferrari so that the Italian team can return to the top of F1.
"The way Ferrari is run, they have this guy like Sergio Marchionne who is a scary character and everyone is terrified of making mistakes and getting something wrong, and when you're terrified you don't make the right decisions," he said.
"Ferrari have had heads rolling for a few years now and they've been changing senior people and key personnel. At some point though, you've got to take what you've got and just build it for a few years. It can't be like in football where you just keep changing people.
"They should have been mixing it with Red Bull and Mercedes. Those three teams were very close this weekend and it should have been even closer. Ferrari were third best of those three teams, so it's 100 per cent an opportunity missed."
Don't miss the F1 Report for all the reaction and analysis from the Singapore GP. F1 technical expert Craig Scarborough joins Natalie Pinkham and Marc Priestley in the studio at 8:30pm on Wednesday on Sky Sports F1.