Malaysia GP 2016: Daniel Ricciardo wins after Lewis Hamilton's engine explodes
Hamilton engine blow hands Red Bull one-two finish; Rosberg recovers from Vettel clash at start and 10-second penalty for Raikkonen tangle to finish third; McLarens and Palmer in points
By Pete Gill
Last Updated: 02/10/16 4:41pm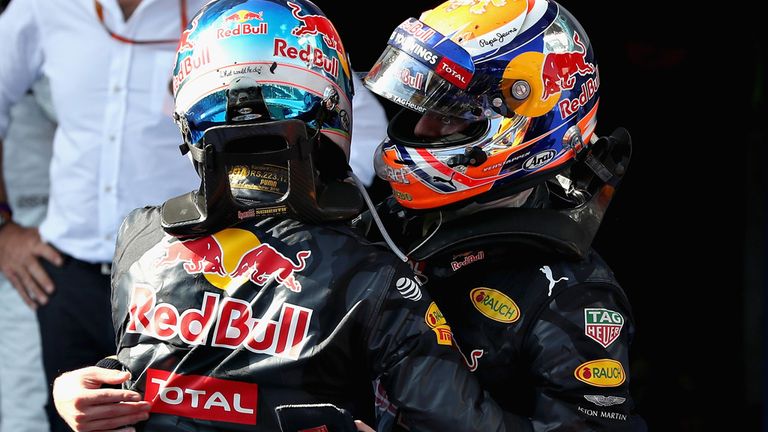 Daniel Ricciardo has won the Malaysia GP after an engine failure denied Lewis Hamilton victory and inflicted a devastating blow on his title hopes.
Hamilton was over twenty seconds ahead of Ricciardo and his Red Bull team-mate Max Verstappen when his engine was suddenly consumed by flames with 15 laps remaining.
It was a cruel blow for Hamilton and one which may prove terminal for his ambition of securing a third successive world championship. 
Nico Rosberg, involved in two separate collisions with Ferrari cars, rode his luck to finish third and extend his the world championship to 23 points from his unfortunate Mercedes team-mate with just five races remaining this year.
Aggrieved, angry and simmering, Hamilton then lit the fuse after the race by questioning why his car has repeatedly failed him this year. 
"I just can't believe that there's eight Mercedes cars and only my engines are the ones that have gone this way," Hamilton told Sky Sports F1. 
"Something just doesn't feel right. There's been 43 engines from Mercedes and only mine have gone - it's odd."
Critically, Ricciardo, running on far older tyres, had just managed to defy Verstappen before Hamilton's blow-out, with the two Red Bulls wheel-to-wheel for almost an entire lap. "I wasn't going to go down without a fight today. I think we've both earned a lot of respect today from the team," said Ricciardo. 
Both cars, along with Rosberg, then pitted while the Virtual Safety Car was deployed for Hamilton's breakdown and cruised to the line in formation to complete Red Bull's perfect finish and their first one-two in four years.
"No hard feelings to Lewis but I will take the win," enthused Ricciardo. 
Rosberg himself had experienced a topsy-turvy race. After being hit by Ferrari's Sebastian Vettel in the first corner, the championship leader then fought back to fifth, barged his way past Kimi Raikkonen and quickly built up a substantial lead over the Finn to wipe out a 10-second penalty applied by the stewards for causing the collision with Raikkonen. 
After Hamilton's blow-out, however, the German could justifiably be considered as much a victor as the jubilant Ricciardo. "I'm sure Lewis must be absolutely gutted," acknowledged Rosberg.
Behind the Williams of Valtteri Bottas and Force India's Sergio Perez, Fernando Alonso delivered the drive of the day to finish in seventh after starting out last.
On another encouraging day for McLaren, Jenson Button was ninth as the team close in on their target of finishing the year as the best of the rest behind Mercedes, Red Bull and Ferrari.
There was also relief for Renault's Jolyon Palmer as the rookie claimed his first point in F1.
The story, however, was all about another Englishman.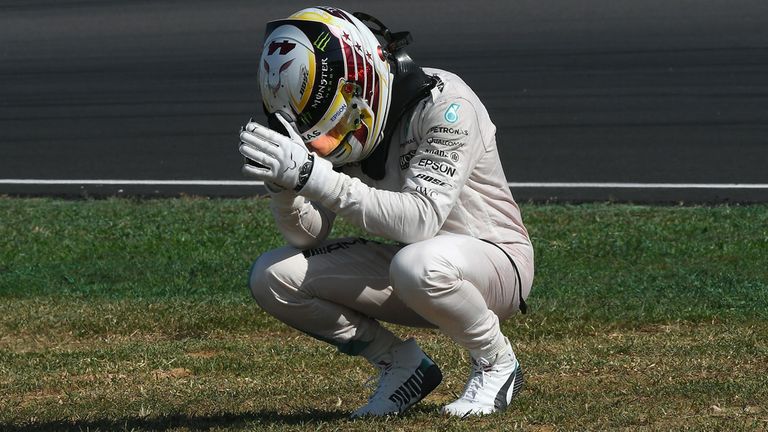 Malaysia GP Race Result
1. Daniel Ricciardo, Red Bull, 1hr37min12
2. Max Verstappen, Red Bull, + 2.443
3. Nico Rosberg, Mercedes, + 25.516
4. Kimi Raikkonen, Ferrari, + 28.785
5. Valtteri Bottas, Williams, +61.582
6. Sergio Perez, Force India, + 63.794
7. Fernando Alonso, McLaren, + 65.205
8. Nico Hulkenberg, Force India, + 74.062
9. Jenson Button, McLaren, + 81.816
10. Jolyon Palmer, Renault, + 95.466
11. Carlos Sainz, Toro Rosso, + 98.878
12. Marcus Ericsson, Sauber, + 1 lap
13. Felipe Massa, Williams, + 1 lap
14. Daniil Kvyat, Toro Rosso, + 1 lap
15. Pascal Wehrlein, Manor, + 1 lap
16. Esteban Ocon, Manor, + 1 lap

Did not finish: Felipe Nasr, Lewis Hamilton, Esteban Gutierrez, Kevin Magnussen, Romain Grosjean, Sebastian Vettel
Don't miss the F1 Report for all the reaction and analysis from the Malaysia GP. Former F1 world champion Damon Hill and The Sun's Ben Hunt join Natalie Pinkham in the studio at 8:30pm on Wednesday on Sky Sports F1.