Lewis Hamilton down but not out in Nico Rosberg title battle
"If I perform the way I've performed this weekend everything is still to play for," insists Hamilton after Malaysia GP setback
By James Galloway
Last Updated: 10/10/16 10:53am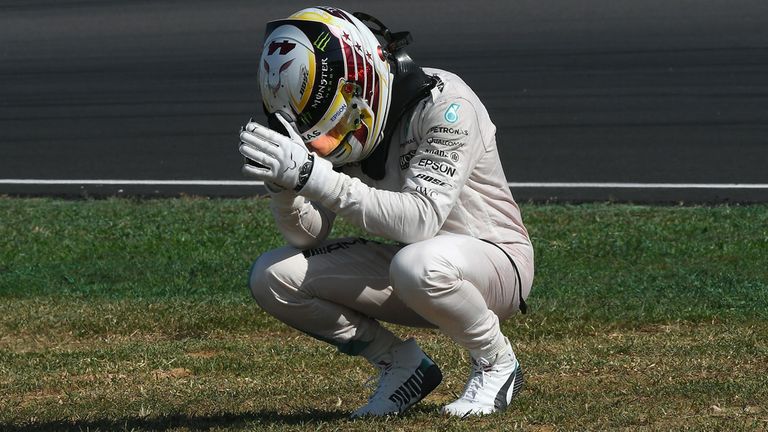 Lewis Hamilton believes he can still beat Nico Rosberg to the 2016 world title if he repeats the form he showed in Malaysia before his engine blew and handed his team-mate a significant points advantage.
Hamilton's hopes of becoming Britain's first four-time champion were dealt a major and sudden blow 15 laps from the end of Sunday's race at Sepang when his Mercedes engine failed while he was holding a 22-second lead.
The reigning champion initially appeared angry and downcast in the aftermath of a retirement which has given Rosberg a 23-point title lead with five races to go. However, appearing more optimistic in a later media session, he insisted he would not be giving up the chase.
Read the full Lewis Hamilton Q&A
"I have no idea what's going to happen in these next five races, all I can do is do what I've done this weekend," he said. "Be as focused as I can possibly be, put in performances like I have done this weekend, and pray that the car holds together.
"I don't know if my two engines [in his pool] are going to make it, but I can only hope and if I perform the way I've performed this weekend everything is still to play for."
Hamilton then added: "I still have faith and hope and that's a powerful thing."
Although overcoming a points deficit of effectively a full race victory is a tall order in the space of five races, the reigning champion has past experience of quickly wiping out seemingly comfortable title leads for Rosberg.
During the Mercedes team-mates' first duel for the title in 2014, Hamilton took just three races to overcome a 29-point advantage for Rosberg after the summer break and went on to win the title. And earlier this year Rosberg, with four wins in a row, led by 43 points after the first five rounds yet Hamilton was ahead in the standings just six grands prix later after a succession of wins.
But having had his title challenge this year disrupted by intermittent engine problems, Hamilton admitted it seemed as though a "higher power" did not want him to triumph.
Hamilton admits all he can do is perform at his best between now and November's Abu Dhabi finale.
"I'll continue to fight more for sure, but at the end of the year if the higher power doesn't want me to be champion with everything that I've given towards it then I'll have to accept that," he said.
"But as long as I end my year knowing I've given it everything and done everything I possibly could do, and we have done everything we possibly could do, that's all you can ask for."