Lewis Hamilton says 'something doesn't feel right' after another Mercedes engine failure in Malaysia
Hamilton retires from Malaysia GP after engine explosion; Rosberg 23 points ahead in title race with five races remaining
By Matt Morlidge and James Galloway in Sepang
Last Updated: 02/10/16 10:13pm
A crestfallen Lewis Hamilton admitted "something doesn't feel right" after another failure of his Mercedes engine at the Malaysia GP.
The Brit was leading before the engine fire which retired him from the race, and has handed Nico Rosberg a 23-point advantage in the championship with just five races remaining in 2016 after the German finished third.
After the race, a clearly upset Hamilton gave his views to Sky F1 and his comments were as explosive as his power unit.
"I just can't believe that there's eight Mercedes cars and only my engines are the ones that have gone this way," he said. "Something just doesn't feel right.
"It was a brand new engine. It's just odd. There's been like 43 engines for Mercedes and only mine have gone."
But asked later what he meant by saying "something or someone" was working against him, Hamilton clarified: "A higher power. It feels right now that the man above or any higher power is intervening a little bit."
In a calmer frame of mind at his media session several hours after the chequered flag had fallen, Hamilton also insisted he had "100 per cent confidence" in his Mercedes team.
"Honestly, you've got to understand from my point [of view]," he said. "On one side we've had the most incredible success for these two years of which I am so grateful. These guys work so hard and we are all feeling the pain right now.
"When you get out of the car after the feeling that you have after leading the race and the car fails, it's pretty hard to say positive things all the time. 
Mercedes reassure 'pained' Lewis
"But, honestly, I feel, as I said in the interviews, Mercedes have built 43 engines or whatever it is, and the extra three that I've had, and I've happened to have most, if not all, the failures.
"So that is definitely a tough thing, but I have 100 per cent confidence in these guys. It's my fourth year with these guys, the guys in the garage and the guys back at the factory, and I have 100 per cent faith in them.
"I love it here and without them I would not have won these extra two championships."
The world champion that he and his side of the Mercedes garage had to collectively overcome the "pain" of losing the win and fight back in his championship duel with Rosberg.
"Whilst the struggle is real right now, it has been this year, I honestly feel it's constantly a test of will, a test of my spirit and who I am as a person to keep fighting it head on," he added.
"It's not how you fall, it's how you get back up, and that not only applies to me but my guys as well. I know we're all feeling the pain."
Hamilton has been plagued by mechanical failures and engine difficulties all season, and has already served a grid penalty for reaching the maximum amount of power units for 2016.
After hearing Hamilton's initial remarks, Sky F1's Martin Brundle admitted he could not fathom an explanation for why Hamilton was suffering so many technical failures.
"He's right, there are so many Mercedes powered-cars on the grid and it's only his that are blowing up," said Brundle. "Everything happens for a reason. The rest of the Mercedes teams have had virtually no problems whatsoever.
"It's got to be seriously bad luck, driving style, or installation issues. I can't believe that they are slowing him down for any reason, so it has to be bad luck."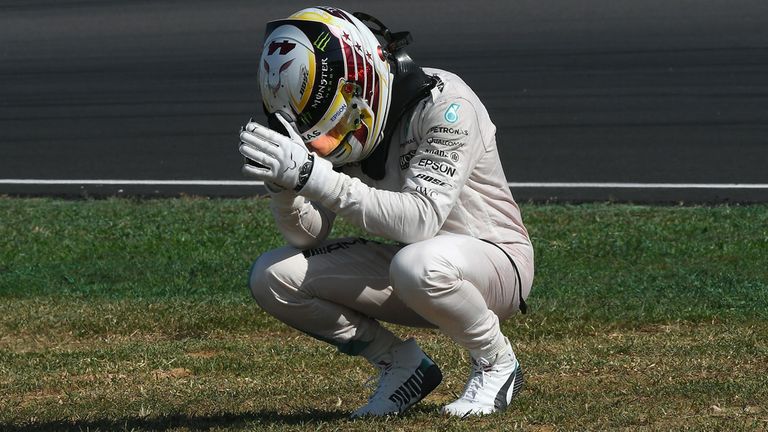 Mercedes claim they had no prior warning that the Internal Combustion Engine (ICE) was about to fail.
"I'm really upset about myself and my organisation because we should not let him down with an engine failure," said Mercedes' Niki Lauda. "I feel personally very sorry for him. 
"I'll take him to Japan tomorrow morning and hope to bring him up. 23 points is a lot to gain, but you never know what can happen to the other guy.
"I can convince him that we have nothing against him. We are working for him and are proud of him, but these things can happen."
Don't miss the F1 Report for all the reaction and analysis from the Malaysia GP. Former F1 world champion Damon Hill and The Sun's Ben Hunt join Natalie Pinkham in the studio at 8:30pm on Wednesday on Sky Sports F1.