Nico Rosberg would be a deserved 2016 title winner, says Damon Hill
Watch the F1 Report tonight at 8:30pm on Sky Sports F1
Last Updated: 10/10/16 10:52am
Nico Rosberg would be a deserved world champion if he holds off Lewis Hamilton this season, claims Sky F1's Damon Hill on the F1 Report.
The German holds a 23-point advantage after his Mercedes team-mate's latest mechanical failure in Malaysia, with Hamilton leading and heading for a title lead before an engine blow-out.
But while Rosberg rode his luck last weekend on his way to third, 1996 world champion Hill believes the 31-year-old's performances over the year, in which he has won eight races, means he would merit a maiden F1 title.
"If he wins the championship I think it will be thoroughly deserved," Hill said on this week's F1 Report, which airs tonight at 8:30pm on Sky Sports F1. "He's really worked hard.
"Since the pain in defeat in Austin [in 2015] we all saw a changed person in Nico. He went on to win all the remaining races and he's put up a very strong challenge this year.
"Some of his drives have been impeccable."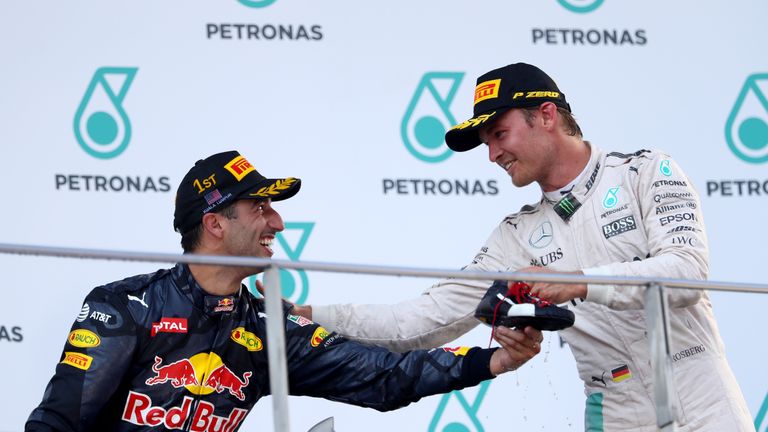 Hill was joined on the F1 Report by Ben Hunt, Formula 1 correspondent at The Sun, and he agreed that Rosberg has toughened up in 2016 after losing out to Hamilton in the previous two seasons.
"I spoke to him at the start of the season and I accused him of being too nice, that you've got to get your elbows out and be tough," Hunt explained. "That's exactly what he's done this year.
"He denied it at the time and I thought that the title was lost at that moment. But in actual fact he's bounced back, he's shown good mental strength. He deserves the championship, if he were to win, but equally Lewis would as well."
Hamilton can only guarantee becoming a four-time world champion this season by winning all of the remaining five races, starting at the Japanese GP this weekend. But Hill claimed it was too early to say Rosberg had one hand on the title, admitting he too could be struck by Mercedes' reliability problems. 
"He can afford to cruise and collect a little bit," Hill mused. "But this bad luck, if it has all weighted towards Lewis then you kind of get the feeling that something is also going to happen to his team-mate. It only takes one race."
Hunt, meanwhile, added that it has not just been Hamilton who has been hampered by mechanical glitches during the duo's three-year stay with the Silver Arrows.
"This season's quite strange as it's a parallel to 2014 when Nico and Lewis were going at it," he said. "Nico was the one who was enduring all those mechanical problems.
"There was the gearbox in Britain, an electrical failure in Singapore and the engine troubles in Abu Dhabi."