Christian Horner says Formula 1 would miss McLaren's Ron Dennis
"It would be a great loss if he's not involved," says Red Bull boss
By James Galloway
Last Updated: 06/11/16 8:07am
Christian Horner says it will be a "great loss" for Formula 1 if Ron Dennis leaves McLaren at the end of the season.
Sky Sports understands Dennis is likely to leave his management role in December after more than 30 years at the helm of the Woking team amid long-running boardroom tensions.
As leading figures at rival outfits, Horner and Dennis have been involved in several public spats down the years, but the Red Bull chief has showered praise on the McLaren chairman for his achievements in F1.
"I only have the utmost respect of Ron," Horner told Sky Sports News HQ.
"We've gone head-to-head and fought over sponsors, engineers, drivers, whatever, but he's always played fair.
"It would be a great loss if he's not involved, certainly for McLaren and also Formula 1."
Dennis is the most successful F1 team principal in history, winning a combined total of 17 Drivers' and Constructors' Championships before stepping down in 2009, and has since overseen the successful diversification of the McLaren Group.
While fiercely competitive, Horner says the 69-year-old has also been known to put the interests of F1 before those of McLaren.
"What he has achieved in Formula 1 is quite remarkable," added Horner. "What he has built McLaren into is an example to us all.
"He's a passionate man and he argues for the right things for Formula 1, sometimes to the detriment of his own team."
Dennis has yet to comment publicly on the speculation over his future but said via a McLaren spokesman last month "he is not stepping down".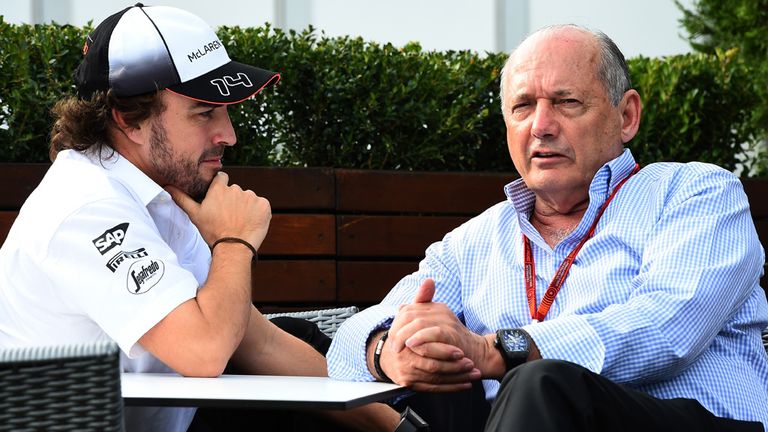 The Englishman owns 25 per cent of McLaren but friction between fellow shareholders, long-time business partner Mansour Ojjeh and Bahrain's sovereign wealth fund, is thought to have resulted in the decision not to renew Dennis's contract as chief executive when it expires at the end of the year.
McLaren driver Fernando Alonso said at the Mexican GP he was in the dark about the situation, but was keen to find out in the next few weeks what changes, if any, were afoot.
"We have been racing now quite constantly in the last three or four weeks," Alonso told SSNHQ. "Now between Mexico and Brazil, or after Abu Dhabi, we will sit with the team and know exactly what is the truth behind all these things. So right now I cannot tell you much."