Lewis Hamilton and the Brazilian GP: Why hasn't he won at Interlagos?
Hamilton hoping for 10th time lucky at Interlagos in his must-win 2016 Brazilian Grand Prix
By James Galloway
Last Updated: 09/11/16 7:10am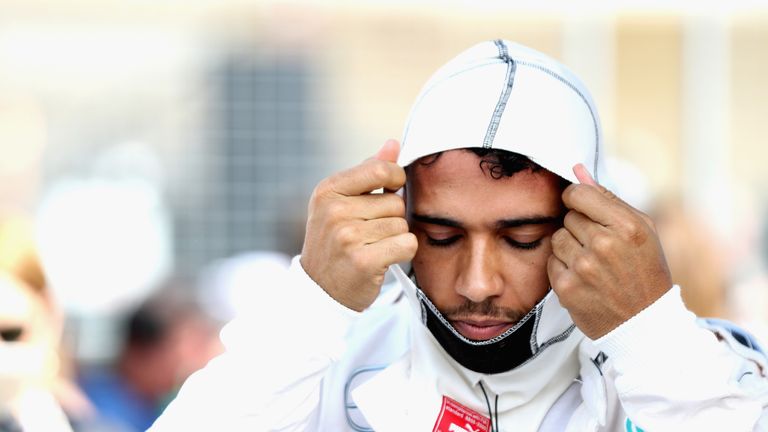 If Lewis Hamilton is to take his title fight with Nico Rosberg down to the wire then one long-running sequence must almost certainly end this weekend - the reigning F1 champion's mysterious Brazilian Grand Prix victory jinx.
Nine times Hamilton has raced at atmospheric Interlagos, the track forever associated with his hero Ayrton Senna, and nine times he has failed to win.
Two second places and one third are the best results for a driver who has otherwise cantered up F1's all-time winners' list over the last few seasons.
What Rosberg needs to be champion in Brazil
It's not that Hamilton has been completely starved of success in Brazil - after all, what will probably remain the most dramatic moment of his career occurred there in 2008 when he clinched his first world title in a dramatic final corner of the season.
But he still only crossed the line on that famous day in fifth place. The podium's top step has remained elusive.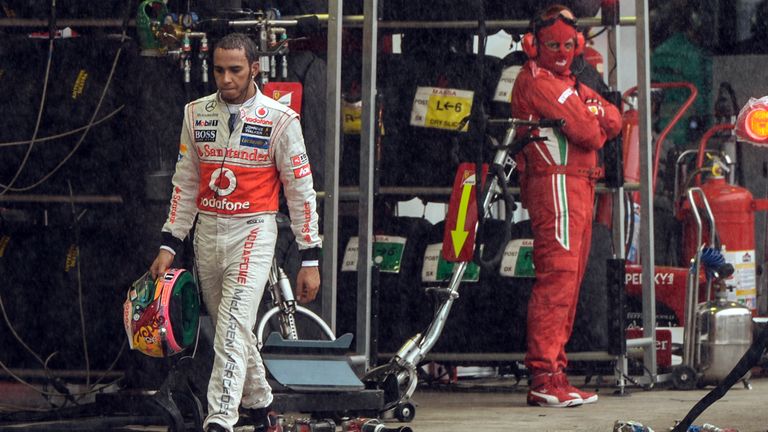 Hamilton's Interlagos record
The notion of a sportsperson or team being 'jinxed' at a particular venue or competition is common - just ask fans of Major League Baseball's Chicago Cubs before last weekend - but invariably hard to definitively explain.
That's certainly the case where Hamilton and the Brazilian GP are concerned.
Of the races that have been ever-present on the calendar since Hamilton's F1 debut in 2007, Brazil is the only one the 51-time GP victor hasn't triumphed at - despite his team-mates winning on three occasions.
Lewis Hamilton in Brazil
| Year | Qualified | Finished |
| --- | --- | --- |
| 2007 | 2nd | 7th |
| 2008 | 4th | 5th |
| 2009 | 17th | 3rd |
| 2010 | 4th | 4th |
| 2011 | 4th | Retired (gearbox) |
| 2012 | Pole | Retired (collision) |
| 2013 | 5th | 9th |
| 2014 | 2nd | 2nd |
| 2015 | 2nd | 2nd |
Incredibly, he has led only 26 laps in total - less than half the circuit's race distance.
Be it mistakes or unreliability, drama has certainly never been far away for Hamilton at Interlagos.
Hamilton's baptism in 2007 certainly fell into this category. Aiming to become F1's first rookie world champion, he qualified second ahead of his two title rivals but then got overambitious on the first lap, dropping to eighth, before his recovery was scuppered by a brief-but-disastrous gearbox glitch.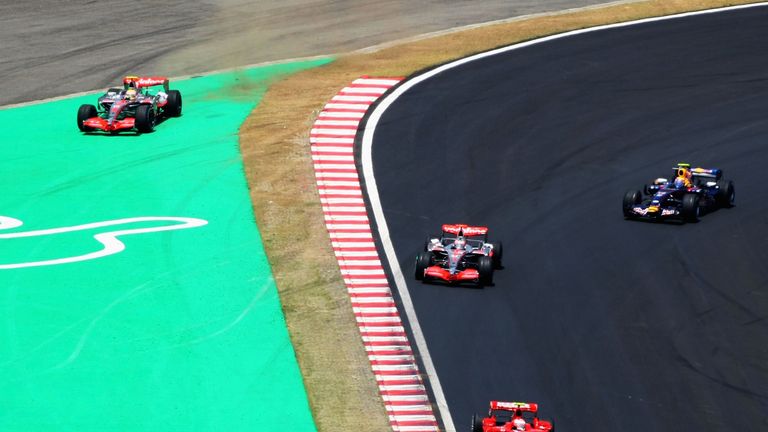 A year later and what appeared McLaren's cautious management of Hamilton's weekend - he only needed to finish fifth to become champion - seemed to affect the driver and in the end his dramatic final-lap pass on Timo Glock meant a hardly-vintage race performance was completely forgotten in the title euphoria.
He drove far better a year later to finish third from a rain-affected 17th on the grid.
It wasn't until 2012, and his final race for McLaren, that Hamilton even led a lap at Interlagos but hopes of signing off from Woking with a flourish were scuppered when Nico Hulkenberg dropped his Force India into the side of the Briton's car at the first corner in a botched overtake in the wet.
Mercedes' rise to power means Hamilton's two best chances to end his Interlagos drought have come in the last two years, yet it has been Rosberg who has beaten him to victory. 2014 probably represents the one that got away when a charging Hamilton was on course to jump his team-mate through the pit stops but spun on his in-lap at the end of the backstraight.
Shaded by team-mates
Unusually, Hamilton has been outperformed by his team-mates in F1 at Interlagos more often than he's outperformed them.
In addition to Rosberg's back-to-back wins in 2014 and 2015 at Mercedes, Jenson Button cashed in on Hamilton's 2012 collision with Hulkenberg to claim the victory.
Hamilton versus team-mates in Brazil
| Lewis Hamilton | Head-to-head | Team-mates |
| --- | --- | --- |
| 0 | Wins | 3 |
| 3 | Podiums | 5 |
| 1 | Pole positions | 2 |
| 4 | Qualified ahead | 5 |
| 3 | Ahead in two-car race finish | 4 |
Hamilton has also been out-qualified five times out of nine at Interlagos, with his sole pole coming in 2012.
In fact, he has yet to beat Rosberg on either Saturday or Sunday on this circuit in their three previous years as team-mates. Not that there has been much in it, mind you - less than a tenth of a second decided their 2014 and 2015 pole duels in the German's favour.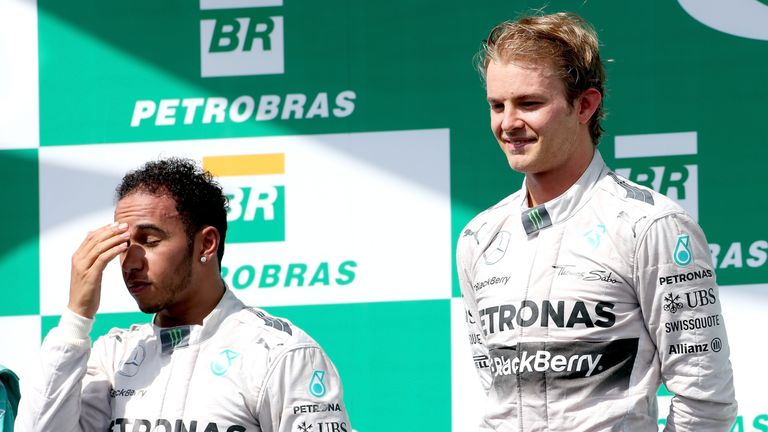 What does Lewis say?
In the now perennial pre-Brazil question to him, Hamilton was asked at the Mexican GP if there was any particular reason why victory at Interlagos had eluded him.
"Not particularly," he replied. "In McLaren I probably had one year [2012] where I could have won it and I was taken out by Hulkenberg.
"Then last year, and the year before, Nico was exceptionally quick. I think last year I was very close, I qualified second by 0.07s or something like that, I lost out in the gearshift up the hill. So who knows, third time lucky maybe?"
Which races has Lewis not won?
| Grand Prix | Attempts | Best finish |
| --- | --- | --- |
| Brazilian GP | 9 | 2nd (x2) |
| European GP | 7 | 2nd (x3) |
| Korean GP* | 4 | 2nd (x2) |
| Indian GP* | 3 | 4th |
| French GP* | 2 | 3rd |
| *no longer on calendar | | |
If Hamilton wins this weekend, it certainly wouldn't be the first time it has taken a multiple world champion a long time to crack Brazil - Senna took eight attempts to win his home race, albeit at two different tracks.
It's that connection to Senna, and the desire to emulate his boyhood idol's F1 achievements, that has sometimes been cited as a potential extra source of pressure on Hamilton in Brazil. Ahead of last year's race, the Briton said a first victory at Interlagos would act as a "salute" from him to the late three-time world champion.
"Maybe it is too emotional for him," suggested F1 filmmaker Mario Muth on this week's F1 Report. "You could see when he won three championships he kind of had to search for new motivation because he got Ayrton's record. Maybe Brazil is too much Ayrton for him."
Maybe, but probably increasingly unlikely for a driver who has already joined his hero in the pantheon of the sport's most successful drivers.
Where has Lewis won most often?
| Race wins | Grand Prix |
| --- | --- |
| 5 | Hungary, Canada, USA |
| 4 | China, Great Britain |
| 3 | Italy, Japan, Germany |
| 2 | Abu Dhabi, Australia, Bahrain, Belgium, Monaco, Russia, Singapore |
| 1 | Malaysia, Spain, Turkey, Austria, Mexico |
Time to end the drought?
If Hamilton could choose a moment to finally crack the Brazilian GP then it would surely be this weekend.
Needing a victory to make sure his title defence remains alive all the way to the Abu Dhabi season finale in two weeks, the 31-year-old's task at Interlagos has never been clearer.
"I've never won in Brazil, so I go into this weekend focused on changing that," he declared before departing for Sao Paulo.
For many reasons then, a 52nd career win on Sunday would probably never taste sweeter.
Can Nico Rosberg clinch the title at Interlagos? Watch the Brazilian GP live on Sky Sports F1 on Sunday, the race begins at 4pm; Watch the whole race weekend with a NOW TV week pass - £10.99, no contract