New McLaren boss Zak Brown open to Lewis Hamilton return
But the first priority of Woking's new executive director remains returning to McLaren to winning ways "sooner rather than later"
By Pete Gill
Last Updated: 28/11/16 11:15am
New McLaren boss Zak Brown has said 'never say never' to Lewis Hamilton returning to the team - but reiterated that returning the fallen superpowers to winning ways remains his priority. 
After previously spending the entirety of his F1 career at McLaren, Hamilton left for Mercedes at the end of 2012 in search of a new challenge.
Since then Hamilton has won two world championship while McLaren have failed to win a single race in the last four seasons.
"I will move heaven and earth to have the best two race-car drivers in our car," Brown told Sky Sports News HQ. "Right now, we have them and Stoffel is going to be outstanding. Lewis is an awesome driver who has a great history here and I certainly wouldn't rule anything out. But right now, I'm happy with what we have."
In a separate interview with Sky F1, Brown then reiterated: "You can't rule out anything for 2019, 2020. We will see what our current drivers want to do."
There is, however, no imminent prospect of Hamilton leaving Mercedes - especially when the Silver Arrows remain the sport's dominant force. The 31-year-old extended his deal with Mercedes for a further three years last summer while McLaren have confirmed Vandoorne and Fernando Alonso as their drivers for next season with the semi-retiring Jenson Button under contract for 2018. 
In any case, McLaren's driver line-up is the least of Brown's current concerns as he bids to steady the Woking ship after Ron Dennis' departure and another season of on-track frustration. Ending McLaren's four-year victory famine is, without hesitation, Brown's overriding priority as he settles into his new role as executive director of an F1 superpower fallen on very hard times. 
"We have got to get back to winning soon," agreed Brown. "But the great news is that when you walk around the facility this is a championship team. I don't want to put a timetable on it, because that is always dangerous, but everyone is trying to win as hard as possible.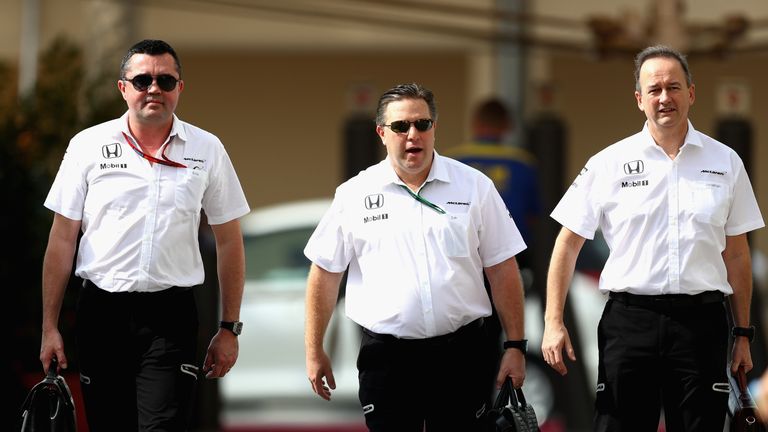 "If you look at the resources we have, the people we have, and the drivers we have, we are going to get there and we are going to get there sooner rather than later."
It's understood that Brown received a job offer from Liberty Media, the sport's prospective new owners, before agreeing to join McLaren just days after Dennis was ousted as chief executive. Dennis had already approached Brown about moving to McLaren but just what ultimately persuaded the 45-year-old American businessman to reject the opportunity to work for the sport's new rulers?
"Because l couldn't' wear a McLaren shirt there! This is my favourite team, always has been. I grew up idolising the McLaren-Honda, Senna-Prost era so to be sitting here at McLaren-Honda with two world champions is just too special and too good an opportunity to pass up."