Lewis Hamilton hopes Red Bull's strategy works out in Abu Dhabi
Rosberg only needs to finish third in the Duel in the Desert to be champion; Red Bull strategy gamble offers Hamilton hope
By Pete Gill and William Esler
Last Updated: 28/11/16 11:16am
Lewis Hamilton has admitted his world championship hopes may be dependent on Red Bull's strategy gamble proving a masterstroke in the season-concluding Abu Dhabi GP.
Hamilton will start the title-deciding Duel in the Desert on pole position alongside Nico Rosberg with the German only requiring a podium finish to be certain of winning the drivers' crown.
"I've got everything to gain. I'm not in the lead of the championship, Nico has it super easy in life and can finish second or third tomorrow and is champion," Hamilton told Sky Sports.
But Hamilton can still retain his drivers' crown if he wins the race and at least two other drivers - most likely to be Red Bull pair Daniel Ricciardo and Max Verstappen although Ferrari's Kimi Raikkonen will start on the second row alongside Ricciardo - finish ahead of Rosberg.
Although that result seems unlikely based on pure performance, Red Bull have thrown in a potential curveball by rolling the dice on strategy to start both of their drivers on supersoft tyres. The rest of the top 10 will start the Grand Prix on the faster but brittle ultrasofts, creating a potential scenario in which the longer-running Red Bulls could take the lead of the race after the opening dozen or so laps.
"They don't anticipate the ultrasoft last very long, we came here hoping to get to lap 11, but most likely with the graining the time delta is so different you can imagine people stopping earlier," mused Hamilton.
"If they do then there is not enough time to create the gaps so it really creates opportunity for them and that is a good thing for me."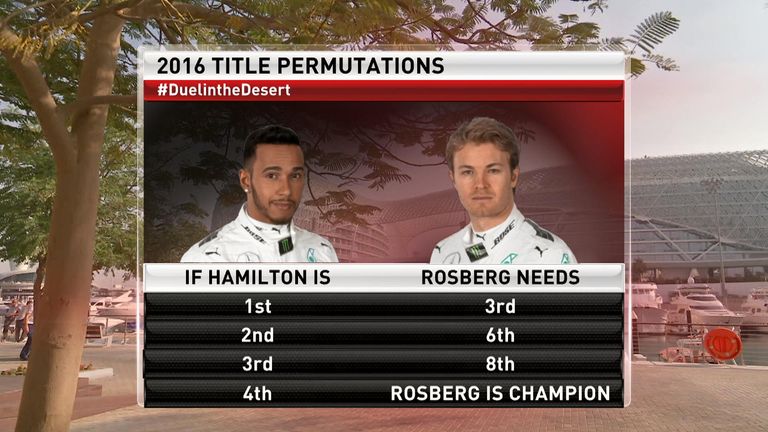 Hamilton has, however, all-but ruled out 'backing up' Rosberg into the Red Bulls and Ferraris in order to create mischief for his rival.
"We haven't discussed anything for the race, but it's each on their own out there, I've got to go and hunt for it myself," said the Mercedes driver. "I'm sure there will be some discussion, someone will bring something up, but I'm going out there to race, I've always been a racer, I'm out there to prove my worth."
McLaren open to Hamilton return
But Hamilton's two compatriots on the grid suspect that the 31-year-old may do all he can to make Rosberg's race as difficult as possible.
"It could be dramatic if Lewis is going to play games and try to win the championship," said Renault's Jolyon Palmer. "He could try and win the race and the chances are Nico is going to get on the podium, so I hope that he is going try and be aggressive with it, bunch up the pack a bit and then anything can happen because you can overtake a bit here. I'm hopeful something is going to kick off."
And ahead of what is likely to be his final race in F1, Jenson Button said it would be up to Hamilton "whether he just wants to win the race and finish second in the championship or if he wants to do something about it. We have to wait and see."