Nico Rosberg: Lewis Hamilton was his 'best ever' in 2016 finales
Rosberg says final four races saw Hamilton operating at higher level than ever; German cites more go-karting in 2016 as aiding his title-winning season
By James Galloway
Last Updated: 02/12/16 9:41am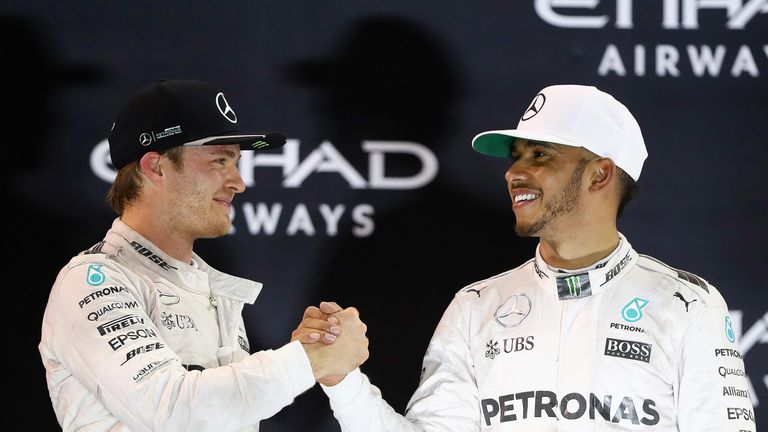 Nico Rosberg believes he had to contend with the "best ever" Lewis Hamilton in the final races of the season as he closed out his first world title.
Rosberg clinched the Drivers' Championship with his fourth consecutive second-place race finish in last Sunday's Abu Dhabi GP, ultimately beating his Mercedes team-mate by just five points having held a 33-point advantage with four rounds to go.
Speaking openly about his season and the secrets behind his success in an interview with Mercedes' YouTube channel, Rosberg pinpointed the concluding seven weeks of the season after his win in the Japanese GP on October 9 as his "changing moment" of 2016 as the pressure ramped up.
Hamilton claimed a pole-victory double in each of the subsequent four races, with Rosberg second every time.
"For sure it has an impact on performance, it's not possible you do the same performance as if you're in Lewis' position who has nothing to lose," said Rosberg of the title pressure after Suzuka.
"It became clear as well, that's why he got all the pole positions and I was second in the last couple of races. It's because he's free, has no weight [on his shoulders], nothing to lose. I think it was the best Lewis I've ever seen in those last few races as well.
"He was not only completely free, but the most motivated and determined ever, working as hard as ever. Difficult to beat him in those circumstances."
Although he led the championship after 17 of the 21 races, Rosberg doggedly stuck by his mantra throughout the season of only taking one race at a time and not focusing on the wider championship picture.
He has now opened up on why he took such an approach.
"The mind is a huge part of the sport," he said. "It's a lot about the mind. I found my way during the season, in the early part actually, to just really remain in the moment and not think of the big picture.
"The childhood dream is massive and that can weigh if you think about it because the desire to achieve that when you get closer and closer, wow, it's huge. So it's better to keep away from that and that worked very well for me."
Having been outscored by Hamilton in each of their previous three seasons as Mercedes team-mates, Rosberg has attributed his improved 2016 to several external factors - including spending more time go-karting in the weeks between grands prix.
"Family time because I'm away a lot, and also at home the training that I do to prepare," said the father of one.
"Not everything is public knowledge because I like to keep some secrets of success, but I do a lot of alternative stuff and it's really paid off.
"This year, for example, I did a lot of Go Karting which I'd never done in the past because we don't drive much. I think practising that skill has really helped me as well."