Nico Rosberg retires from Formula 1 after winning world championship
Rosberg says world championship was his dream and 'now I've made it'; Made decision a day after winning title in Abu Dhabi; Mercedes now looking for a new team-mate for Lewis Hamilton
By Matt Morlidge, Pete Gill and James Galloway
Last Updated: 02/12/16 7:18pm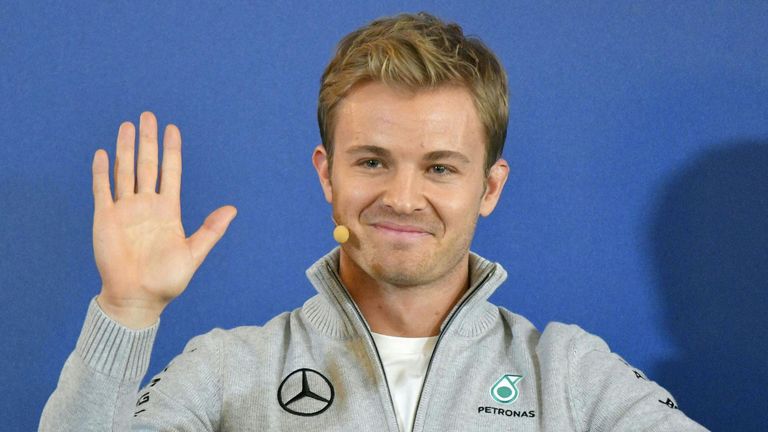 2016 world champion Nico Rosberg has sensationally retired from Formula 1 with immediate effect.
The German driver, 31, won the title less than a week ago, beating Mercedes team-mate Lewis Hamilton to his first Drivers' Championship.
"When I won the race in Suzuka, from the moment when the destiny of the title was in my own hands, the big pressure started and I began to think about ending my racing career if I became world champion," said Rosberg. "On Sunday morning in Abu Dhabi, I knew that it could be my last race and that feeling cleared my head before the start."
Nico Rosberg retires: All the reaction
Rosberg has revealed he took the decision to quit on Monday evening, just 24 hours after sealing his maiden title in the season finale. 
Upon informing Toto Wolff, Rosberg says the Mercedes team boss "knew straight away I was completely convinced and that reassured me".
Who will replace Rosberg at Mercedes?
Wolff has described Rosberg's decision as "brave" and "testament to the strength of his character".
The Austrian added: "He has chosen to leave at the pinnacle of his career, as world champion, having achieved his childhood dream. The clarity of his judgement meant I accepted his decision straight away when he told me."
Rosberg also told team-mate and title rival Hamilton of his decision before going public.
"This is the first time he's won in 18 years, hence why it was not a surprise that he decided to stop," said Hamilton.
"Will I miss the rivalry? Of course. It is a shame that he won't allow me to take it [the title] back or fight to take it back but that is his choice and I respect his decision: go out on top while you can."
Mercedes are yet to decide who will partner Hamilton in 2017. Although Pascal Wehrlein is the team's official reserve driver, the German youngster is untried at the sharp end of the F1 grid after debuting in 2016 with backmarkers Manor.
"We will take the necessary time to evaluate our options," said Wolff.
Hamilton will miss Rosberg rivalry 
While Fernando Alonso and Sebastian Vettel have already been linked with the shock vacancy, both are under contract for one more season with McLaren and Ferrari respectively. Red Bull's Max Verstappen, meanwhile, joked he had sent a job application to Mercedes.
Rosberg only signed a two-year extension with the Silver Arrows in the summer while Sky Sports revealed earlier this week Hamilton himself had threatened to walk away from the team midway through the year after colliding with Rosberg in the Spanish GP.
"It is absolutely extraordinary," said Sky F1 pundit Martin Brundle. 
Rosberg has been with Mercedes since 2010 and debuted in Formula 1 in 2006.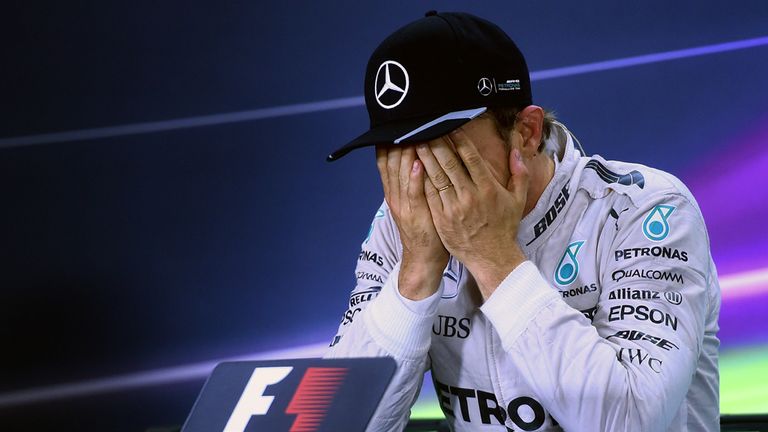 Sky F1 pundits shocked at Rosberg's decision
The only hint following his title coronation that Rosberg was considering walking away from F1 came through his reluctance to discuss what 2017 held in store and his pointed refusal to reveal whether he, as world champion, intended to use the number '1' on his car.
"My first reaction is that it's a decision that's been made in haste and as soon as we get to the New Year and he thinks about what the next chapter in his life is going to be, he's going to be bored silly, he's not going to know what to do with himself and he might well regret it," said Sky F1's Ted Kravtiz.
"In a season of F1 where we've had shocks and turning points aplenty, this one takes the biscuit."
Kravitz's shock was echoed by Sky F1 colleague Martin Brundle.
"I find it absolutely extraordinary, a big surprise," he said. "I don't know what's tormented him that much to want to call it a day right now. He does have a new family, a young family, and quite clearly he's had enough. Sometimes he has come across pretty uncomfortable within the world of media and said how he found the media quite hard. It's obviously a personal decision and it's bad for F1 because we haven't got a world champion through the winter and next season. 
"I would imagine the phone would be hot to Toto Wolff and Niki Lauda. Fernando Alonso will be desperate to grab it, I don't know where Sebastian Vettel fits.
"We had this bizarre situation where we thought Hamilton had threatened to quit back in May after they came together at the Spanish GP. Where's Lewis head at? I can't quite compute all of this because we'd all love to drive that. Your dream racing car. It can't be that bad when between you you've won 19 races. I don't know how it's that taxing. I just don't get it, why they're finding it so hard to be involved in that. I imagine Lewis is pretty gobsmacked."