Terms agreed for Felipe Massa's return to Williams, say Sky sources
But deal will be ripped up if Bottas doesn't move to Mercedes
By Pete Gill and Sky Sports News HQ's Craig Slater
Last Updated: 23/12/16 11:36am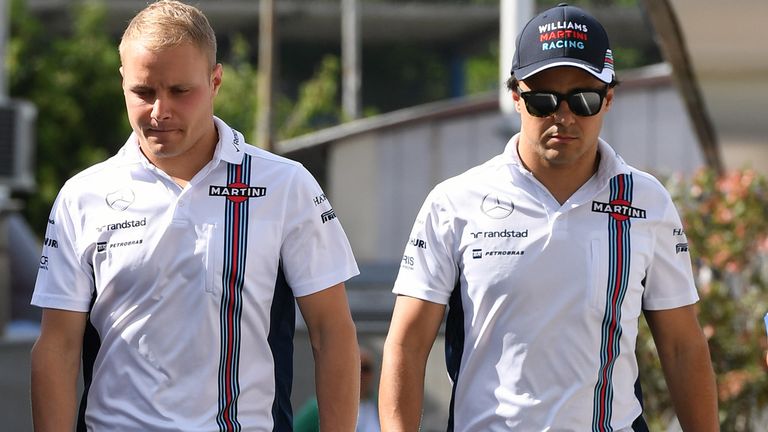 A deal for Felipe Massa to return to Williams a month after his retirement from Formula 1 has been agreed in principle, according to Sky sources.
It is understood provisional terms have been accepted on a deal that would pave the way for Valtteri Bottas to leave Williams and join Mercedes as Nico Rosberg's replacement following the world champion's shock retirement.
Williams' need for an experienced driver to drive alongside rookie teenager Lance Stroll next year is considered to be the biggest impediment to the Finn becoming Lewis Hamilton's new team-mate.
However, while a deal has been agreed in principle between Williams and the Brazilian's representatives for Massa to effectively un-retire, the contract remains unsigned and will be annulled if Bottas does not move to Mercedes.
Williams open talks with Massa
Massa is currently on holiday while Mercedes confirmed last week that they would not make an announcement on Rosberg's successor until next year.
Williams are yet to comment on the reports while Massa's manager, Nicolas Todt, has told Sky Sports that "no agreement is in place between Williams and Felipe Massa".
But the onus now appears to be on Mercedes to finalise terms with Bottas - managed in part by Mercedes chief Toto Wolff - as well as agree a compensation package with Williams.
The Grove outfit announced on Tuesday Pat Symonds was standing down as their chief technical officer, leaving the stage clear for Paddy Lowe, Mercedes' technical boss, to return to the team with whom he started his F1 career.
It is thought that, in addition to reducing Williams's fee for an engine supply, Mercedes would be willing to cut Lowe's gardening leave in order to facilitate Bottas' move in the opposite direction.