Kevin Magnussen hits back at old team Renault after criticism
2017 Haas recruit denies suggestions he made "excuses" during year at Renault; Suspects former team will take time to cure problems and backs Haas to shine in 2017's new rules era
By James Galloway
Last Updated: 19/01/17 1:43pm
New Haas driver Kevin Magnussen has rejected criticism of him made by Renault following his departure from the French manufacturer team.
Magnussen turned down a one-year contract extension at Renault to join the American-owned Haas outfit for 2017.
Following the Dane's departure, Renault Sport managing director Cyril Abiteboul was quoted as telling France's Auto Hebdo magazine that he had been "disappointed" by Magnussen performances in 2016 and that the 24-year-old had searched for "excuses".
In an interview with Sky Sports News HQ, Magnussen hit back at those accusations and expressed regret that Abiteboul had not kept the matter private.
"I think it's easy to say that someone is making excuses," Magnussen told Craig Slater. "I've said what I think and I've made my opinion clear about certain things and he was unhappy about it.
"It's fair enough, I can't stop him from being unhappy with me, but it became a very public matter which I regret a little bit.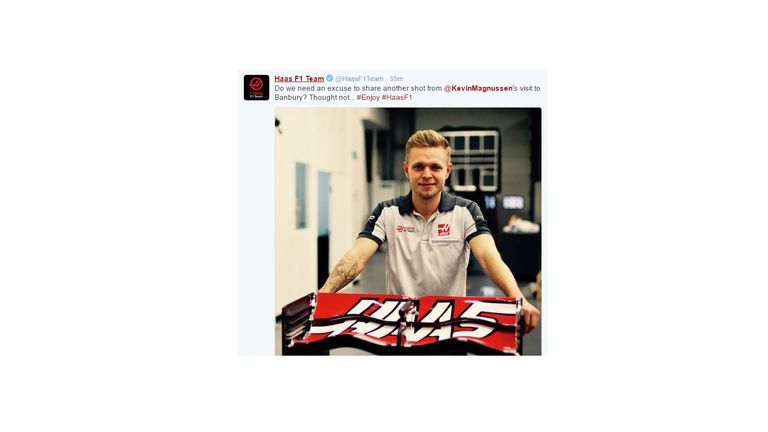 "I prefer things to be, if you are unhappy about something keep it between the person you are unhappy with, which he didn't do.
"He didn't keep it between me and him, he went public with it, and that's his way of doing things. That's fair enough with me."
The Dane's short stay at Renault was replicated by that of Frederic Vasseur, who left his team principal post last week after differences among the management team.
Newcomers Haas finished one place ahead of Renault in the 2016 standings and Magnussen believes his new team have a good chance of staying ahead this year.
"It's in the past really, there's no reason for me to expand too much on the problems they [Renault] have. They don't mean so much anymore," he added.
"It's important that we beat them and I think we can do that. With the problems they have it's going to take a long time for them to improve.
"As I've said all the time, they have some very good people and it's a great bunch of guys there that I enjoyed spending my time with all last year and made many friends there. There's very few people that I don't get on with in there."
Magnussen admits he has found his early days at Haas's factory in Banbury refreshing having previously driven for past title winners in Renault and McLaren.
"I've seen how resources isn't everything, at all," he said. "You can have so many people, if they don't work together then it doesn't mean anything. So completely going back to the core of a race team, which this is, it shows you how it should be really built up. You can't just throw people at a project and expect it to deliver.
"It's been interesting to see the difference."
Magnussen is "excited" about Haas's prospects and says their aim is to build on their promising debut campaign with their new 2017 challenger.
"Our biggest challenge is going to be to extract everything and understand it properly because we are a small team and we don't have enough people yet to throw analysis on everything and get everything analysed," he added.
"So we will have to work really hard to try and get the most out of the package we have, which I hope and think will be a good package."