Lewis Hamilton delighted with new Mercedes car after fast start to 2017
World champions fastest on the first day of action in Barcelona
By Matt Morlidge and Pete Gill in Barcelona
Last Updated: 28/02/17 8:03am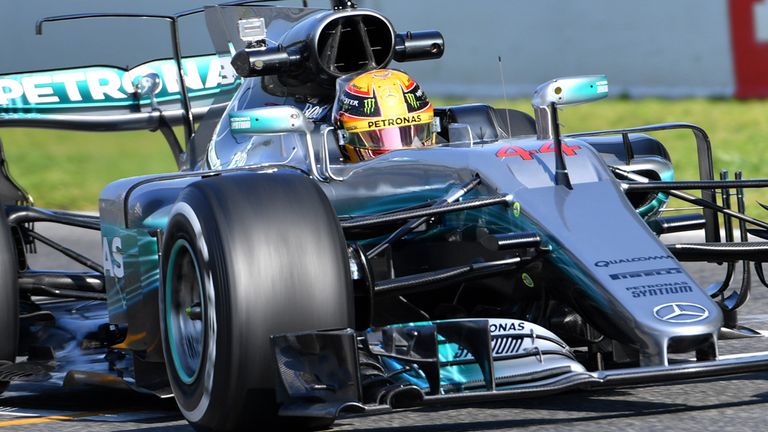 Lewis Hamilton has lavished his new car, the W08, with praise after setting the quickest time on Day One of pre-season testing.
"Pretty happy with the work everyone's done with the car - it looks fantastic," he told Sky Sports News HQ.
"It feels great and there's lot of things we need to improve on, which we will, but a great first day to get that many laps in and our car looks the best, so I'm happy."
VOTE: What's the best looking F1 2017 car?
Despite only driving the new Mercedes car in the afternoon, Hamilton topped the timesheets with a time of 1:21.765 - a considerable improvement on the best time set in the entirety of winter testing at Barcelona 12 months ago and an immediate statement of ominous intent from the world champions.
"Firstly, people always want to big you up at the beginning of the season, two, we are world champions, and three, our car looks a thousand times better than anyone else's so that [people saying we are favourites] is to be expected," added Hamilton.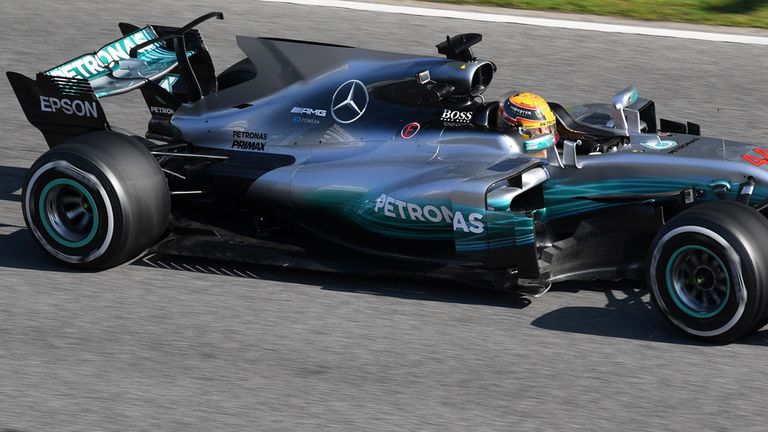 Ominously for their rivals, Mercedes not only set the fastest lap of the day but they also recorded more laps than any other team.
Although the sport's rule makers have demanded cars which are tougher to drive, Hamilton and new team-mate Valtteri Bottas completed in excess of race-distance equivalents in the W08.
"It's a much more beefed up version from the car we've had in the previous years. It's a lot more downforce, a lot faster through the corners. And that means a lot more load for the driver which is quite a considerable amount which is a good challenge," said Hamilton.
"It's harder to get the car into the corner, it's more force on the body, harder to hold your head up. It's just a lot more physical."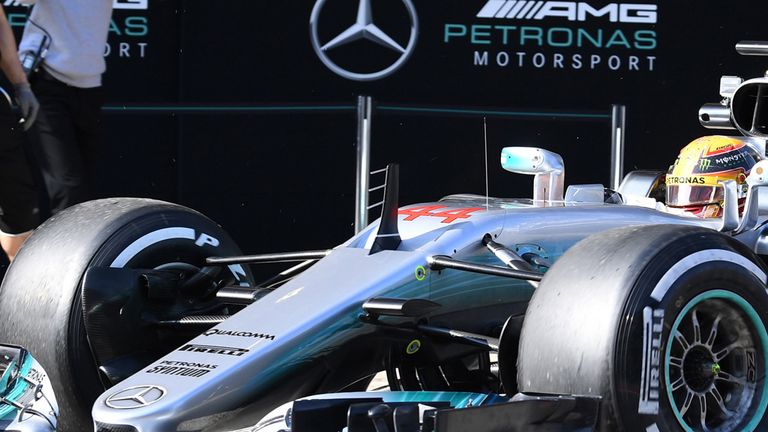 Hamilton was, however, doubtful that the faster, more aggressive machines will guarantee more overtaking in Formula 1.
"I was behind a couple of cars out there and it was harder to follow," the 32-year-old admitted. "Right now the tyres are so hard, they don't drop off, they just keep going and going.
"So most likely we're going to be doing a lot more one-stoppers as there's less degradation, and there's going to be less overtaking. That's my estimation but I might be wrong. We'll find out."
Keep up to speed with all the latest news, pictures and video from every day of F1 testing via the daily live blog on the Sky Sports website and mobile apps. Sky Sports News HQ will also broadcast regular updates from trackside in Barcelona.