F1 Testing: Williams join the frontrunners as Red Bull start to show pace
McLaren's Honda engine fails again; Hamilton damages the floor of his Mercedes; Vettel and Massa both complete 168 laps
By Pete Gill at Barcelona
Last Updated: 17/03/17 11:59am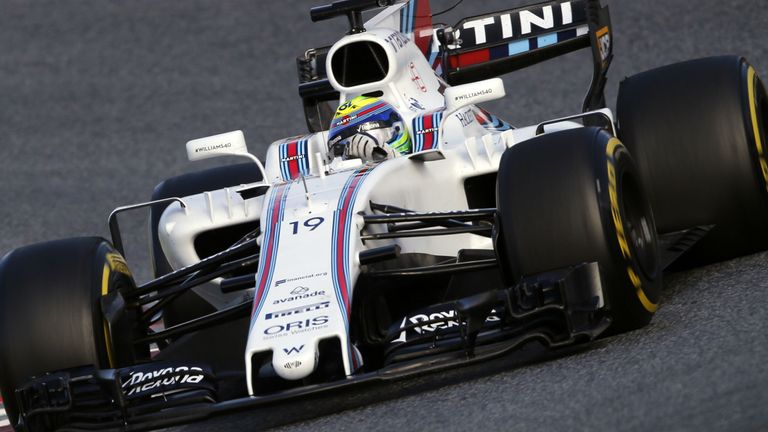 Felipe Massa was the surprise pacesetter on Day One of Test Two at Barcelona as Williams topped Red Bull in the timesheets.
Massa's lap of 1:19.726, set on supersoft tyres just before the lunch break, was the second-fastest of winter testing so far.
Daniel Ricciardo also recorded a new best for Red Bull, lapping within two tenths of Massa's benchmark but on the faster ultrasoft compound. On soft tyres, Sebastian Vettel was third for Ferrari, just behind the Red Bull.
The lap count was also the highest of the winter so far. In apparent defiance of pre-season predictions the cars would be physically taxing to drive, both Massa and Vettel completed 168 laps - almost three times the race distance of the Spanish GP - while Force India's Esteban Ocon recorded 142.
But there was more misery for McLaren and their beleaguered engine partners Honda as Stoffel Vandoorne's power unit broke down, necessitating what was at least the fourth engine change for the MCL32 so far this winter.
The former superpowers are also bottom of the fastest lap charts after five days of running.
Fastest lap per team
| | | | | |
| --- | --- | --- | --- | --- |
| Team | Driver | Date | Tyre | Time |
| Mercedes | Valtteri Bottas | Day Three | Ultrasofts | 1:19.705 |
| Williams | Felipe Massa | Day Five | Supersofts | 1:19.726 |
| Red Bull | Daniel Ricciardo | Day Five | Ultrasofts | 1:19.900 |
| Ferrari | Sebastian Vettel | Day Five | Softs | 1:19.906 |
| Force India | Esteban Ocon | Day Five | Supersofts | 1:21.347 |
| Renault | Jolyon Palmer | Day Three | Softs | 1:21.396 |
| Haas | Kevin Magnussen | Day Five | Softs | 1:21.676 |
| Toro Rosso | Daniil Kvyat | Day Five | Softs | 1:21.743 |
| Sauber | Marcus Ericsson | Day Three | Supersofts | 1:21.824 |
| McLaren | Stoffel Vandoorne | Day Five | Softs | 1:22.537 |
Elsewhere, Renault also had a day to forget. After an engine failure reduced Jolyon Palmer to just 15 laps in the morning, Nico Hulkenberg took over driving duties in the afternoon but ended the day hitching a lift to the pits in a recovery truck when his car broke down.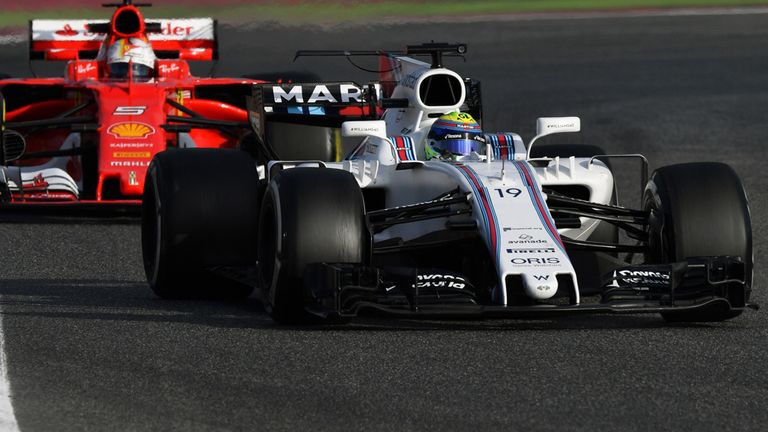 How quick is the Williams?
As is so often the case, the picture presented by Day One's timesheet was at once fascinating, confused and confusing.
Only four teams have set a lap time under 1:20 at the Circuit de Catalunya this winter - Mercedes, Ferrari, Red Bull and, after Massa's unexpected burst before lunch, Williams.
But Massa's time was set on supersofts during a qualifying-style run and, although better than Ricciardo managed on the same compound, the Red Bull ran off track on its first ultrasoft run.
Tyre corrected, the Red Bull's most impressive time had been set earlier in the morning when Ricciardo produced a lap of 1:20.077 on softs - a fraction better than Mercedes' fastest time on softs in the whole of the first test.
"My guess is that we haven't seen the Red Bull Racing car of 2017 yet," warned Mercedes boss Toto Wolff.
Ferrari, meanwhile, continued to impress. After only using medium tyres in the morning, Vettel switched to softs at the start of the afternoon and lapped within two tenths of Massa despite using a compound two steps harder.
No more plain sailing for Mercedes?
After sitting out the final day of the first test, Lewis Hamilton experienced more frustration on Tuesday morning when he was limited to just 49 laps before handing over the W08 to team-mate Valtteri Bottas.
Trackside observers described Hamilton's running as 'scruffy' with the three-time world champion admitting he had struggled to dial in the W08 to the conditions.
"As a team, we are not massively happy with the time we had and the car didn't feel great this morning," Hamilton said.
He later added: "When we left here last week it looked like Ferrari was our closest rivals, today Red Bull look quick. It's going to be interesting over the next few days and when we arrive in Australia. The field will be close, that's for sure."
Although he didn't run off track, Hamilton damaged the floor of his W08 during his stint and finished the day fourth in the timesheets.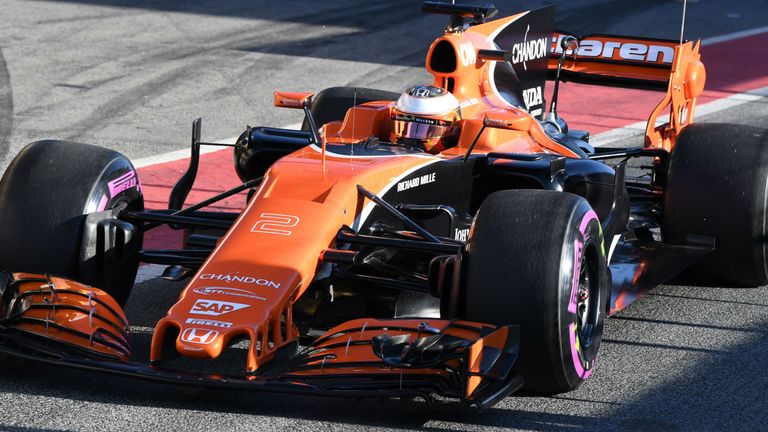 McLaren: From very bad to even worse
McLaren's already torrid winter took another turn for the worse midway through the morning session when a new problem was detected on their car's faltering Honda engine.
The team have refused to confirm the exact number of engines they have run during the opening five days of testing but even on conservative estimates McLaren have already used more power units than the four which can be used during the racing season without penalty.
Insisting that McLaren are giving no thought to divorcing their engine partners, team boss Eric Boullier told reporters he was "not concerned" about McLaren's performances.
McLaren's gloom deepens after another Honda failure
But with just three days of testing remaining before the start of the season, McLaren are still the only team yet to break through the 1:22 lap mark at Barcelona this year while only Toro Rosso have recorded fewer laps.
The one upside from Day One's running was that, after his late-afternoon return, Vandoorne's 80 laps were the highest they have managed in a single test day so far.
Day One, Test Two Timesheet
1) Felipe Massa, Williams, 168 laps, supersoft tyres, 1:19.726
2) Daniel Ricciardo, Red Bull, 89 laps, ultrasoft tyres, 1:19.900
3) Sebastian Vettel, Ferrari, 168 laps, soft tyres, 1:19.906
4) Lewis Hamilton, Mercedes, 49 laps, soft tyres, 1:20.456
5) Valtteri Bottas, Mercedes, 86 laps, 1:20.924
6) Esteban Ocon, Force India, 142 laps, 1:21.347
7) Nico Hulkenberg, Renault, 57 laps, 1:21.589;
8) Kevin Magnussen, Haas, 81 laps, 1:21.676
9) Daniil Kvyat, Toro Rosso, 83 laps, 1:21.743
10) Stoffel Vandoorne, McLaren, 80 laps, 1:22.537
11) Pascal Wehrlein, Sauber, 47 laps, 1:23.336
12) Marcus Ericsson, Sauber, 53 laps, 1:23.630
13) Jolyon Palmer, Renault, 15 laps, 1:24.790