McLaren's gloom deepens after new Honda engine failure
McLaren remain the slowest of the 10 teams in winter testing
By Pete Gill at Barcelona
Last Updated: 17/03/17 11:58am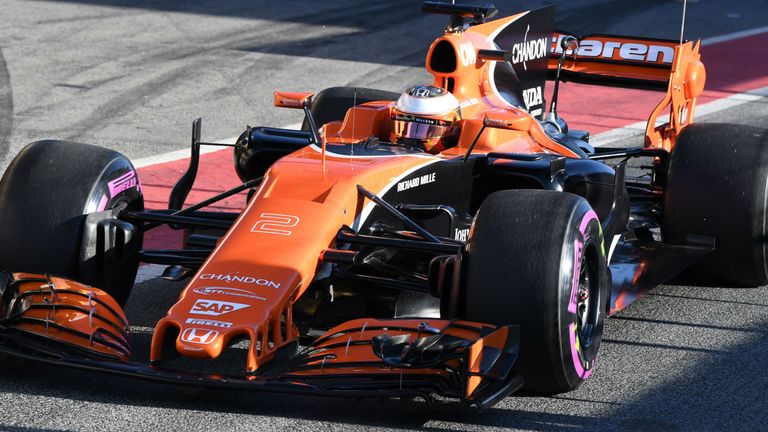 McLaren-Honda's miserable start to F1 2017 in winter testing lurched to a new low on Day One of Test Two at Barcelona when their car's engine broke down again.
With just three days of pre-season remaining, McLaren have recorded the second-fewest number of laps of any team and are the only outfit yet to dip below the 1:22 mark around the Circuit de Catalunya.
The team's latest setback, which meant Stoffel Vandoorne missed another half a day of running, is understood to be a repeat of the failure which rendered the MCL32 inoperable last week.
TEST REPORT: Massa surprises for Williams
At a conservative estimate, the MCL32 has already been fitted with five engines in testing this year - one more than the teams are permitted to use in the entirety of the new season without penalty.
"We are not concerned yet," insisted team boss Eric Boullier. "We have to rely on our partners and have to believe in them."
But Boullier admitted that the team's latest problems were putting the "maximum" strain on relations between Honda and McLaren.
"The pressure is obviously huge," he added.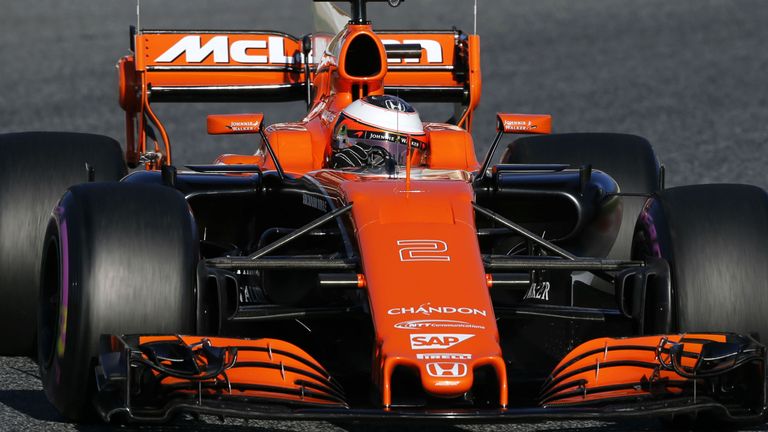 Where will McLaren-Honda start the new season?
One of the biggest teams in motorsport are in grave danger of starting the new campaign at the back of the grid.
"From everything we've seen, it's difficult to believe that they won't be going to Melbourne doing anything other than solving issues, rather than improving pace and performance," says Sky F1's David Croft.
The MCL32 has so far been neither fast nor reliable - although the performance potential of the MCL32 chassis itself remains unknown given that its engine has been run on reduced power whenever it has been on track.
In what is already becoming a familiar tactic this winter, the MCL32 only ran with its engine turned down when Vandoorne returned to action for the final two hours.
"It does affect your development and understanding," conceded Boullier. "If you are not running fast enough, you don't put enough energy into the tyres or the brakes, so there is a lot of consequences to running 18kmh slower on the straights."
Honda are still yet to introduce the new spec of engine they are planning to use for the season-opening Australian GP and it is not yet known if it will be ready before testing ends on Friday.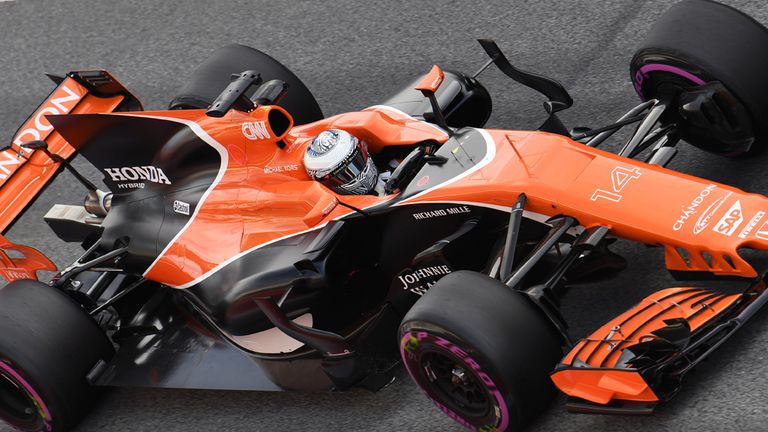 What now for the McLaren-Honda partnership?
The team's false start to 2017 has been so grievous that talk of the two parties separating has already become widespread in the paddock.
McLaren denied they were considering a divorce when questioned about the rumours to Sky Sports midway through Test One and the reality of the situation is that McLaren appear to have no other option but to stick with Honda regardless of the shortcomings of their engine partner.
Not only do Honda reputedly contribute a sizeable chunk of McLaren's annual budget but their reunion was founded on a 10-year contract - and they are only in year three.
"We have a contract in place and we do not even think about it," said Boullier. "We have a solid contract and a long-term contract."
Fastest lap per team
| | | | | |
| --- | --- | --- | --- | --- |
| Team | Driver | Date | Tyre | Time |
| Mercedes | Valtteri Bottas | Day Three | Ultrasofts | 1:19.705 |
| Williams | Felipe Massa | Day Five | Supersofts | 1:19.726 |
| Red Bull | Daniel Ricciardo | Day Five | Ultrasofts | 1:19.900 |
| Ferrari | Sebastian Vettel | Day Three | Softs | 1:19.952 |
| Force India | Esteban Ocon | Day Five | Supersofts | 1:21.347 |
| Renault | Jolyon Palmer | Day Three | Softs | 1:21.396 |
| Haas | Kevin Magnussen | Day Five | Softs | 1:21.676 |
| Sauber | Marcus Ericsson | Day Three | Supersofts | 1:21.824 |
| Toro Rosso | Daniil Kvyat | Day Five | Softs | 1:21.965 |
| McLaren | Stoffel Vandoorne | Day Four | Ultrasofts | 1:22.576 |