F1 Testing: Mercedes set fastest time of winter but rivals hit trouble
Bottas posts the quickest time of 2017 testing; Impressive Williams again run Mercedes close; Raikkonen crashes, Red Bull reach 100 laps but stop late on, and McLaren prop up mileage charts again
By Pete Gill at Barcelona
Last Updated: 17/03/17 11:57am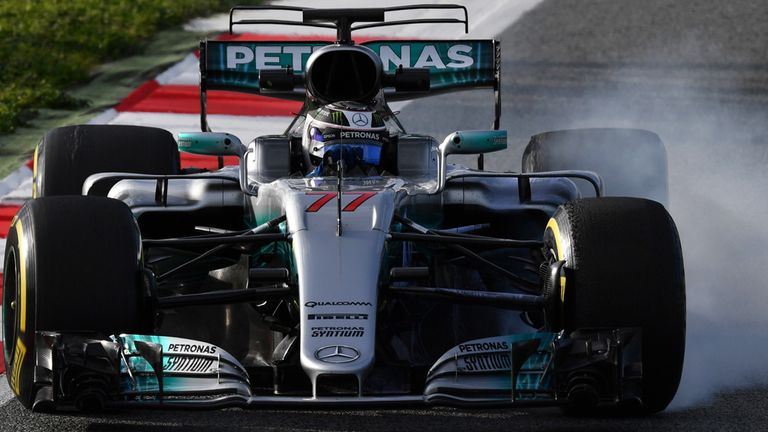 Valtteri Bottas set the fastest time of winter testing on Day Two of the final test at Barcelona, as Ferrari's Kimi Raikkonen crashed out and McLaren's running was once again severely curtailed.
Bottas' lap of 1:19.310, set on supersoft tyres, beat his own previous benchmark, a 1:19.705 registered on ultrasofts at last week's Test One.
But Williams, fast emerging as a potential surprise package for the 2017 season, ran Mercedes close in the timesheets when Felipe Massa recorded a lap of 1:19.420 shortly afterwards on ultrasofts.
Alonso: Honda to blame for woes
Bottas' Mercedes team-mate Lewis Hamilton was sixth after completing his second race simulation of the winter in the afternoon.
Once again, Ferrari set their fastest time of the day on soft tyres with Raikkonen marginally quicker than Red Bull's Max Verstappen on the same compound.
But the Scuderia's hitherto-serene progress in pre-season running hit the barriers midway through the afternoon when Raikkonen spun at the high-speed Turn Three and crashed into the barriers. Although Raikkonen was unhurt in the crash, the damage inflicted to the car meant he was unable to return to action.
Raikkonen crashes out of testing
Verstappen's participation was also compromised, first by an engine change for the RB13 and then a late stoppage on track after another power unit failure. However, Red Bull's day proved positive overall and they reached 100 laps in one day for the first time in 2017.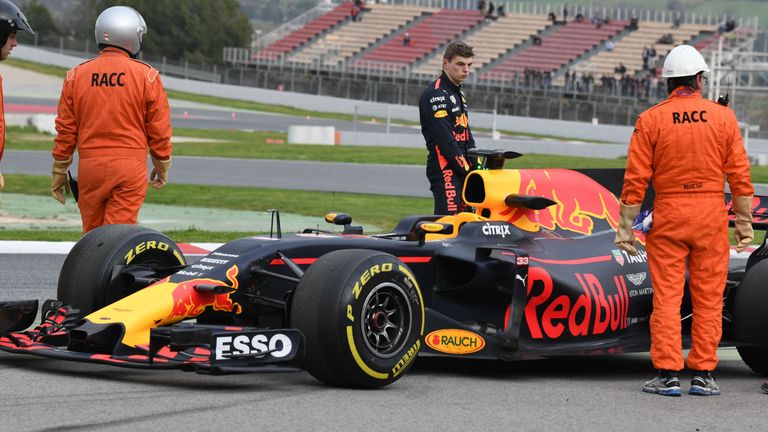 "We had a similar issue as this morning, but they are on top of it now and they should have solutions in place for the future," Verstappen told Sky F1.
It was the second day in a row that the new Renault power unit has had to be changed after the works outfit made what was termed a 'precautionary' switch on Tuesday.
"I am quite confident because the Renault boys already have some plans to change it for Melbourne anyway," added Verstappen.
Meanwhile, McLaren's Fernando Alonso completed just 46 laps - the fewest of any driver in a car for the entire day - and finished a distant 12th in the timesheets. The team denied, however, that it had been forced into another engine change despite Alonso being inactive for over four hours at one stage.
"I don't think we are too far back with the chassis, we have only one problem which is the power unit," Alonso said in a withering rebuke of McLaren's struggling power providers.
"There is no reliability and there is no power. We are 30kph down on the straight."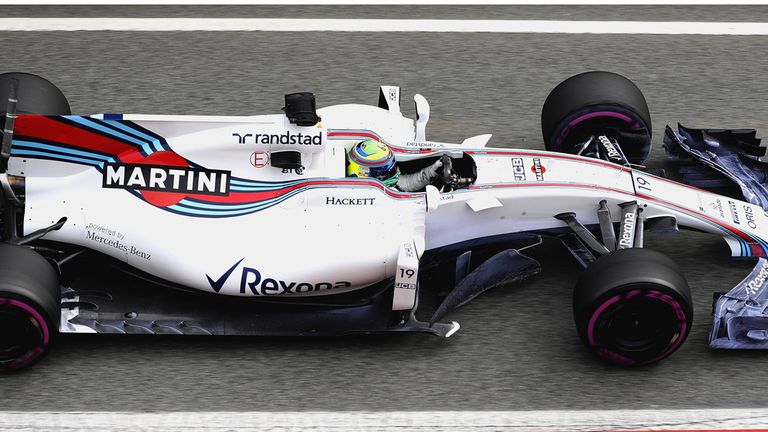 Are Williams 2017's dark horse?
After Massa headed the timesheets on Tuesday, the Brazilian all-but repeated the trick with a lap of 1:19.420 which was three-tenths up on his Day One best.
On this occasion, Massa was running on the ultrasoft compound, the fastest tyre in the Pirelli portfolio. But after also running on the purple-coloured tyre, Bottas was unable to extract any more lap time out of the ultrasofts than he had produced on the supersofts with his test-best lap of 1:19.310.
Massa's lap was therefore the fastest any car has produced on ultrasofts and there was further encouragement in the afternoon running when, after Massa had handed over the car to his rookie team-mate, Lance Stroll went fifth fastest ahead of Hamilton.
Fastest lap per team
| | | | | |
| --- | --- | --- | --- | --- |
| Team | Driver | Date | Tyre | Time |
| Mercedes | Valtteri Bottas | Day Six | Supersofts | 1:19.310 |
| Williams | Felipe Massa | Day Six | Ultrasofts | 1:19.420 |
| Red Bull | Daniel Ricciardo | Day Five | Ultrasofts | 1:19.900 |
| Ferrari | Sebastian Vettel | Day Five | Softs | 1:19.906 |
| Renault | Nico Hulkenberg | Day Six | Supersofts | 1:21.213 |
| Force India | Sergio Perez | Day Six | Supersofts | 1:21.297 |
| Haas | Kevin Magnussen | Day Five | Softs | 1:21.676 |
| Toro Rosso | Daniil Kvyat | Day Five | Softs | 1:21.743 |
| Sauber | Marcus Ericsson | Day Three | Supersofts | 1:21.824 |
| McLaren | Stoffel Vandoorne | Day Five | Softs | 1:22.537 |
Mercedes offer a glimpse of their full potential
While Ferrari, reckoned to be the favourites for 2017 by Hamilton, have predominantly used the medium and soft compounds so far, Mercedes have been far less circumspect in running Pirelli's softer and therefore faster rubber.
Bottas' new benchmark for winter testing was almost four tenths quicker than the best time in Test One - which the Finn himself had set on ultrasofts.
Hamilton, meanwhile, adopted a different approach after replacing Bottas in the W08. The three-time world champion again spent his afternoon on longer runs, with a 20-lap stint on the ultrasofts even catching the attention of Pirelli, F1's tyre supplier.
"The cars are pretty new and so you can do a lot of set-up changes," said Verstappen. "Suddenly you find the right one and you can work in that direction and gain even more performance. There is still a lot of work to do because we haven't tested all of the available options in terms of setting up the car but so far it has gone pretty well."
That was a long run on the ultrasofts from @LewisHamilton: he just completed 20 laps. Interesting preparation for Australia 🇦🇺 #F1

— Pirelli Motorsport (@pirellisport) March 8, 2017
Day Two, Test Two Timesheet
1) Valtteri Bottas, Mercedes, 70 laps, supersoft tyres, 1:19.310
2) Felipe Massa, Williams, 63 laps, ultrasoft tyres, 1:19.420
3) Kimi Raikkonen, Ferrari, 53 laps, soft tyres 1:20.406
4) Max Verstappen, Red Bull, 102 laps, soft tyres, 1:20.432
5) Lance Stroll, Williams, 59 laps, supersoft tyres, 1:20.579
6) Lewis Hamilton, Mercedes, 79 laps, soft tyres, 1:20.702
7) Nico Hulkenberg, Renault, 61 laps, supersoft tyres, 1:21.213
8) Sergio Perez, Force India, 100 laps, supersoft tyres, 1:21.297
9) Carlos Sainz, Toro Rosso, 92 laps, soft tyres, 1:21.872
10) Romain Grosjean, Haas, 96 laps, ultrasoft tyres, 1:21.887
11) Pascal Wehrlein, Sauber, 59 laps, soft tyres, 1:23.000;
12) Fernando Alonso, McLaren, 46 laps, soft tyres, 1:23.04156
13) Marcus Ericsson, Sauber, 47 laps, soft tyres, 1:23.384
14) Jolyon Palmer, Renault, 29 laps, supersoft tyres, 1:24.774