F1 2017: Lewis Hamilton says it's 'best v the best' after Sebastian Vettel's Australian GP win
Mercedes' Hamilton and Ferrari's Vettel looking forward to prospect of direct fight for the title after battling in Australian GP
By Pete Gill
Last Updated: 30/03/17 11:21am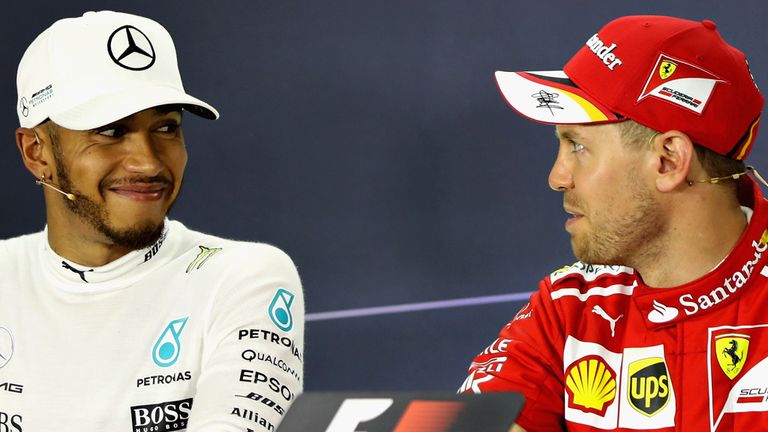 Lewis Hamilton says the F1 stage is set for a battle of 'the best against the best' in 2017 after the Mercedes driver was narrowly beaten by Sebastian Vettel in the season-opening Australian GP.
Fulfilling the promise they had displayed during winter testing, Ferrari claimed their first victory in almost two years when Vettel triumphed at Albert Park ahead of Hamilton.
Hamilton: Mercedes have a fight on in 2017
Although Vettel and Hamilton have claimed seven of the last nine titles in F1, they have never previously driven head-to-head in a world championship fight. Until, it seems, now.
"This year you are seeing the best against the best with the best drivers at the top," enthused Hamilton.
Asked directly if he believed he was facing a tougher challenge in 2017 than presented by the now-retired Nico Rosberg, Hamilton replied: "Definitely. I am really grateful to have that fight with him [Vettel], against Ferrari, which is the next best team.
"Finally we can have an actual race. It is going to be close. I truly believe we can beat them. It's great to see Ferrari there."
How the backpages headlined F1 2017's first race
| | |
| --- | --- |
| 'Vettel sends title message to Hamilton' | The Times |
| 'Vettel victory signals epic title duel with Hamilton' | The Daily Telegraph |
| 'Lewis: Racing is the pits' | The Daily Mirror |
| 'The best v the best' | The Daily Mail |
| 'Ham slams changes' | The Sun |
| 'Ferrari send out red alert' | The Daily Express |
Offering his own tribute in return, Vettel responded: "I have great respect for Lewis. He has proved to be be one of the quickest drivers on the grid and l would love to have a close battle."
Vettel was victorious after matching Hamilton through the first stint of the race and then taking the lead after running five laps longer before pitting.
Although Mercedes' strategy came unstuck when Hamilton returned to the race behind the slower Red Bull of Max Verstappen, the team were adamant it was the pace of Ferrari which had cost them the race rather than a tactical misjudgement.
"It's very straightforward: Ferrari were quicker," said team chief Niki Lauda. "They dominated the race from beginning to end. Bringing in Lewis earlier or later wouldn't have made any difference."
A concurring Hamilton added: "We are similar pace-wise, so it's going to be a very hard slog."
Watch the 2017 F1 season on Sky Sports F1 - and in Ultra HD for the first time! Get Sky F1 for the new season!
Sky customers can now upgrade to Sky Sports and get 12 months for just £18 per month. Upgrade now!