Nico Rosberg would not have bettered Valtteri Bottas in Australia, says Niki Lauda
Bottas finished third in his first race for Mercedes
By Simeon Gholam
Last Updated: 28/03/17 2:19pm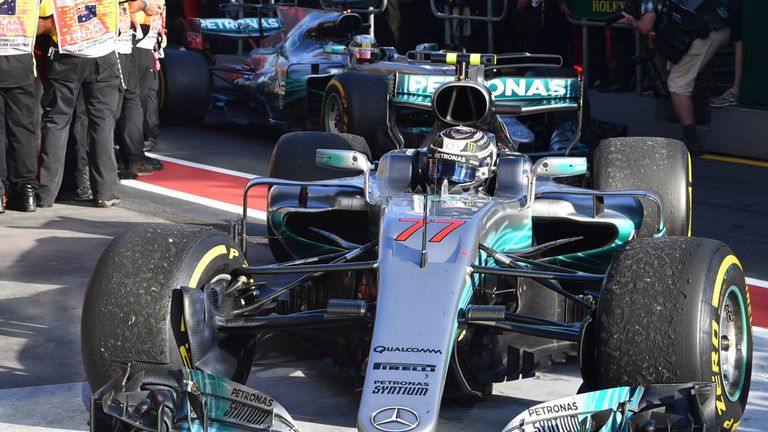 Nico Rosberg could not have performed any better than Valtteri Bottas at the Australian Grand Prix, according to Niki Lauda.
In his first race since replacing the 2016 world champion, Bottas finished a creditable third at Albert Park behind victor Sebastian Vettel and team-mate Lewis Hamilton.
And Mercedes chief Lauda was full of praise for his new man, who finished less than two seconds behind Hamilton.
Hamilton: 2017 the best v the best
"The biggest problem was that when Nico decided suddenly overnight that he was not going to race with us anymore, we were standing there with open mouths," Lauda told Sky Sports F1.
"Then we had long discussions, Toto [Wolff] and I, [about] who we should take. Then for me, for sure we had the right choice, which was always Bottas, he was No 1 in the list.
"I went straight for him because we needed an experienced, quick guy. The young guy [Pascal] Wehrlein was for me a little bit of a risk because he did not have enough experience. We expected Bottas in a new car, with a new team, with the help of the team, that he would get quicker.
"And he did all that. So the whole weekend he was a sensation. I don't think he would have been worse than Nico if he had raced here. It would have been exactly the same result. He was the first time out of the car, which was outstanding.
"First time in the car, finish third, close up to Lewis. He could not have done a better job."
Lauda insists Mercedes will continue to allow their drivers to race against each other in all circumstances.
He said: "[The rules are] all the same. Lewis is completely relaxed. The way Lewis started into the season, we all like it. They are both getting on with each other very well and we have absolute harmony, and I think it will stay like this."
Don't miss the final word on the season-opening Australian GP in the latest edition of F1 Report. The first airing is on Wednesday at 8.30pm on Sky Sports F1, with the show repeated on the channel and available On Demand and online throughout the week.