Will Lewis Hamilton v Sebastian Vettel dominate F1 2017?
A lack of overtaking in Australia was a concern but any fears about F1 2017 should have been overtaken by the welcome prospect of F1's battle of the champions. Vettel v Hamilton? Bring it on
By Pete Gill
Last Updated: 30/03/17 11:21am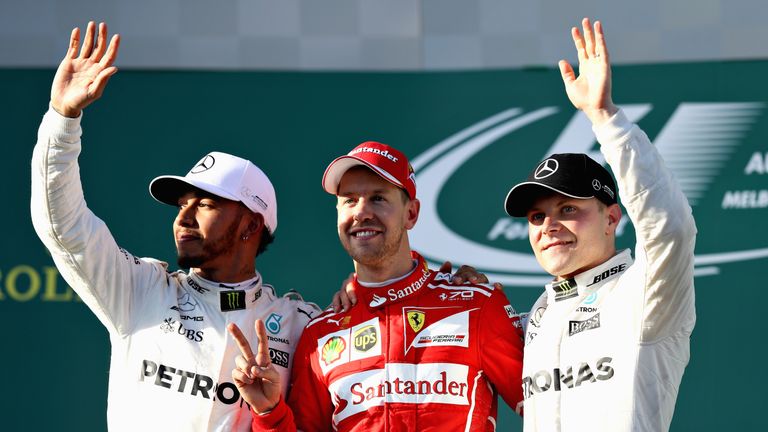 Shall we start with the good news or the bad news from race one of F1 2017?
The good, of course, is that for the first time since perhaps 2008, there appear to be two teams capable of fighting it out all season for the world title.
And after a decade of waiting for Lewis Hamilton v Sebastian Vettel, two of the sport's brightest stars finally appear ready to occupy the same orbit. Fernando Alonso should quibble with Hamilton billing the fight as 'the best against the best' but a 'champion of champions' contest between Hamilton and Vettel is a mouthwatering prospect.
Now for the bad news: fears that F1's winter 'rules refresh' may reduce overtaking appear to have been vindicated by Sunday's curtain-raiser.
Officially, the Australian GP featured just five changes of positions and critics haven't been shy in pointing out victory was decided in the pits rather than on track. But beware an overreaction: Albert Park is a circuit which doesn't lend itself to overtaking and China, scene of over 100 passing moves a year ago, will provide a more instructive indication of whether there is a fundamental flaw in F1 2017 or not.
Quite whether the fans shared those concerns - or, to be more precise, currently share those concerns - after Sunday's stage-setter in Melbourne is another moot point.
Congrats Sebastian/Ferrari. Respect. Could be a cool Merc vs Ferrari battle all season. You up for that? #f12017

— Nico Rosberg (@nico_rosberg) March 26, 2017
After a near-decade of one-car title races, the feelgood story of Australia 2017 was the close proximity of Ferrari and Mercedes up front.
"This year you are seeing the best against the best with the best drivers at the top," enthused Hamilton. "I am really grateful to have that fight with him [Vettel], against Ferrari, which is the next best team. It's great to see Ferrari there."
But where exactly are they? "Ferrari were quicker," opined Mercedes' Niki Lauda. "We are similar pace-wise," reckoned Hamilton. "We don't know if we are faster," cautioned Ferrari's Jock Clear.
And lest we forget, Ferrari should have won in Australia a year ago - denied, ironically, by a duff strategy call - and then all-but disappeared from the front-running fray.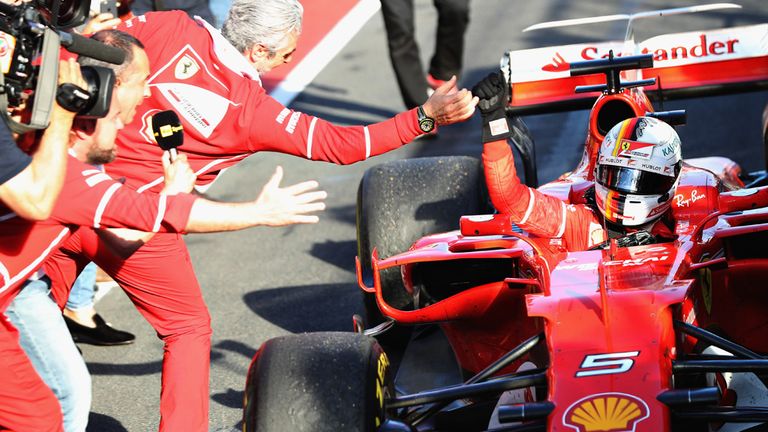 Did a strategy mistake by Mercedes hand Ferrari victory?
"Honestly, it sort of fell into our hands when he got caught behind Verstappen," said Clear. And social media wasn't slow in attributing Hamilton's defeat to a strategic blunder on Mercedes' pitwall either.
So what were the world champions thinking when they called in Hamilton on lap 17?
For one thing, they may have been listening. Throughout his first stint, Hamilton complained of a lack of grip from his tyres - apparently oblivious to the fact he had built up a 10-second lead over team-mate Valtteri Bottas in third.
Given events in Abu Dhabi last November and Hamilton's unofficial promotion to de facto team leader following Nico Rosberg's retirement, Mercedes may have felt beholden to heed their driver's protestations. The reality, however, was probably less sensational and a straightforward response to cold, hard facts on the timesheet.
Having consistently been within 1.5 and 1.7 seconds behind Hamilton during the opening 15 or so laps, Vettel suddenly upped his pace and was noticeably quicker than the Mercedes on three of the four laps before Hamilton's pit-stop.
A gap which had stood at 1.7 seconds had collapsed to just 0.8 seconds and Mercedes were suddenly vulnerable to the overcut and the undercut when Hamilton darted off stage.
By pitting early, Mercedes may have gambled on forcing Ferrari's hand and spooking Vettel into following Hamilton down the pitlane. Had they done so, Hamilton would almost certainly have retained the lead: When the Mercedes re-emerged, Hamilton was over two seconds behind Max Verstappen, giving him plenty of clean air in which to set his fastest laps of the race. The problem - and the critical miscalculation - is that when Hamilton then caught Verstappen, and found the Red Bill immovable, Vettel was still running and still enjoying plenty of tyre life.
In the final reckoning, Vettel's first stint was approximately 30 per cent longer than Hamilton's - the difference between winning and losing.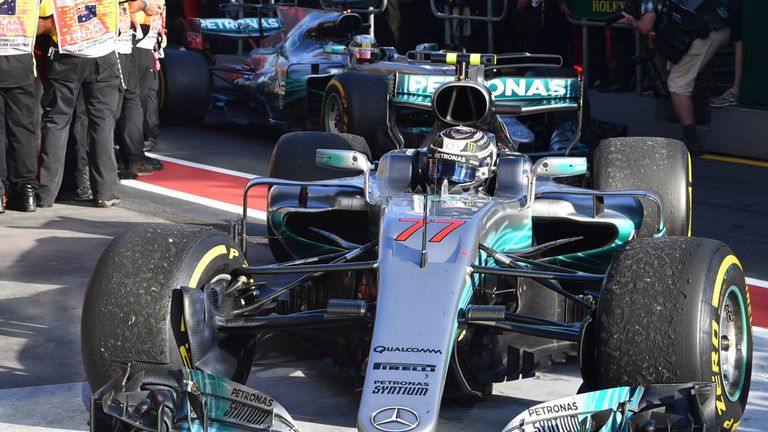 Why did the Mercedes tyre-out so quickly?
There are several points to consider here. First, Mercedes clearly under-appreciated how difficult overtaking was in Sunday's race and fatally under-estimated Ferrari's capacity to prolong tyre life even. And which team and which driver did the most amount of testing of Pirelli's 2017 rubber?
Hamilton revealed after the race he was only due to pit one lap later than he did. If that was indeed Mercedes' pre-race intention, they surely couldn't have expected Ferrari to run for 22 laps before stopping.
Second and almost as importantly, not only did Mercedes fail to out-pace Ferrari through that opening stint but they also suffered in dirty air far more than their rivals.
"The main question mark is the first stint as I didn't have the pace I should have had," said Bottas. "The car was sliding around a lot with the ultrasofts but at the end it was feeling consistent and I could really push the car."
Another developing theme? Bottas' fastest time in winter testing at Barcelona was also set on supersofts rather than ultrasofts.
But of greater concern to Mercedes will be their drivers' complaints about their struggles when following another car.
"Unfortunately it's harder than ever to get close to the cars," said Hamilton. "It's worse than it's ever been before."
"I was trying to get close but once you get within a couple of seconds you lose grip, more than in previous years," echoed Bottas.
Is the Mercedes particularly susceptible to the effects of discarded dirty air? If so, track position and qualifying will be particularly critical to their 2017 prospects.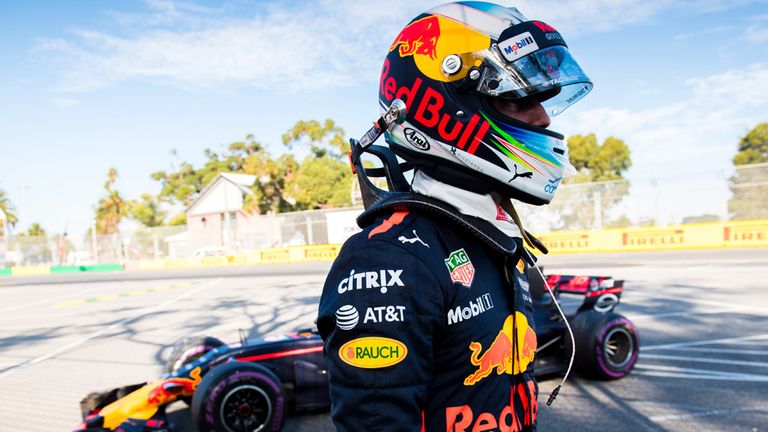 What else will China confirm?
How the rest of the field - bar Ferrari - must envy Mercedes the luxury of such headaches.
McLaren were only spared outright humiliation by the brilliance of Fernando Alonso - delivering what he felt was "probably the best the race of my life" - and Australia was savage for Red Bull.
Their pace was particularly poor in qualifying when they were 1.5 seconds behind. Although there was a comparative improvement on race day, their 30-seconds deficit is not the sort of gap which closes overnight. Nor, despite its simplistic design, is the RB13 an easy car to handle. After Daniel Ricciardo, a rare culprit of errors, hit the wall during qualifying, Max Verstappen confirmed he was finding his own car particularly sensitive to set-up changes. A similar affliction may have hindered Ferrari's Kimi Raikkonen, on the outskirts in Melbourne and rarely in the same vicinity as his team-mate.
Other points of interest from Australia include the struggles of some of the sport's inexperienced drivers - most noticeably Lance Stroll and Stoffel Vandoorne - against their veteran team-mates. Both need strong displays in Shanghai: First impressions count and tend to linger. The same is true of Jolyon Palmer whose nightmare weekend made Ricciardo's dream-like by comparison.
The impression, imbued by the individually peculiar but unanimously unsaveable crashes of Palmer, Ricciardo and Stroll in Melbourne, that the 2017 cars are hard to recover will be another trend to watch for with interest in China. So, too, that once a driver loses momentum in a weekend, he stays on the backfoot throughout.
But ultimately what matters in China - and Bahrain immediately after - is a potentially definitive steer on how F1 2017 will be defined.
Will the year be recalled for a struggle to overtake or a battle between Mercedes and Ferrari, Vettel and Hamilton?
Right now, the good news is winning and threatening to dominate.
Watch the 2017 F1 season on Sky Sports F1 - and in Ultra HD for the first time! Get Sky F1 for the new season!
Sky customers can now upgrade to Sky Sports and get 12 months for just £18 per month. Upgrade now!