Title battle between Lewis Hamilton and Sebastian Vettel is on, say Monday's papers
Vettel beat Hamilton to victory in Australia on Sunday
By Simeon Gholam
Last Updated: 30/03/17 11:22am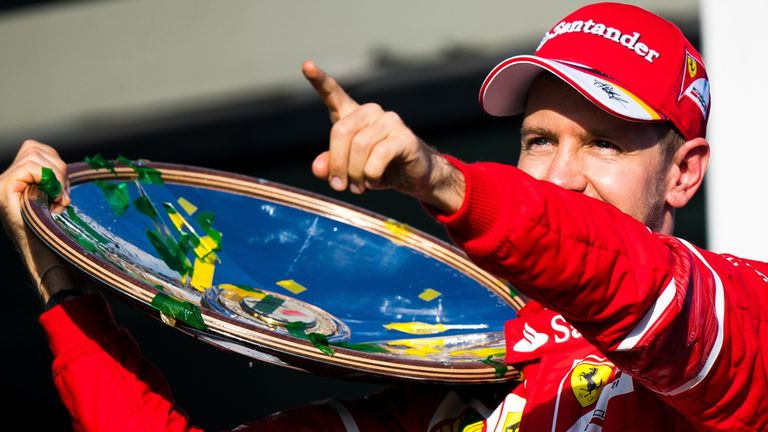 F1 finally has a battle on its hands between two different teams after Sebastian Vettel beat Lewis Hamilton to victory in Australia, according to Monday's papers.
Despite Hamilton dominating in the Mercedes throughout the weekend up until race day and qualifying on pole, some impressive strategy work from Ferrari saw Vettel top the first podium of the 2017 season.
"Finally, it looks as if Formula 1 has a fight on its hands and after all the hope and expectation that has weighed heavily on the sport to fulfil with its reboot this year," wrote Giles Richards in the Guardian.
"Melbourne was a proper slug-fest between two of the biggest hitters of their generation; one that might yet be enjoyed all season long. F1 had set itself some ambitious targets and on the season's opening weekend the race was a very palpable hit."
Hamilton: It's best v the best
Oliver Brown agreed in the Telegraph, saying that Ferrari are revitalised following their first race win since Singapore in 2015 and their first in Australia in a decade.
"For three years Mercedes have enjoyed a stranglehold over this sport, but Ferrari wrenched it away with a display of exceptional pace and cunning," he wrote. "The Prancing Horse has discovered a kick in its legs once more.
"Even more tantalisingly, the long-awaited battle between Vettel and Hamilton, two drivers who have won six of the last seven world titles between them, has at last begun to be drawn."
Jonathan McEvoy in the Daily Mail, meanwhile, expressed his excitement that F1 could have their first battle at the front between two different teams since 2009.
"The silver plate belonging to the runner-up, Lewis Hamilton, was finger-smudged and as discarded as a used tea cup in the Mercedes hospitality area after the Australian Grand Prix," he wrote.
"It was the prize less wanted by the world championship team, yet a token of hope not just for Ferrari and their flag-waving devotees, who flooded on to the tarmac to celebrate Sebastian Vettel's win, but for all those seeking tooth-and-claw competition in 2017."
Watch the 2017 F1 season on Sky Sports F1 - and in Ultra HD for the first time! Get Sky F1 for the new season!