Chinese GP: Lewis Hamilton and Mercedes back to winning ways
Hamilton and Vettel tied at top of Drivers' Championship with one 2017 win apiece; Verstappen surges from 16th to third to beat Ricciardo; More McLaren unreliability costs Alonso points finish
By James Galloway
Last Updated: 09/04/17 1:26pm
Lewis Hamilton claimed his first win of F1 2017 in the Chinese GP to join Sebastian Vettel at the summit of the World Championship after the season's first two races.
A fortnight after suffering a season-opening defeat to Ferrari in Melbourne, Hamilton immaculately led every lap from pole position despite a frantic start to the race on a drying track in Shanghai.
Vettel dropped as low as sixth after losing ground when pitting for slick tyres under an early Virtual Safety Car but overtook team-mate Kimi Raikkonen, along with Red Bull pair Daniel Ricciardo and Max Verstappen, to finish second to Hamilton.
Hamilton: My closest ever fight
"It's going to be one of the closest, if not the closest, fights I've experienced," Hamilton predicted.
Verstappen claimed a wholly unexpected third from 16th on the grid after making up massive ground in the race's early chaotic laps in the kind of changeable conditions he revels in. The Dutchman's only mistake of note came when a lock-up at the hairpin let Vettel through for second place.
Verstappen's early surge included a pass on Ricciardo, but he then came under pressure from his team-mate in the race's closing laps, as the Australian finally broke clear of Raikkonen after a near race-long battle with the Ferrari.
Despite applying intense late-race pressure, Ricciardo could not get back ahead and finished fourth, with Raikkonen fifth after a series of agitated radio messages to the Ferrari pit wall during the race.
On a frustrating day for F1's Finns, Valtteri Bottas was only sixth in the second Mercedes after spinning behind a Safety Car called for Sauber driver Antonio Giovinazzi's second big pit-straight crash in as many days.
Mercedes confirmed Bottas lost control of the car while trying to warm up its tyres. "He threw it away," said team boss Toto Wolff.
Hamilton and Vettel's contrasting races
Despite claiming pole position once again on Saturday, Mercedes and Hamilton had been cautious about their victory chances after being outfoxed by revitalised Ferrari in Australia.
The Scuderia had also completed more pre-season mileage on Pirelli's new 2017 wet tyres, although Hamilton's relative lack of experience did not show when he sped away from Vettel on intermediates in the race's slippery opening lap.
The early activation of the VSC, when Lance Stroll was inadvertently punted into the gravel by Sergio Perez, offered what Ferrari thought was a chance to make an immediate switch to slick tyres and jump Mercedes.
"My start was okay and then I realised the inters had a lot of degradation," said Vettel. "I was happy to take the risk pitting under the VSC. And then the Safety Car came when I was beginning to feel the dry tyres were much quicker so I couldn't use the advantage.
"I had a very exciting race. I got stuck in the train a little bit but then got clear and tried to chase down Lewis. Every time I put a lap in, Lewis responded. It was a good race."
During his successive title-winning years, critics used to suggest Vettel could not overtake but, not for the first time in his subsequent championship-less years, the German proved his wheel-to-wheel skills are just as sharp.
After passing the sister Ferrari down the inside of Turn Six, Vettel then overtook Ricciardo on the exit of the same corner - even banging wheels with his former team-mate in order to sweep ahead.
Verstappen's error at the hairpin re-established Vettel in second place, but he was unable to exert significant pressure on Hamilton thereafter to create a repeat of Melbourne.
Nonetheless, with the two former champions now tied on 43 points in the Drivers' Championship after the opening two races, Hamilton is braced for one of his toughest F1 title fights yet.
"I'm looking forward to this fight and others will soon be amongst it. Ferrari have done a fantastic job. We were both pushing, exchanging lap times," said Hamilton.
"We enjoy it because it's a close battle and the cars look better and are nicer to drive."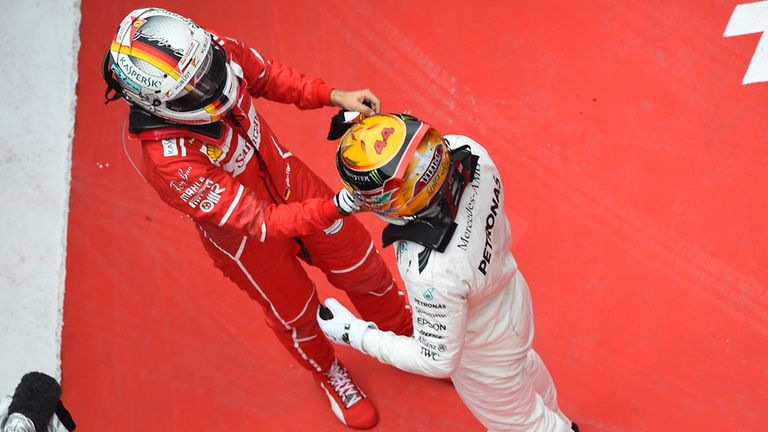 Who won the midfield points battle?
Carlos Sainz was the only driver to gamble on slick tyres for the start, and although his race very nearly ended on the first lap when he spun and clouted the barrier, his strategy paid off handsomely and he claimed a fine seventh place for Toro Rosso.
McLaren's Fernando Alonso had been on course for eighth but suffered his second retirement in as many races due to unreliability. Team-mate Stoffel Vandoorne also dropped out for technical reasons.
Instead, Kevin Magnussen claimed his first points for Haas with a strong drive to eighth. Force India claimed their second double points finish in succession with Sergio Perez and Esteban Ocon ninth and 10th respectively.
Chinese GP race result
1. Lewis Hamilton, Mercedes,
2. Sebastian Vettel, Ferrari, +6.250
3. Max Verstappen, Red Bull, +45.192
4. Daniel Ricciardo, Red Bull, +46.035
5. Kimi Raikkonen, Ferrari, +48.076
6. Valtteri Bottas, Mercedes, +48.808
7. Carlos Sainz, Toro Rosso, +72.893
8. Kevin Magnussen, Haas, +1 lap
9. Sergio Perez, Force India, +1 lap
10. Esteban Ocon, Force India, +1 lap
11. Romain Grosjean, Haas, +1 lap
12. Nico Hulkenberg, Renault, +1 lap
13. Jolyon Palmer, Renault, +1 lap
14. Felipe Massa, Williams, +1 lap
15. Marcus Ericsson, Sauber, +1 lap
Fernando Alonso , McLaren-Honda, DNF
Daniil Kvyat, Toro Rosso, DNF
Stoffel Vandoorne, McLaren-Honda, DNF
Antonio Giovinazzi, Sauber, DNF
Lance Stroll, Williams, DNF
Watch the Bahrain GP live on Sky Sports F1 and in incredible Ultra HD! The race begins at 4pm on Sunday. Check out all the ways to watch F1 on Sky Sports for subscribers and non-subscribers - including a NOW TV day pass for £6.99!