Max Verstappen's first F1 win at the 2016 Spanish GP revisited
One year on: How Formula 1's records were rewritten on an amazing May day in Barcelona...
By James Galloway
Last Updated: 11/05/17 3:24pm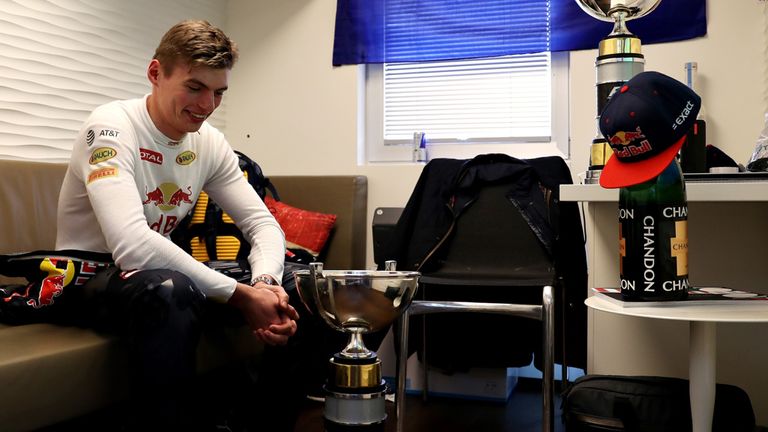 It's not often that a Formula 1 driver's maiden race win arrives completely out of the blue, but the 2016 Spanish Grand Prix produced such an occasion for Max Verstappen.
Driving a front-running car for the very first time, and barely six months on from his 18th birthday, the Dutchman, thrust into a prized Red Bull seat just one week earlier, became F1's youngest race victor, on a day of stunning drama at Barcelona's Circuit de Catalunya.
Much of that drama - and nearly all of the controversy - was caused by the mutually-destructive first-lap Mercedes collision between Nico Rosberg and Lewis Hamilton. Inevitably, that clash created the more immediate post-race headlines, but Verstappen's maiden victory was no less of a milestone moment in F1 history.
So, one year on, just how did he do it?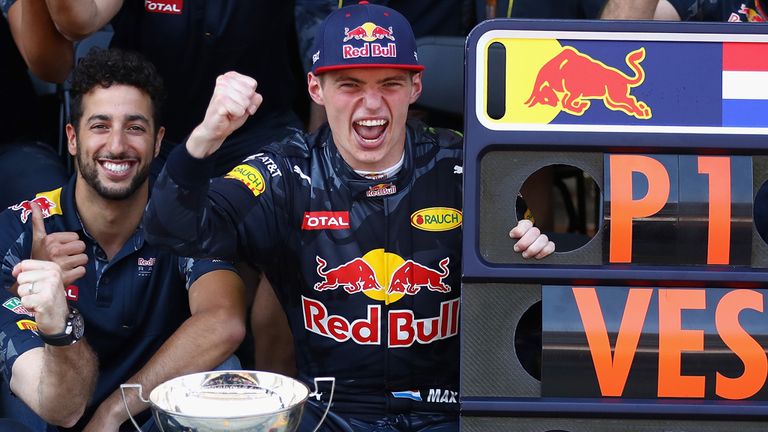 Why it was sink or swim time in Spain
When it came, Verstappen's promotion to the senior Red Bull team from Toro Rosso in May 2016 was sudden - and, for the unfortunate Daniil Kvyat, brutal.
The announcement of the swap came just four days after Kvyat had caused uproar on the opening lap at his home Russian GP by twice crashing into Ferrari's Sebastian Vettel, while also triggering the chain reaction which saw team-mate Daniel Ricciardo retire from the race.
There were certainly other factors at play too: including the expectation that one or both of Mercedes or Ferrari could make a move for Verstappen if Red Bull did not swiftly find a seat for him in their main team.
In an ideal world, Red Bull surely wouldn't have wanted to throw Verstappen into the RB12 without any track testing. Not that the Dutchman was particularly perturbed by his sudden arrival at F1's top table at the time after just 23 starts for Toro Rosso.
"I wouldn't say there's more pressure to be honest," he said ahead of Barcelona. "Of course I'm driving for a top team now, but in the end you always try to do your best which is what I always try to do.
"For me, I don't feel more pressure."
Verstappen builds up his speed
Certainly the evidence from the very early stages of that Barcelona weekend were that Verstappen was taking it all in his stride.
While his very first flying lap in his new car briefly resulted in him running off the track, he racked up 29 laps in that first session and finished sixth fastest - within two tenths of new team-mate Ricciardo.
"I'm impressed by what he's done there in that session. I think he'll be pretty pleased with that," said Sky F1's Anthony Davidson in commentary.
Verstappen's 2016 Barcelona weekend
| | |
| --- | --- |
| Session | Placing |
| Practice One | 6th |
| Practice Two | 8th |
| Practice Three | 4th |
| Qualifying One | 3rd |
| Qualifying Two | 3rd |
| Qualifying Three | 4th |
| Race | 1st |
Practice Two provided similar encouragement, with Verstappen keeping within that same margin of the sister car, although Red Bull's one-second-plus deficit to Mercedes did not suggest they were poised to join the fight for victory for the first time in 2016.
But that changed on Saturday morning when both Verstappen and the RB12 found extra speed around the high-speed circuit to move within one second of the dominant Mercedes in Practice Three.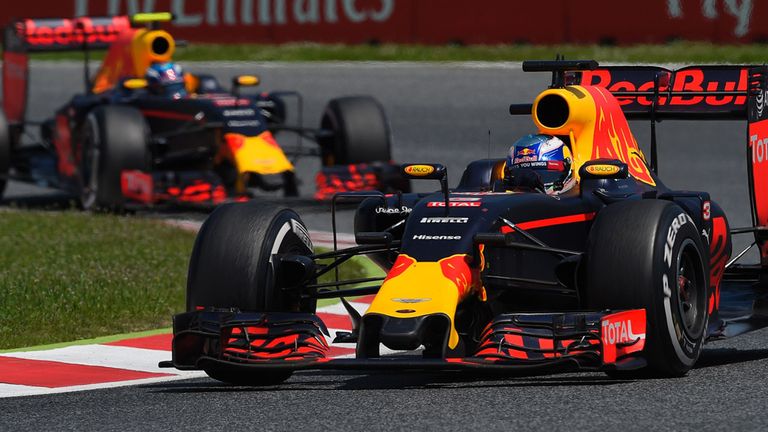 Outpacing Ricciardo for the first time, Verstappen then carried that form into the early stages of qualifying, running third in Q1 and Q2 and threatening to upstage the more experienced Australian at the first attempt.
In the end, Ricciardo countered his new team-mate's speed with an impressive final Q3 lap of his own, but fourth on the grid as part of a Red Bull second-row lockout certainly exceeded most expectations for the teenager.
Although perhaps not his own; "I expected completely nothing," said Verstappen. "I was just thinking about myself jumping in the car and from there onwards see what happens."
Mercedes wipe-out opens the door
"I never start dreaming," insisted Verstappen after qualifying. "I just focus. [The race] is all about a clean start, a clean first lap and from there hopefully we have a good pace."
Had Red Bull been dreaming in their pre-race briefing, then the image of the front-row-starting Mercedes drivers taking each other out at Turn Four within the race's first 30 seconds would surely have entered their minds.
That it actually happened, allowing Ricciardo and Verstappen to form their own one-two at the front of the field, certainly provided the first trigger to Verstappen rewriting the record books 65 laps later.
But almost as important for Verstappen's race was what happened one corner before on that first lap as he got back ahead of Sebastian Vettel having fallen behind the Ferrari driver into Turn One. Doing so around the outside of the super-fast Turn Three was an emphatic way of doing it, but no less crucial.
From there the first stint settled down into a steady pattern, with Ricciardo holding a 1.5-second lead over Verstappen before pitting for the first time on lap 11. Verstappen then inherited the lead for a lap - his first time at the head of a Grand Prix - before being pulled in for his own tyre change.
Ricciardo could not shake his new team-mate off in the second stint either, with the gap between the Red Bulls just 1.1s when the Australian pitted again on lap 28. Vettel had been stalking both cars and, after pitting the lap after Ricciardo in a short second stint, he managed to jump Verstappen when the Dutchman was brought in for his own second stop on lap 34.
But Ricciardo-Vettel-Verstappen wouldn't last long as, in a race-changing twist, Ferrari switched to a three-stop strategy with their second-placed car on lap 37, a move Red Bull mirrored with their race leader six laps later.
This suddenly left Verstappen in the lead with 22 laps to go and soon both Red Bull and Ferrari, with now second-placed Kimi Raikkonen as their lead runner, realised that two stops rather than three was actually going to be the way to win the race.
The Ferrari was faster but despite Raikkonen running within one-second DRS range for the most of final 20 laps, Verstappen did not put a wheel out of place.
"He worked out that every time Raikkonen got close into turn one using slipstream, full power and DRS the Ferrari would then spend a lap charging its batteries in preparation for another try," wrote Martin Brundle in his post-race column.
"So on the alternate laps Verstappen would protect his tyres in anticipation of the next onslaught. Such a calm maturity, it simply doesn't seem possible at 18."
F1's youngest race winners
| | | |
| --- | --- | --- |
| Driver | Grand Prix | Age at time of first win |
| Max Verstappen | 2016 Spanish GP | 18 years, 7 months, 15 days |
| Sebastian Vettel | 2008 Italian GP | 21 years, 2 months, 11 days |
| Fernando Alonso | 2003 Hungarian GP | 22 years, 0 months, 26 days |
| Bruce McLaren | 1959 United States GP | 22 years, 3 months, 12 days |
| Lewis Hamilton | 2007 Canadian GP | 22 years, 5 months, 3 days |
| Kimi Raikkonen | 2003 Malaysia GP | 23 years, 5 months, 6 days |
But Verstappen made it possible and, two-and-a-half years younger than Vettel was at the time of the German's first F1 win at Monza 2008, the Dutchman smashed the record for the sport's youngest race victor.
Despite some stirring drives in the intervening 12 months, win number two has not yet quite followed, but Verstappen has certainly not looked back.
Don't miss the Spanish GP exclusively live on Sky Sports F1 on Sunday - lights out for the race is at 1pm. Check out all the ways to watch F1 on Sky Sports for subscribers and non-subscribers - including a NOW TV day pass for £6.99!
Have your say! Comment below to get involved in the debate, but please adhere to our House Rules. If you wish to report any comment, simply click on the down arrow next to the offending comment and click 'Report'.