Belgian GP driver ratings
Hamilton and Vettel are the pick of the bunch in Spa but it's all-out war at Force India. Join the Sky F1 debate for driver ratings...
By Matt Morlidge, James Galloway and Jonathan Green
Last Updated: 30/09/17 8:51am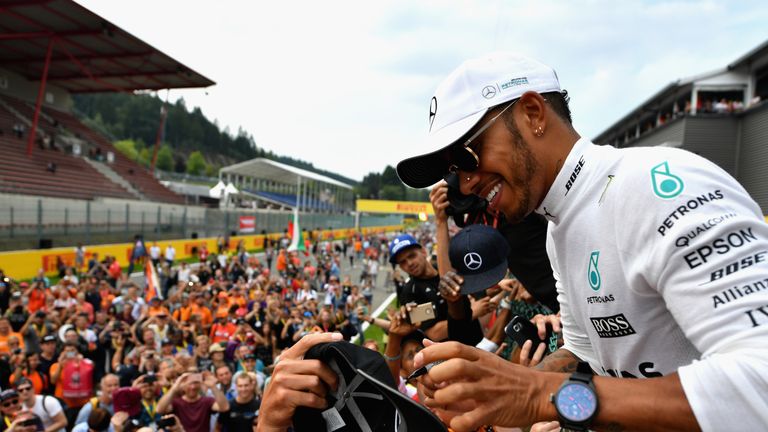 Refreshed, rejuvenated and ready for the title fight, the Belgian GP found Lewis Hamilton at his sublime best.
Not only did he wrestle back the championship momentum at Spa, Hamilton also proved yet again that he can handle the intense on-track pressure from his closest rival.
"It's taken absolutely everything of me," the Briton admitted.
Starting his weekend by equalling Michael Schumacher's historic pole record - out-qualifying Mercedes team-mate Valtteri Bottas by more than half a second - Hamilton finished it by holding off Sebastian Vettel in two wheel-to-wheel battles, even utilising a nifty race tactic in the process.
And all this in a W08 that both Hamilton and Vettel agreed is currently inferior to the Ferrari.
"From the first to the last lap, flat out," said Mercedes' Niki Lauda as he heaped praise on a driver so crucial to Mercedes' 2017 hopes. "There was no room for error and Lewis did a fantastic job."
Hamilton now heads to Monza knowing that a race win will at the very least take him level with Vettel at the top of the standings. Game on…
Rating out of ten: 10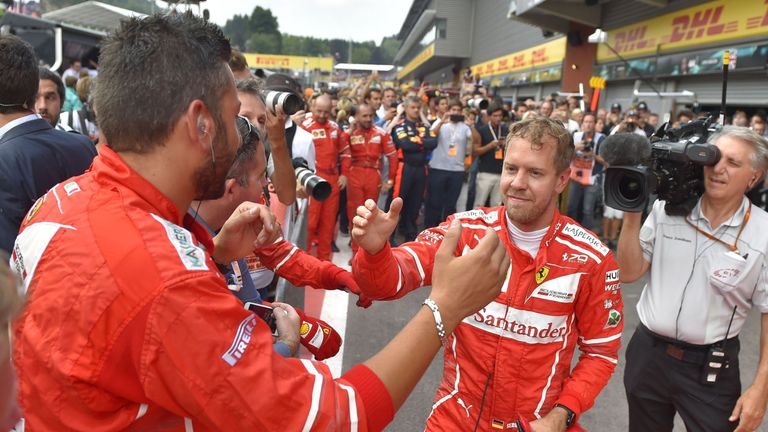 Sebastian Vettel's drive was almost as faultless as Hamilton's but this is proving to be a title battle where the slightest error or misjudgement ends up being costly.
That was the case on Sunday as Vettel's tiny mistake on the Safety Car restart, whereby he got too close, too soon to the Mercedes, denied him his best chance of finding a way past Hamilton.
But the title fight is pushing both drivers to new levels, Vettel overcoming a relatively poor start to the weekend to deliver when it mattered in Qualifying to secure a front-row start and then setting a new race lap record in his bid to chase down Hamilton.
The German may have seen his championship lead cut to a mere seven points, but he took heart from just how close Ferrari were at a track where Mercedes had been predicted to dominate. "I don't think we have a circuit we should fear going to from now," Vettel said. And he will have the added motivation next weekend of having the opportunity to give Ferrari their first home Grand Prix win at Monza since 2010.
Rating out of ten: 9.5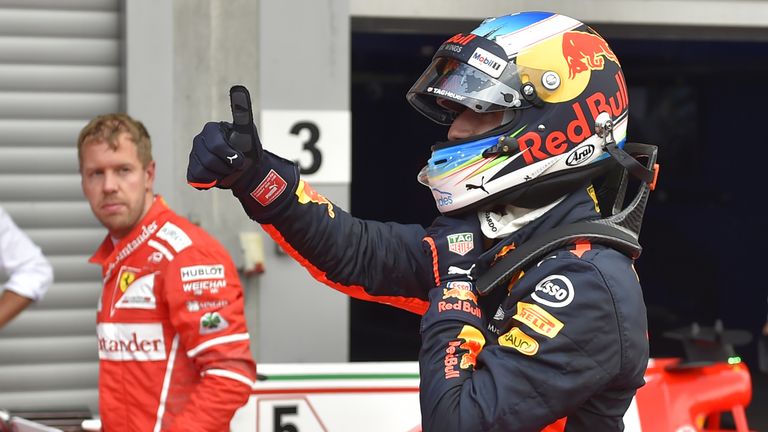 Formula 1's ultimate opportunist, Daniel Ricciardo has the incredibly handy knack of being at the right place in the right time in 2017 - but crucially always delivers when it counts.
Sure, Ricciardo has been fortunate considering his Red Bull team-mate's reliability struggles, but he still had to be at his very best to first jump a Mercedes following the race restart, and then comfortably keep a Ferrari at bay.
"The simple term is leaving with no regrets and then just trying to capitalise on the moment," he said.
The Australian was on for a lonely race in fifth before the Safety Car, but Red Bull's aggressive tyre strategy paid off as fresh ultrasofts were bolted on. Ricciardo's wheel-to-wheel combat this season has been impeccable and he was to prove that again up into Les Combes, surging down the inside of Valtteri Bottas.
With 13 laps left, a Kimi Raikkonen recovery would have been expected but Ricciardo never looked in danger despite Red Bull's obvious pace deficit, and he was soon celebrating his sixth podium of the season. Only the top three in the Drivers' Championship have more.
Ricciardo's performances suggest he's in the form of his life, particularly on race days, and he must be looking forward to high-downforce tracks such as Singapore which will surely suit the RB13's package more.
Rating out of ten: 9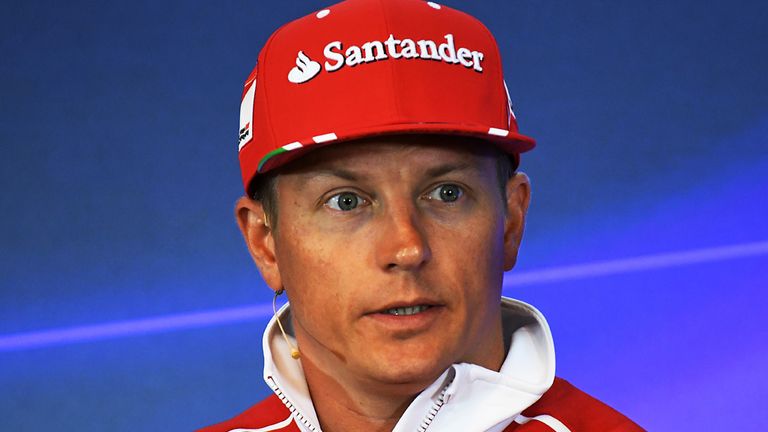 Until his mistake on the final lap of qualifying on Saturday, it looked as though Kimi Raikkonen was the quicker Ferrari driver around Spa-Francorchamps. But the scene of the Finn's last win in red eight years ago didn't prove to be a happy hunting ground in 2017, with fourth place behind a Red Bull representing a disappointing race result.
It was that Q3 miscue followed by Sunday's 10-second stop-and-go penalty for speeding past double-waved yellow flags which cost Raikkonen a podium, although his post-Safety Car move on Bottas was among the best overtakes of the race.
"I guess the result of today could have been worse, but for sure I was looking for more," conceded Kimi about a fourth place which does little for Ferrari's fading Constructors' Championship hopes.
Rating out of ten: 7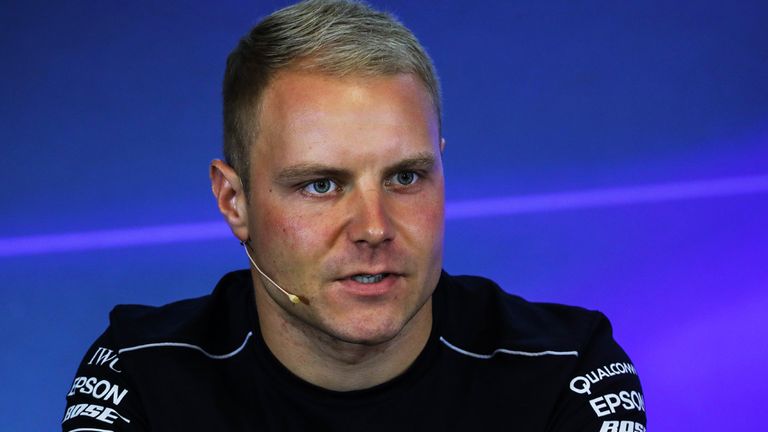 While Valtteri Bottas is still poised to follow Vettel and Raikkonen in being rewarded with a new 2018 contract, he has had far more impressive Mercedes race weekends than this one.
Considering their one-lap superiority over Ferrari, the Silver Arrows may have been expecting Bottas to keep Vettel off the front row in qualifying, but Bottas finished some three tenths down on the German.
Bottas, along with Raikkonen, was then outclassed by his team-mate come race day, barely able to join a fight for victory which could have ignited his own title challenge.
It seemed the Finn was settling for third, and though the race restart put him in danger, Hamilton's speed on the soft tyre proved it was possible to keep rivals at bay. Instead, Bottas allowed both Ricciardo and Raikkonen to pass him at the restart, before running wide at Les Combes in a disappointing end to his weekend.
"I need to analyse my mistakes quickly," he admitted.
Rating out of ten: 6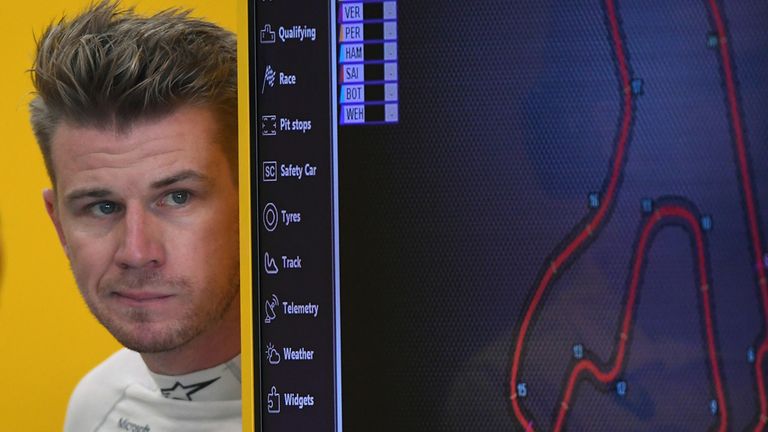 Another fine performance from Nico Hulkenberg in the Renault as he secured the French manufacturer the 'best of the rest' tag this weekend. The German recorded his third top-six finish of the season and admitted to being "pleasantly surprised" by his day's work.
While a poor start threatened to undo his impressive qualifying, Hulkenberg immediately made amends to reclaim the spots he lost while he provided plenty of entertainment as he duelled with Fernando Alonso and Esteban Ocon down the Kemmel Straight.
Rating out of ten: 8.5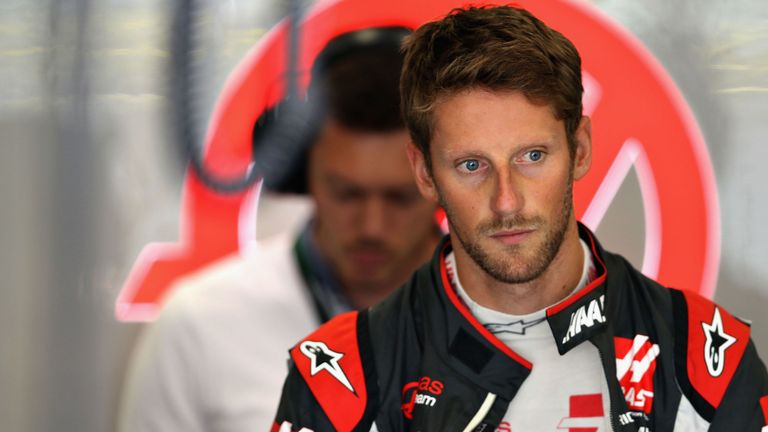 It has been an up and down season for Romain Grosjean but when the bigger points have been on offer for Haas it has been the Frenchman who has usually cashed in - and he did so again with seventh place at Spa.
Although he dropped two places behind team-mate Kevin Magnussen on the first lap, Grosjean was back ahead on lap four and his solid drive thereafter was rewarded when the Force India drivers' mutually-destructive collision gifted him two more places.
Rating out of ten: 7.5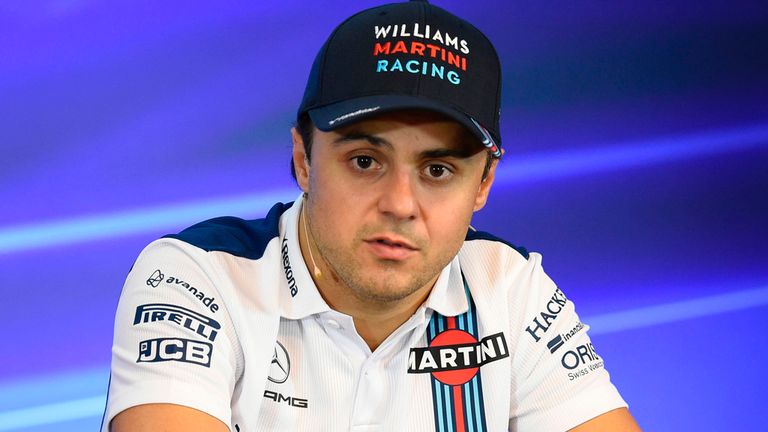 In what's fast turning into a four-way fight for fifth place in the Constructors' Championship, Felipe Massa's unexpected four points for eighth place might be crucial from a weekend which up until Sunday had only been going one way for Williams and their veteran driver. The wrong way.
Back in the car following the illness that forced him to withdraw in Hungary, Massa crashed on his first flying lap in practice and then picked up a five-place grid penalty for not slowing for yellow flags on Saturday morning. So, bearing that in mind, eighth place from 16th on the grid was a very impressive result - even for a driver who has won 11 grands prix.
"I know eighth place is not a nice position, looking at everything I have achieved in my career, but today the way I drove the car and the way I drove in this race, it was definitely like a victory," admitted Massa. It was his best result since Bahrain in April.
Rating out of ten: 7.5
It's full on civil war at Force India after Esteban Ocon accused team-mate Sergio Perez of twice trying to "kill" him as the pair collided once again in Spa.
This was worse than Baku as the Pink Panthers twice touched on the run down to Eau Rouge but while Ocon made his feelings known over team radio and post-race, the 20-year-old cannot be entirely blameless.
Attempting a pass into Eau Rouge was always likely to end in tears. Why did he not wait for the Kemmel Straight when it would have been an easy pass with DRS, as Vettel attempted with Hamilton? Perhaps his inexperience told.
Force India hinted they will implement team orders going forwards and Ocon conceded to Sky F1 that they needed to regain the trust of their bosses. An 11th points finish of the season is likely to be of little comfort to the Frenchman.
Rating out of ten: 6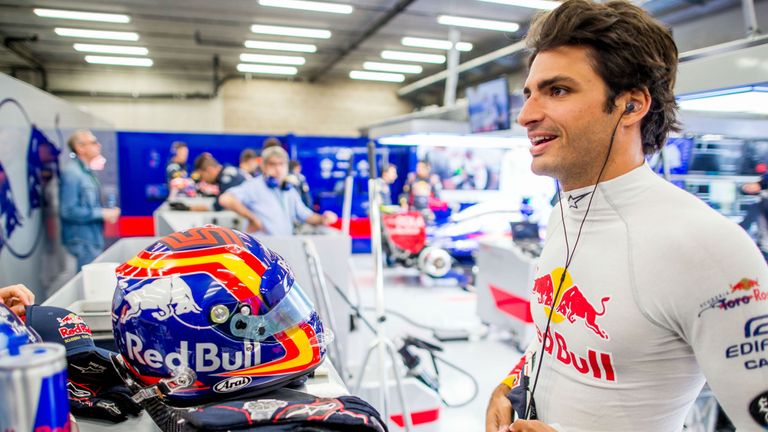 It was only a solitary point for Carlos Sainz, but the Spaniard was very happy with the result at the end of a difficult weekend for Toro Rosso. In fact, he suggested 10th place "tastes like glory".
That's probably because he was three places worse off at the end of the first lap, 16th, than where he started and yet still ended up getting ahead of Lance Stroll, Jolyon Palmer and Kevin Magnussen by the chequered flag.
Rating out of ten: 7.5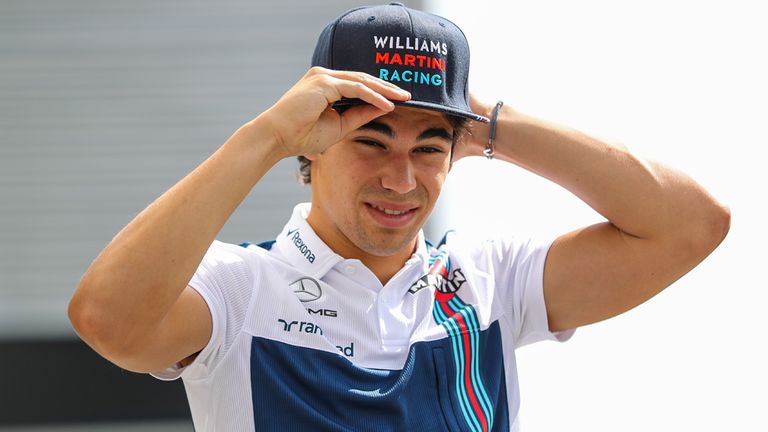 After starting the race ahead of his penalised Williams team-mate, Lance Stroll will be frustrated to have narrowly missed out on the points considering Massa's all-action display.
Stroll has still only out-qualified Massa once this season, and was jumped off the start as he failed to make progress on the supersoft tyres. But while Massa was already in eighth when both Williams drivers were helped by the Safety Car, Stroll was 14th, and he could only make up three places following the race restart.
"There were one or two missed opportunities, so not a perfect race," was technical chief Paddy Lowe's summary of Stroll's display.
Stroll has only scored one point since achieving a Baku podium which many predicted to be a break-out performance, and must hope for a late-2017 surge.
Rating out of ten: 6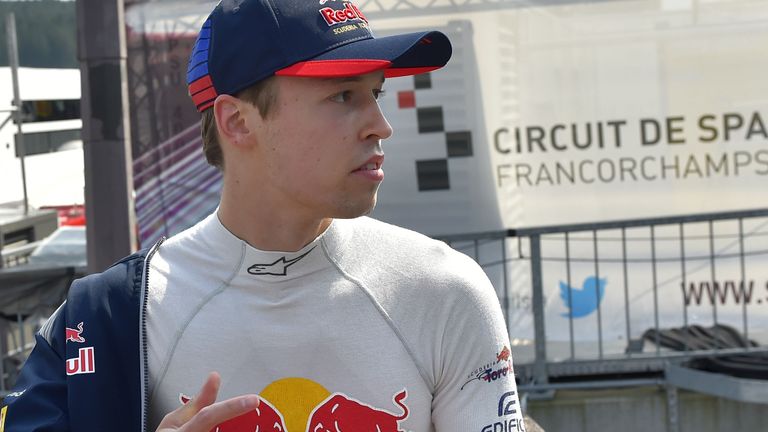 A decent race for Daniil Kvyat all told, finishing 12th from the back row, but the lack of running ahead of qualifying and then engine change penalties which put him on the back row always left him swimming against the tide. No points since Spain remains an unwanted statistic, however.
Rating out of ten: 6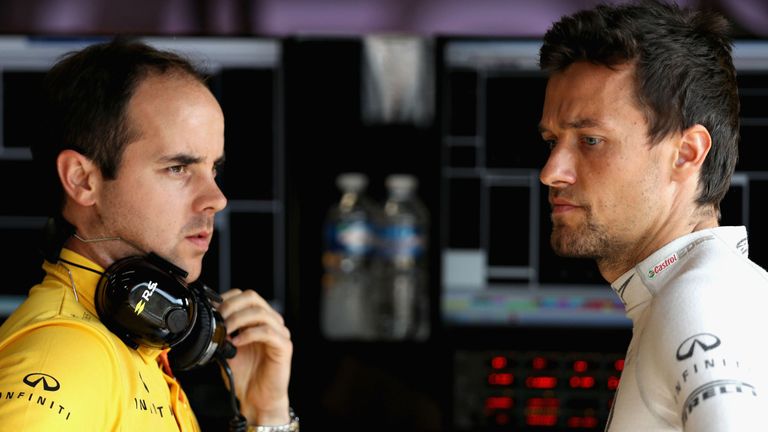 Spa 2017 had the potential to be the best weekend of Jolyon Palmer's year, so the gearbox problem that stopped him in his tracks just when he was lining up the head of the grid's fourth row was probably as cruel as any of the misfortune to have struck the Englishman so far this season. Particularly once Renault concluded the unit had to be changed for the race, triggering a five-place grid penalty.
Starting 14th, points could still theoretically have been achievable for Palmer but the 44 laps just didn't go his way and he only picked up one place. Unlucky 13th on another unlucky weekend.
Rating out of ten: 7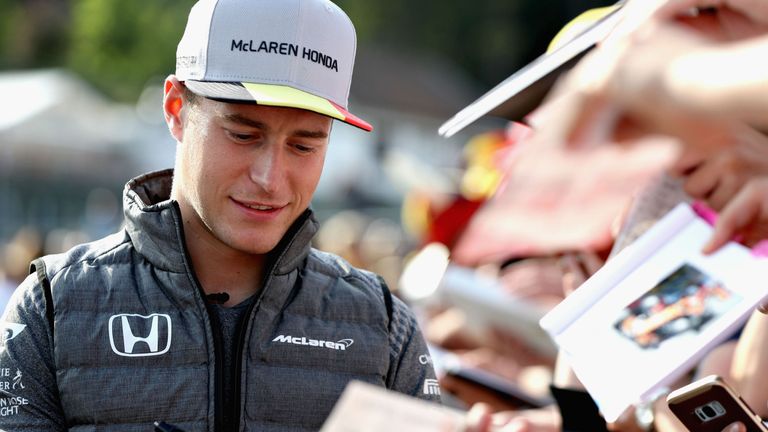 A frustrating first home Grand Prix for Stoffel Vandoorne with his chances of a good finish ended before the race had even began following a 65-place grid penalty. He made up three places at the start but after that, the lack of performance in the Honda power unit was on full display and he ultimately had to settle for 14th.
"We got to the flag and that's probably the only positive," Vandoorne said. Things aren't likely to be much better next weekend either.
Rating out of ten: 6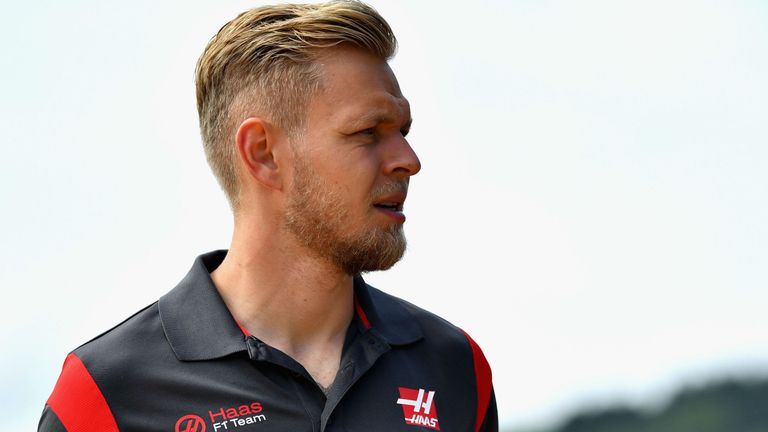 An avoidable mistake just before the Safety Car restart proved costly for Kevin Magnussen here, as he was denied his first points since the Azerbaijan GP. The Dane was ninth when he made the error, running wide at the final chicane as the race was just going green again.
"It was my bad and I'm really sorry for the team," he said. Worryingly for Magnussen, his Haas team-mate now has more than double his points tally in the drivers' standings.
Rating out of ten: 5.5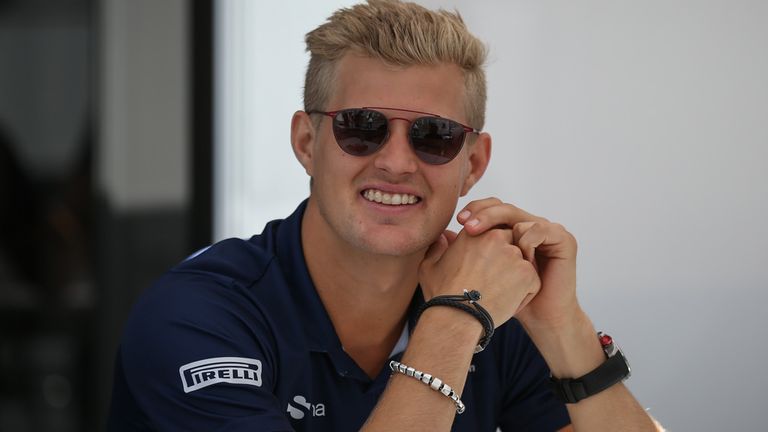 That year-old Ferrari engine was always going to bite for Sauber at tracks such as Spa, but Marcus Ericsson at least made the better fist of it as he outqualified Pascal Wehrlein for just the third time this season - and by a comfortable 0.4 seconds margin.
Ericsson also registered the team's only race finish, although a disappointing final stint meant he was last of the cars still running.
Rating out of ten: 7
Did Not Finish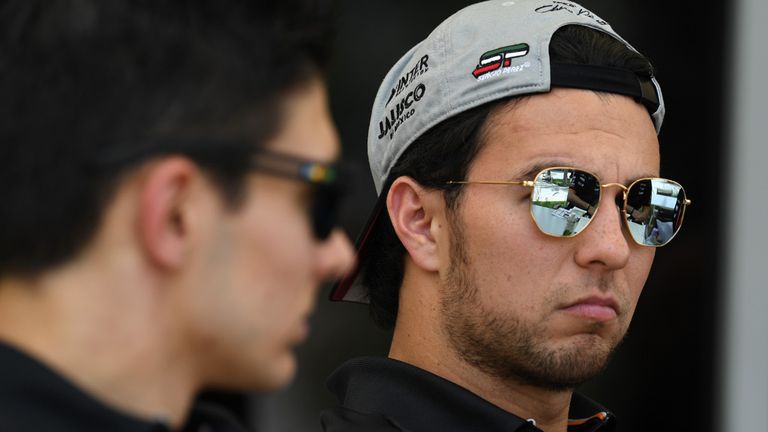 When a team-mate is accusing you of twice trying to 'kill' him in a race, something's not right. Ocon's choice of words may have been rather excessive, but Sergio Perez must hold his hands up following a sloppy afternoon. After seven years in Formula 1, more is expected from a driver who has frequently insisted he is deserving of a top seat.
It all started rather well for Perez, out-qualifying his team-mate for the 10th time this season, but when Hulkenberg's Renault passed through Eau Rouge he was unaware of Ocon as he moved to the right, forcing the Frenchman towards the wall. It was a racing incident and Perez quite rightly accepted responsibility.
But Perez, who was actually ahead of his team-mate despite serving a five-second penalty for failing to give a place back to Grosjean, refused to apologise for their next coming together.
Ocon had more speed out of Turn One and had one route to pass Perez, who was trying to back him out of the move entirely by closing off space towards the barriers. Except Ocon didn't pull out. In the end, both were lucky to escape a serious crash and while Perez sustained a puncture that effectively ended his afternoon, surely this will be a wake-up call.
"I can't help but feel that Perez should have left his team-mate more space," said Sky F1's Brundle, with Pat Symonds adding: "It's totally unacceptable to race like that."
Rating out of ten: 5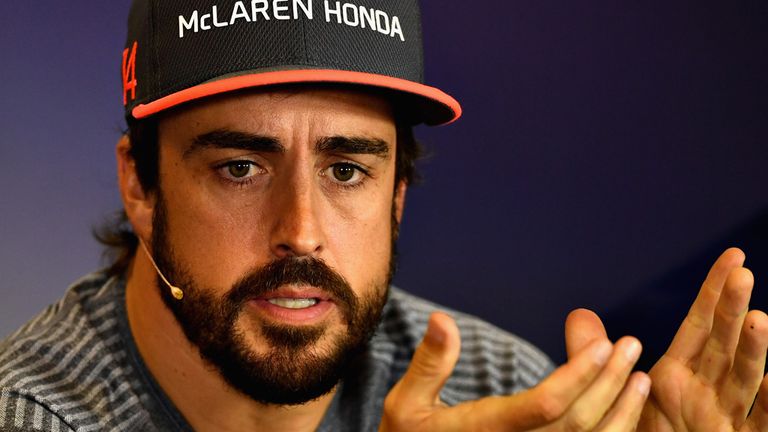 Different race, same depressing story for Fernando Alonso. There was the commendable qualifying performance. There was then the brilliant first lap in the race. But then there was also the steady loss of positions, the increasing agitation over the radio and, ultimately, a retirement - Alonso's eighth from 11 appearances this season.
While he won't say it publicly, it appears the Spaniard has lost complete faith in Honda's engine programme and surely McLaren's big decision now is whether they retain their star driver or their lucrative, but failing, works engine partner.
Rating out of ten: 7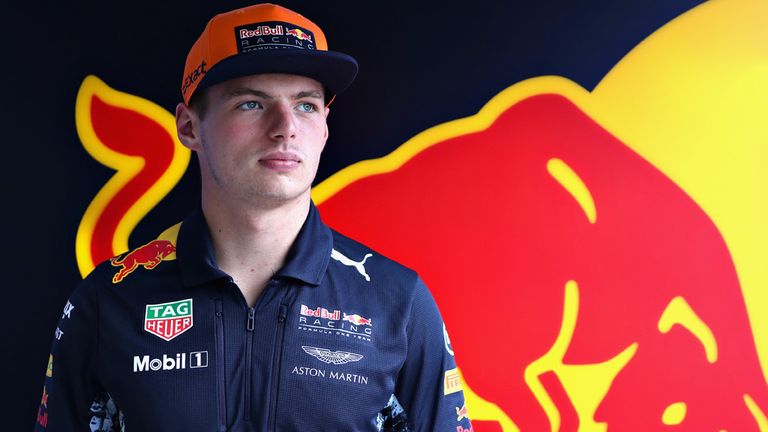 A sixth retirement of the season for Max Verstappen, and the fourth which has been purely down to reliability. It is therefore no surprise that the Dutchman admitted to Sky F1 that he would consider his Red Bull future if the DNFs were to continue.
"He's like a Michael Schumacher," Damon Hill claimed. "He's thinking - I need to get in a top car quick because I need to start winning now."
While Ricciardo has accumulated six podiums and a race win, Verstappen only has a single third-place finish. For a man of his immense talents - which he proved once again by out-qualifying his team-mate for the eighth time this season - that's nothing to write home about.
He's tied to Red Bull until 2019, but Mercedes and Ferrari will surely be analysing this situation closely.
Rating out of ten: 9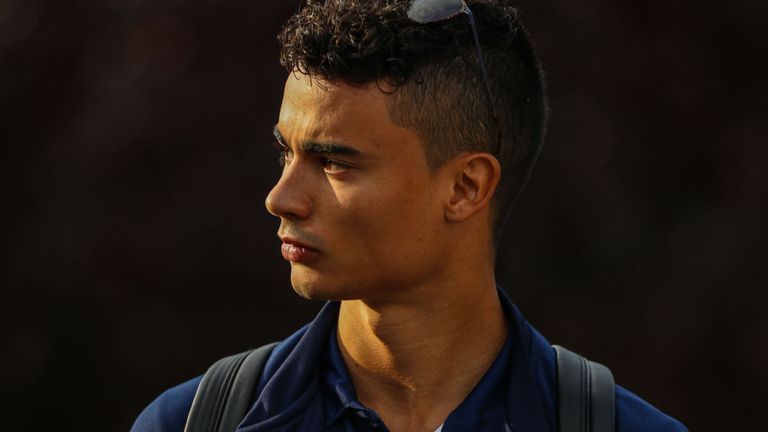 A frustrating weekend for Pascal Wehrlein - out-qualified by his team-mate before having to retire just three laps in due to a suspension issue.
The German is now accepting he will likely be ousted by a Ferrari protégé at Sauber next season, and must be hoping that a Force India seat becomes available. Otherwise, he may have to start seeking 2018 options out of F1.
Rating out of ten: 5