Singapore GP: Daniel Ricciardo bullish about Red Bull chances after fantastic Friday
Dominant Friday for Red Bull as Ricciardo seals practice double and insists: "I expected this"; Mercedes and Ferrari off the pace
By Matt Morlidge
Last Updated: 30/09/17 8:42am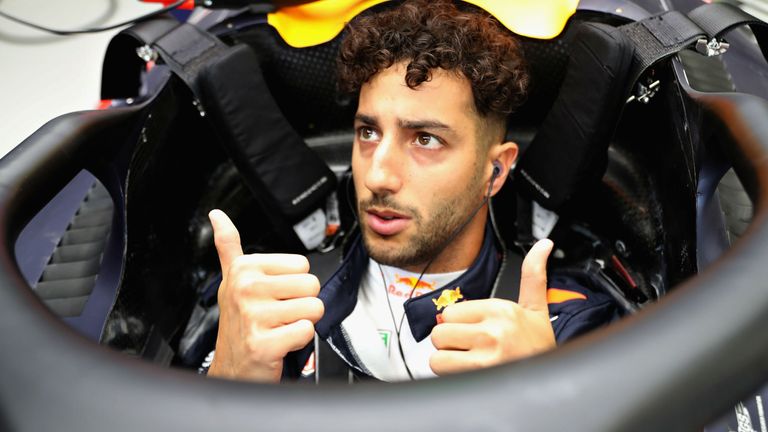 A confident Daniel Ricciardo says he expects Red Bull to convert their dominant Friday advantage into a race victory this weekend.
It was a sensational day for Red Bull as Ricciardo left Mercedes and Ferrari trailing in both practice sessions, the second of which was a one-two with team-mate Max Verstappen half a second behind.
Neither Lewis Hamilton nor Sebastian Vettel could get close to Red Bull in Practice Two but Ricciardo, whose 1:40.852 smashed the Marina Bay track record, insisted he was not surprised Red Bull were leading the way.
"I expected this to be honest," the Australian told Sky F1. "I knew we'd come here with a good car. I felt prepared. We need to make sure we keep that tomorrow.
"I have a lot of faith we can stay here all weekend."
Red Bull dominate Friday practice
Ferrari were the shock underperformers on Friday, though Vettel's quicker qualifying simulation runs on the ultrasoft tyre were disrupted by traffic and then a collision with the barriers.
"Seb was up there this morning so I think Ferrari will get it together," Ricciardo, regarded as a street track master but still without a Singapore win, added. "I'm sure it will tighten up tomorrow but I think we can stay here."
Verstappen added: "We didn't expect to be this competitive but it looks very good. We know that in Q3 Mercedes and Ferrari have a little bit more to come so we have to be cautious."
Red Bull looked well ahead of their rivals over one lap and, even more promisingly, held their own on the long runs, too.
Ricciardo and Verstappen consistently lapped in the low 1:46s, a feat only nearly matched by Hamilton late in the session.
"Nobody is in the same league as Red Bull," said Sky F1's Paul di Resta. "Red Bull look a long way up the road. If he can get on the front row, Danny Ric has to be odds-on favourite."
Mercedes admit Red Bull are favourites?
It seems Mercedes have also turned their attentions to Red Bull, having previously installed closest Constructors' Championship challengers Ferrari as the pre-race favourites thanks to their high-downforce advantage.
"I said Ferrari could be a problem and now it's Red Bull," Mercedes' Niki Lauda explained. "From what I have seen today, Red Bull are outstanding."
Hamilton, leading the drivers' standings by three points, agreed the Red Bulls were quicker than expected and admitted: "I think we're relatively close to Ferrari, so that's how it is.
"We target to win races. But of course we want to make sure I'm ahead of Sebastian so that's my goal."
Valtteri Bottas, meanwhile, was off the pace compared to Red Bull and his team-mate all day, and said Mercedes' W08 was tough to handle on the narrow street circuit of Marina Bay.
"It still felt tricky today," he said. "The car was not quite there where it should be and the Red Bulls seem to be quite a lot quicker, at least at this point of the weekend.
"We knew coming into this weekend they would be strong but they were clearly the quickest today.
"It's not an easy car to drive around this track and it seems to be missing the pace as well."