Singapore GP: Lewis Hamilton claims unexpected win as Sebastian Vettel crashes out
Hamilton opens up 28-point title lead as Vettel retires on first lap following dramatic Verstappen and Raikkonen clash; Sainz, Palmer and Vandoorne all claim career-best results
By James Galloway
Last Updated: 30/09/17 8:33am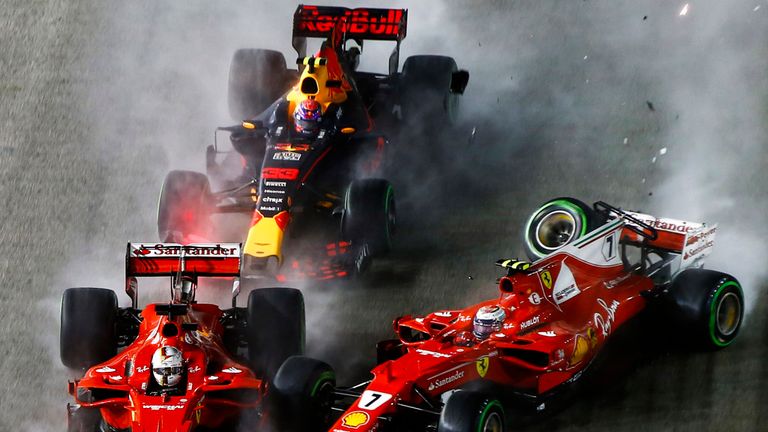 Lewis Hamilton claimed an unexpected and potentially decisive victory in the Singapore GP to increase his championship lead to 28 points after Sebastian Vettel spectacularly crashed out.
Polesitter Vettel was involved in a dramatic start-line accident involving Max Verstappen and Ferrari team-mate Kimi Raikkonen which eliminated all three drivers on a wet and treacherous circuit.
The incident, which Verstappen squarely blamed on Vettel and Ferrari blamed on Verstappen, was investigated by the stewards but they determined that no driver was 'wholly or predominantly to blame'.
From fifth on the grid, Hamilton was in the lead by the fourth corner after Vettel spun into the barriers having already sustained serious damage to his Ferrari during the clash with Verstappen and Raikkonen.
In wet and then drying conditions, Hamilton expertly led from the front despite three Safety Cars and beat Red Bull's Daniel Ricciardo by four seconds in a time-limited race. The Australian's challenge was blunted by gearbox problems.
Hamilton's 60th F1 win increases his championship lead over Vettel to in excess of one race victory with six rounds to go.
Verstappen blames Vettel for collision
In a race in which they expected to be beaten by both Ferrari and Red Bull, Valtteri Bottas's third place in the other Mercedes meant the reigning champions also took a big step towards a fourth consecutive Constructors' Championship. The Silver Arrows now lead Ferrari by 102 points with six races remaining.
Carlos Sainz, who this week was announced as a Renault driver for 2018, claimed a career-best fourth place for Toro Rosso.
But Jolyon Palmer, the man Sainz will replace next season, finally enjoyed a 2017 race to remember as he drove strongly to sixth for his first points of the season. As the Briton fights to save his F1 career, the result also represents Palmer's best in F1.
Hamilton's 'miracle' arrives at Vettel's expense
After Mercedes were relegated to the third row of the grid after Ferrari and Red Bull battled it out in qualifying, Hamilton had admitted on Saturday evening he required a "miracle" to try and limit the damage to his title hopes.
But surely he could never have envisaged how the race's opening seconds would pan out.
With rain falling for the first time in the race's 10-year history and the top runners starting on intermediate tyres, pole man Vettel got a slightly worse getaway compared to fellow front-row starter Verstappen and moved across to the left to try and protect his lead.
However, seemingly unaware team-mate Raikkonen was storming through on the inside from fourth, Vettel's move squeezed Verstappen between the two Ferraris and the three cars made contact to disastrous effect.
Verstappen and Raikkonen bore the brunt of the stunning impact and careered into the Turn One run-off area, where the Red Bull then side-swiped Fernando Alonso's McLaren. The Spaniard had made a storming start of his own on the outside from eighth and was set to leave the first corner in third place.
Vettel continued into the lead ahead of Hamilton, who picked up three places amid the carnage, but then almost immediately spun into the barriers exiting Turn Three, right in front of his arch rival.
"Yesterday we struggled and had no idea what was going to happen today," said Hamilton on the podium after the race. "It was very fortunate with the Ferraris at the beginning. I'm really thankful.
"I capitalised on the incident. It's really unfortunate for Ferrari but great for the team."
As for Vettel, who had led the championship all season up until Hamilton's win at Monza, the German could hardly put his disappointment into words.
"I saw Max and then next thing I see is Kimi hitting the side of me and Max somewhere there," Vettel told Sky F1.
With Raikkonen also dropping out, it was the first time in F1 World Championship history that two Ferraris have retired on the first lap of a race.
Chaos presents midfield with opportunities
While Hamilton and Ricciardo were the main front-running beneficiaries of the Ferrari-Verstappen total wipeout, Renault's Nico Hulkenberg ran third early on before Renault used the second Safety Car to pit both their cars for fresh intermediates.
The German remained on course for a season-best fourth place before a suspected hydraulic problem late on required an emergency pit stop. Hulkenberg initially returned to the track in 10th, but was forced to retire.
The lead Renault's demise promoted Carlos Sainz, a serial points scorer this season, into a career-best fourth place which puts Toro Rosso just seven points behind Williams in the fight for fifth in the Constructors' Championship.
But it was Palmer who was surely most delighted - and relieved - after his 11-month wait for a second F1 points finish ended with a fine drive to sixth.
Although outperformed by Hulkenberg, the Englishman's sixth place represent crucial points for Renault in their attempt to pip Williams and Toro Rosso in the standings.
Seventh place represented a relative disappointment for McLaren given Alonso's start, but it was nonetheless Vandoorne's own best-ever F1 finish.
In a race of high attrition, Lance Stroll of Williams, Romain Grosjean for Haas and Esteban Ocon in the second Force India completed the points finishers in the top 10.
Singapore GP Race Result
| | | |
| --- | --- | --- |
| Driver | Team | Race time |
| 1. Lewis Hamilton | Mercedes | 2:03.23.543 |
| 2. Daniel Ricciardo | Red Bull | +4.507 |
| 3. Valtteri Bottas | Mercedes | +8.800 |
| 4. Carlos Sainz | Toro Rosso | +22.822 |
| 5. Sergio Perez | Force India | +25.359 |
| 6. Jolyon Palmer | Renault | +27.259 |
| 7. Stoffel Vandoorne | McLaren | +30.388 |
| 8. Lance Stroll | Williams | +41.696 |
| 9. Romain Grosjean | Haas | +43.282 |
| 10. Esteban Ocon | Force India | +44.795 |
| 11. Felipe Massa | Williams | +46.536 |
| 12. Pascal Wehrlein | Sauber | +2 laps |
| Did Not Finish | | |
| Kevin Magnussen | Haas | |
| Nico Hulkenberg | Renault | |
| Marcus Ericsson | Sauber | |
| Daniil Kvyat | Toro Rosso | |
| Fernando Alonso | McLaren | |
| Sebastian Vettel | Ferrari | |
| Max Verstappen | Red Bull | |
| Kimi Raikkonen | Ferrari | |