Sebastian Vettel misjudgements put Lewis Hamilton on F1 title track
Martin Brundle analyses the Singapore start-line crash, the impact on the title race, and a big day in Palmer's fight for an F1 lifeline
Last Updated: 02/10/17 2:39pm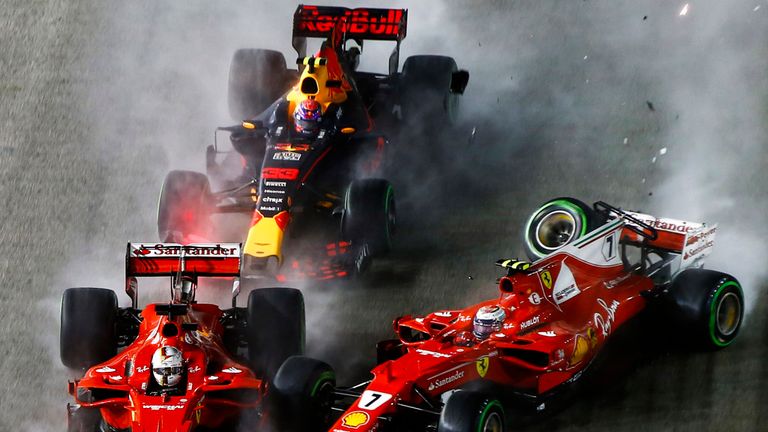 Any race which loses Sebastian Vettel, Kimi Raikkonen, Max Verstappen and effectively Fernando Alonso, comprising one fifth of the field, in the first corner is going to be a compromised spectacle to say the least.
When that race is also guaranteed to time-out at the full two hours due to safety cars and a wet track you can be in for a very long evening. As it happens, the midfield gave us some entertaining wheel-to-wheel action and there would be several adventures and mishaps to come.
I remember travelling to Singapore to do a TV feature over a decade ago ready for the impending inaugural GP. We discussed how the 1,600 overhead lights were angled away from the drivers and even in the tropical rain this shouldn't present an issue regarding visibility.
Having somehow dodged numerous thunderstorms and torrential overnight rain ever since, we've finally discovered they were right.
Any of the 12 drivers who finished that race will be considered 'driver of the day' in somebody's eyes. With no knowledge whatsoever they set off on a wet track in the confines of 23 walled corners on a mixture of intermediate and full wet tyre choices.
They are all heroes in my book. That was a hell of a high-speed sporting challenge to which Lewis Hamilton rose imperiously. Ferrari handed him a golden opportunity and he seized it with all the style and pace of a multiple world champion.
The 301-metre run to the first corner apex was always going to be fraught during an untested wet start, especially with every driver fully aware that track position is critical at this venue.
It's remarkable to think that Ferrari had never had two cars eliminated on the first lap of a Grand Prix in their illustrious history. To add insult to injury they ran into each other.
Vettel and Verstappen had ordinary starts from the front row. Raikkonen had the perfect launch and was heading up the inside of the front row. Mirrors are hopeless in those situations, especially with spray from the tyres, and in any event the drivers' eyes are partly focused ahead to the braking point, especially due to the unknown grip on a wet track.
They are busy inside the cockpit too, managing the various controls as part of the launch.
Vettel had no way of knowing Raikkonen was there as he aggressively went to cover Verstappen. Equally, especially in those conditions, he should not have assumed nobody would be there.
Verstappen couldn't get out of the throttle or the way quickly enough, and he's in a race down to the first corner he wants to win. If you jump on the brakes every time a car pulls alongside away from the start, just in case something might happen, then you are not a racing driver.
Raikkonen correctly was not going to simply give up an awesome start. The whole process is intensely competitive and largely instinctive in those insane few seconds.
I stand by what I said immediately in live commentary. If the stewards decided it was a typical startline/first corner racing incident then fine, if not you could only blame Vettel for so aggressively cutting across. After his bumper cars in Baku, this was his second poor judgement which could well have cost him the world championship.
Taking Raikkonen out of the equation for a moment, Vettel squeezing Verstappen, who is not his championship rival, so hard in those conditions created a high risk of contact, a puncture, or being turned around. He should have kept more to the outside and swept into turn one on the ideal line. Moving significantly across a wet grid is always high risk.
There followed a lot of luck and misfortune. Some had bad starts which kept them out of harm's way, others like Alonso had lightning starts and got innocently and sadly torpedoed.
If you watch Alonso on board at the start, as we did in Austria, he has a manic scan going on into the first corner, trying to make haste whilst staying out of trouble. And just like Austria, he was rammed through other drivers' lack of judgement. We were all robbed on that one.
His fellow Spaniard Carlos Sainz continues to show impressive and aggressive pace, and a readiness to win races in the right machinery. He now has a works Renault seat with a piece of contractual elastic back to Red Bull if they need him. He's well set for now.
Jolyon Palmer was outstanding under such pressure of the team replacing him for 2018 at the latest, and being openly written off by most people. It was the perfect answer to a team which foolishly assumed he would quietly walk away so they could put Sainz in the car with immediate effect.
Palmer out to do himself proud
Another drive or two like that will add his name to the list of Felipe Massa, Robert Kubica and Paul di Resta as a potential Williams driver for 2018.
Kevin Magnussen showed tremendous skill and bravery with two overtakes against the wall in the Turn Six kink and passing Esteban Ocon's Force India into Turn 14 with late braking.
I can understand Hamilton's frustration at the multiple safety cars which kept negating his hard-won lead, but race control were spot on by not starting under the safety car, and then calling it out to clear up the various wrecks.
Sadly up front there was little excitement. Red Bull's practice and qualifying pace was nowhere to be seen as Daniel Ricciardo was nursing a gearbox oil pressure issue, and so having to shift early to get into the higher gears which kills performance.
Valtteri Bottas finished third for Mercedes but he never really dialled into the Marina Bay circuit at any point this year.
It was effectively a 40-point turnaround from Vettel and Hamilton's respective grid positions to two hours later when the checkered flag was unfurled.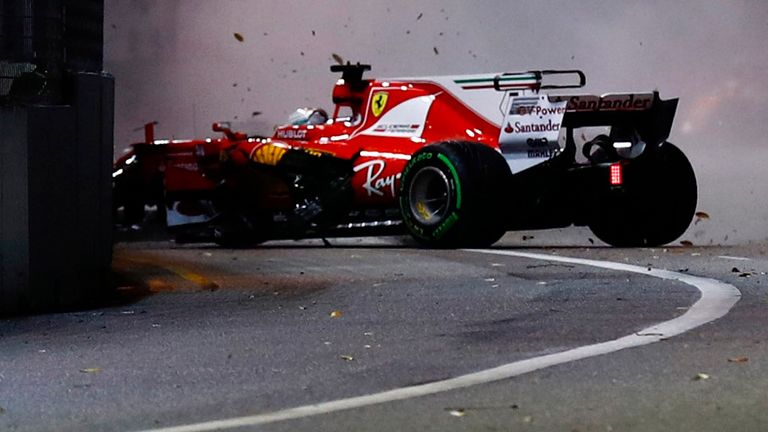 With six races to go Hamilton has one hand almost on the trophy especially as he looks in a better position with power unit parts and any subsequent grid penalties.
To turn this around Vettel will need an improved car, perfect performances, some bad luck for Mercedes, and for team-mate Raikkonen to take points off Hamilton. All of which are possible.
However, with a hat-trick of victories in a month, Hamilton has won six of the last 10 races, and Vettel has just two victories in that time.
MB