Malaysia GP: Max Verstappen beats Lewis Hamilton, Sebastian Vettel fourth to limit F1 title damage
Red Bull's Verstappen overtakes Hamilton and dominates to secure second F1 win; Hamilton second with Vettel racing from last to fourth; But Vettel then crashes with Stroll in bizarre post-race clash
By James Galloway
Last Updated: 10/10/17 11:58am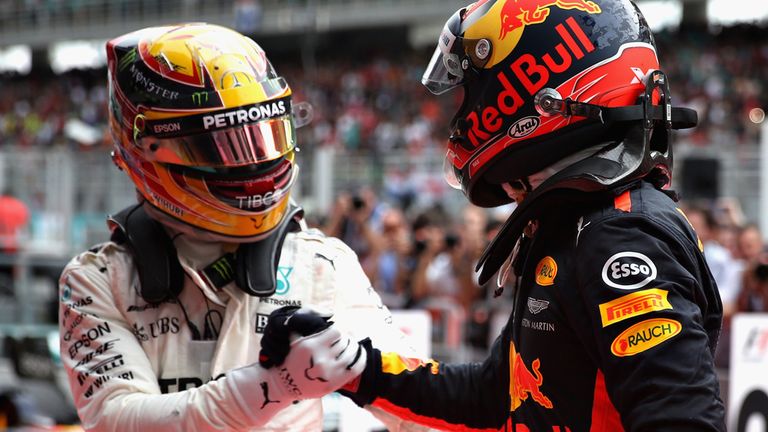 Max Verstappen overcame a season of frustration to claim his second F1 win at the Malaysia GP from Lewis Hamilton, as Sebastian Vettel recovered from last place to fourth.
Hamilton increased his world title lead, but only by six points to 34, as Vettel scythed his way through from the back row in a spirited recovery drive.
And the Mercedes driver had the other Red Bull of Daniel Ricciardo to thank for keeping Vettel off the podium as the Ferrari failed to overtake the Australian in the closing stages.
But, in a highly bizarre and unusual finish to his otherwise successful afternoon, Vettel collided with Lance Stroll's Williams on the slow-down lap. The impact ripped off the Ferrari's left-rear wheel, with the German stopping on track and forced to hitch a lift back to the pits with Sauber's Pascal Wehrlein, taking his steering wheel with him.
The stewards investigated the incident but ruled no further action was needed.
Sky F1's Martin Brundle described it as "one of the most bizarre things I've ever seen" and suspected the damage may require Vettel to take new gearbox for next weekend's Japanese GP, which would trigger a grid penalty.
Verstappen was dominant and won by 12 seconds after overtaking Hamilton on lap four into Turn One.
The Dutchman, who turned 20 on Saturday, has been dogged by unreliability and misfortune in 2017 and his only previous podium came at the Chinese GP in April.
It represents Red Bull's second win of the season and their second in a row at Sepang, as the Malaysian circuit bows out of F1 after 19 seasons on the calendar.
Despite a strong start, when he overtook Ricciardo around the outside into Turn One and nearly Verstappen too, Valtteri Bottas's weekend-long struggles continued and he finished a distant fifth - 44 seconds behind Mercedes team-mate Hamilton.
But Ferrari's hopes of a victory with Kimi Raikkonen from second on the grid were scuppered after their second turbo problem in as many days meant the Finn did not take the start.
How Verstappen passed Hamilton
Updated World Championship standings
Mercedes' two-five finish increases their Constructors' Championship lead to 118 points but team boss Toto Wolff said he was alarmed by their sudden pace struggles.
"We've lost so much pace this weekend," Wolff told Sky F1. "How can a car that is so fast on so many circuits lose so much through a tyre overheating?"
Sergio Perez drove a strong race to sixth, with McLaren's Stoffel Vandoorne capping a fine weekend with his second seventh-place finish in a row. The Belgian rookie, the lead McLaren all weekend, now leads team-mate Fernando Alonso in the Drivers' Championship after the Spaniard finished outside the points in 11th.
Williams pair Stroll and Felipe Massa were eighth and ninth respectively, ahead of 10th-placed Esteban Ocon who pitted early after lap-one contact with Massa.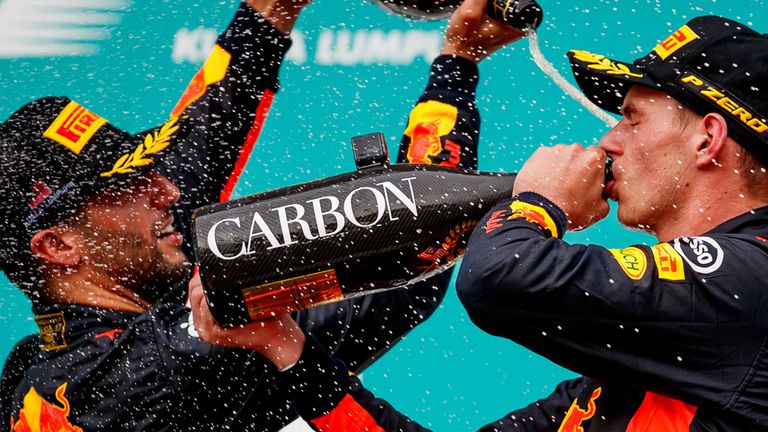 Verstappen's luck finally changes
Despite dominating Ricciardo in qualifying this year, Verstappen had retired from as many races as he had finished in 2017 prior to Sunday.
Hamilton, without the threat of Raikkonen from the front row, led the early laps from pole but reported a 'de-rating' engine, meaning he was losing battery power before the end of the straights.
With Mercedes telling the Englishman he would be without full power for one more lap, Red Bull urged Verstappen to attack over the radio and, with assistance from DRS, the Dutchman pulled off an incisive move on Hamilton at the start of lap four.
From there the 20-year-old expertly controlled the pace at the front to end his 17-month wait for a second career victory.
"In the beginning straight away the car felt good and I saw Lewis was struggling a bit with traction," said Verstappen. "I used my battery as much as I could and of course he has more to lose than me in the championship so I went for it in Turn One and then I could do my own race.
"The car was unbelievable, if I had to speed up I could. It was a very tough race and incredible to win."
Once Ricciardo overtook Bottas, it appeared as though Hamilton might come under attack for second place from the other Red Bull, but the Englishman managed to keep a consistent gap to Ricciardo to secure a potentially-crucial 18 points.
"The race was a tough one, obviously they just had the upper hand on us today," said Hamilton. "We love driving this track, it is the most difficult circuit so it's a great thing.
"I feel good but I think we have some work to do with the car. Obviously we didn't have the pace this weekend so there's still work to do, still races ahead. There's some that we can win but we have to keep pushing."
The next race is at Suzuka in one week's time, with Mercedes unbeaten in Japan since F1's current engines were introduced at the start of 2014.
Malaysia GP Race Result
| | | |
| --- | --- | --- |
| Driver | Team | Race time |
| 1. Max Verstappen | Red Bull | 1:30.01.290 |
| 2. Lewis Hamilton | Mercedes | +12.770 |
| 3. Daniel Ricciardo | Red Bull | +22.519 |
| 4. Sebastian Vettel | Ferrari | +37.362 |
| 5. Valtteri Bottas | Mercedes | +56.021 |
| 6. Sergio Perez | Force India | +78.630 |
| 7. Stoffel Vandoorne | McLaren | +1 lap |
| 8. Lance Stroll | Williams | +1 lap |
| 9. Felipe Massa | Williams | +1 lap |
| 10. Esteban Ocon | Force India | +1 lap |
| 11. Fernando Alonso | McLaren | +1 lap |
| 12. Kevin Magnussen | Haas | +1 lap |
| 13. Romain Grosjean | Haas | +1 lap |
| 14. Pierre Gasly | Toro Rosso | +1 lap |
| 15. Jolyon Palmer | Renault | +1 lap |
| 16. Nico Hulkenberg | Renault | +1 lap |
| 17. Pascal Wehrlein | Sauber | +1 lap |
| 18. Marcus Ericsson | Sauber | +1 lap |
| Did Not Finish | | |
| Carlos Sainz | Toro Rosso | |
| Did Not Start | | |
| Kimi Raikkonen | Ferrari | |